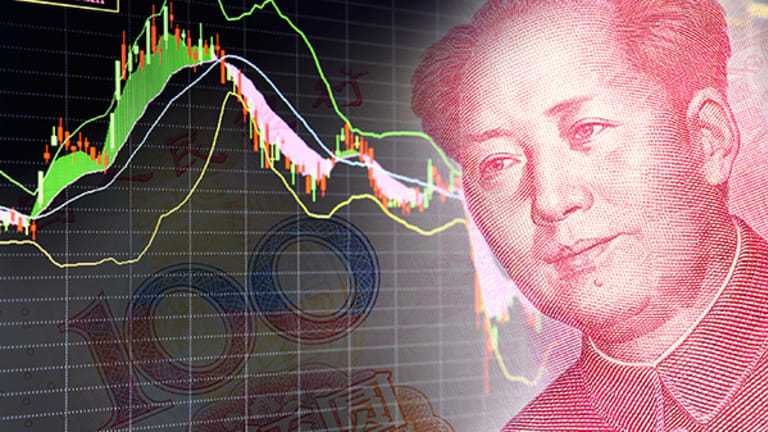 The Big Bad Boogeyman of China Actually Has a Major Debt Problem
The country's latest desperate act to keep itself from going broke underscores a ripe opportunity for investors to make big profits.
Unless investors are living in a cave or are Amish, they have heard on cable television the alarmist political rhetoric about unfair Chinese competition that is supposedly burying the American economy.
The most notable proponent of this argument is Republican presidential nominee Donald Trump, who has made the threat from China a staple of his campaign.
He has long warned that China has been "taking our jobs, [and] they're taking our money."
But those who want to be successful investors will always look behind the headlines for the real story. And they will also consider the investment play highlighted below, which exploits the economic reality in China.
First, let's separate political hype from cold, hard facts.
News reports this month unearthed documentation that Trump's construction companies have routinely bypassed American steel companies in favor of buying cheaper Chinese-made steel.
Investors can make of that what they will. But there is an even bigger contradiction at work here: The big bad boogeyman of China is actually going broke.
China's State Council or cabinet this month said that the government would adopt a multi-faceted plan to slash corporate debt, including encouraging bankruptcies, debt securitization, debt-to-equity swaps, and mergers and acquisitions.
However, according to some influential economists, the move lacks details and will likely prove ineffectual in de-leveraging corporate debt.
The debt bubble in China is one of the gravest dangers facing the global economy.
By some estimates, China's total debt is about $28 trillion, larger than that of Germany or the U.S. The main culprit is massive and mostly inefficient government investment to stimulate the economy, at the expense of consumption-driven growth.
China's corporate debt accounts for about 160% of gross domestic product, twice the U.S. level, and this mountain of debt is turning sour.
The non-performing loan ratio of China's debt is on a path to jump to 15% in 2019 from 1.7%, further pushing up the annual cost of dealing with that debt, according to a recent McKinsey Global Institute Report.
The latest figures this month show that China's GDP grew by 6.7% in the third quarter from a year earlier, hitting pre-set growth targets. The government cited GDP growth as evidence that the country's troubled economy is stabilizing.
However, the figure represents the same pace that was posted in the first and second quarters, raising concerns that perhaps officials are cooking the books.
China's lack of transparency and past accounting scandals continue to cast doubts on the real health of the nation's economy. What's more, the Middle Kingdom hit its economic growth target by expanding credit, which is up by 16% this year.
A fast and easy way to make big money from the folly of China's economic mandarins is by shorting the Global X China Financials Exchange-Traded Fund (CHIX) - Get Global X MSCI China Financials ETF Report .
With assets of $26.18 million, this ETF is a benchmark for China's financial services industry.
The ETF's portfolio is mostly geared toward banking sector stocks such as Agricultural Bank of China, Bank of China, China Construction Bank andIndustrial and Commercial Bank of China. The expense ratio is a reasonable 0.65%.
China Financials ETF is up almost 3% this year, compared with more than 5% for the S&P 500. 
However, China Financials ETF has declined more than 7% over the past year, with a further drop likely in the cards. Over the past month, as China's banking debt woes have come under greater scrutiny, China Financials ETF has dropped 2.02%.
As China sinks deeper into debt and political demagogues use the country as a scare tactic, tune out the white noise and make money by shorting China Financials ETF.
---
It's not just China:a global economic storm is brewing. When it hits, weak companies and their investors will be washed away. Don't let that happen to you! I've found seven companies you should own no matter what the economy is doing. Each one of these powerful yet overlooked companies barely notices when the market tumbles. And they'll skyrocket when it rebounds. To get the names of these "seven survivor stocks," click here.
John Persinos is an editorial manager and investment analyst at Investing Daily.
At the time of publication, he owned none of the stocks mentioned.
Persinos appears as a regular commentator on the financial television show Small Cap Nation.Follow him on Twitter.