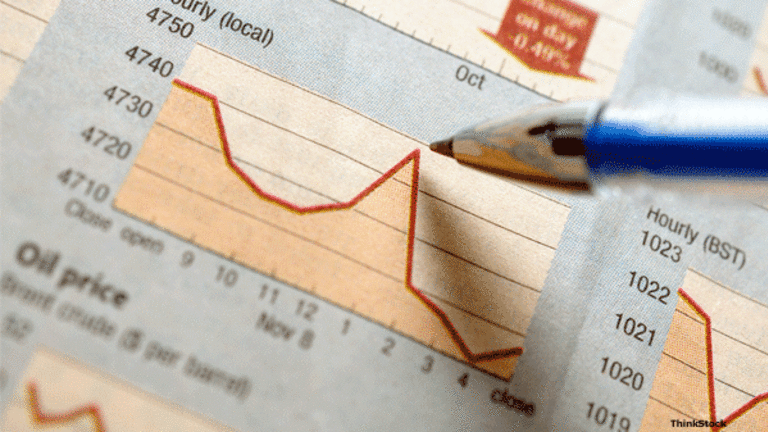 The Best and Worst Funds for the Week
Utility funds made gains on money pouring into water and other infrastructure project in the U.S.
TSC Ratings provides exclusive stock, ETF and mutual fund ratings and commentary based on award-winning, proprietary tools. Its "safety first" approach to investing aims to reduce risk while seeking solid outperformance on a total return basis.
Utility funds that bubbled to the top of the performance list this week focus on companies that provide infrastructure to cities around the world. The deepest well of support came from
PowerShares Global Water Portfolio
(PIO) - Get Free Report
, up 4.5% for the five trading days ending Thursday, May 21.
Itron
(ITRI) - Get Free Report
, one of the fund's holdings, spiked 22% after Chief Executive Officer Malcolm Unsworth met with Energy Secretary Sten Chu and Commerce Secretary Gary Locke to discuss standards for smart-grid electric meters. Simply put, Itron is North America's leader in advanced meters for electric, gas and water, and made sure its meters qualified under standards set for available stimulus-fund projects of the Department of Energy.
Another U.S. holding,
Valmont Industries
(VMI) - Get Free Report
, gained 4.9%. The company fabricates steel pipe irrigation systems for farming as well as poles and towers, which will be required in any rebuilding of the electric-grid infrastructure. Lower commodities prices would expand the company's profit margins.
The PowerShares Global Water Portfolio is sufficiently liquid, averaging a trading volume of nearly 100,000 shares a day over the past six months. However, the
SPDR S&P International Utilities Sector ETF
(IPU)
, which began trading 10 months ago, is highly illiquid, averaging just 1,600 shares traded daily.
The SPDR S&P International Utilities Sector ETF gained 3.6% this week on standout performances of 15% from
Acciona SA
, 11% in
Fortum Oyj
and 8.1% in
A2A Spa
.
While the 200% leveraged
ProShares UltraShort Utilities
(SDP) - Get Free Report
, which bets on a decline in share prices, returned 5.2% to top the list of best-performing utility funds, the two "long" leveraged funds tracking the same Dow Jones U.S. Utilities Index sank the most this week.
The 200% leveraged
ProShares Ultra Utilities
(UPW) - Get Free Report
lost 5.7% and the 150% leverage
ProFunds Utilities UltraSector Profund
(UTPSX) - Get Free Report
shed 4.5%. Index member
FirstEnergy
(FE) - Get Free Report
fell 7.8% on the results of the Public Utility Commission of Ohio's wholesale auction. The accepted bid of $61.50 a megawatt-hour may decrease monthly electric bills for Toledo residents by nearly 13% and result in lower electric-generation sales for the company.
Other electric utilities in the index, operating in the same environment of depressed coal and gas prices as well as slack industrial demand for electricity from steel producers and automakers, followed FirstEnergy.
Allegheny Energy
( AYE) lost 14.1%,
Exelon
(EXC) - Get Free Report
retreated 6.1%,
Ameron
(AEE) - Get Free Report
dropped 5.7% and
NRG Energy
(NRG) - Get Free Report
gave back 5.4%.
For more information, check out an
.
Kevin Baker became the senior financial analyst for TSC Ratings upon the August 2006 acquisition of Weiss Ratings by TheStreet.com, covering mutual funds. He joined the Weiss Group in 1997 as a banking and brokerage analyst. In 1999, he created the Weiss Group's first ratings to gauge the level of risk in U.S. equities. Baker received a B.S. degree in management from Rensselaer Polytechnic Institute and an M.B.A. with a finance specialization from Nova Southeastern University.