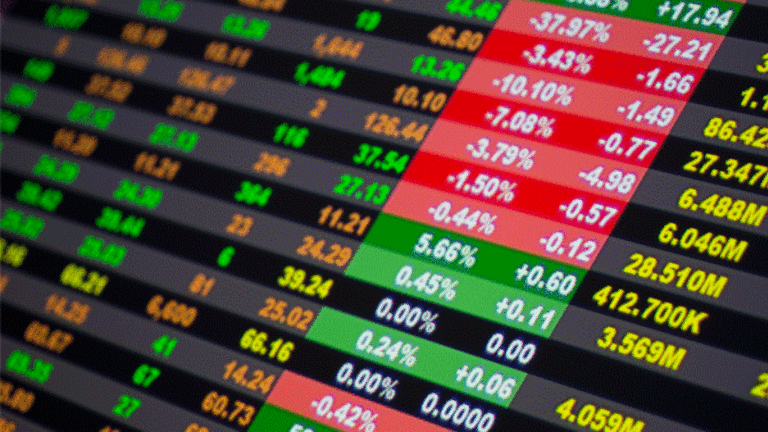 Summer Contrarian Update
As we've just passed the solstice, let's examine some contrarian ideas for the season we posited back around Memorial Day.
As we've just passed the solstice, let's examine some contrarian ideas for the season we posited back around Memorial Day.
In a previous article, I developed
to consider for the summer. Since we have just passed the solstice, let's follow-up.
The first contrarian suggestion was to short gold using
ProShares UltraShort Gold
(GLL) - Get Report
, an ETF that tries to replicate 2 times the inverse of the London gold price. I suggested to look for an entry above $960 and, sure enough, gold broke above $960 and stayed there for a number of days, with a high of $981.75 on June 1.
Since I had cautioned against taking a short position in gold in front of a possible rally over $1,000, a logical way to try to short once gold was above $960 would be to put in a buy-stop order for GLL at $14.50, the approximate price for the ETF for gold at $960. If gold continued to rise we could keep following the rising price.
The buy-stop order would trigger a buy once a rise occurred to the specified level. This is just the opposite of the common practice of buying the dip in gold; it is selling the dip on the premise that a downturn is starting. The pullback to $960 occurred on June 5.
One could also buy GLL at the market after the $960 trigger was hit rather than using the buy-stop order. Buying at the close would have cost $14.54. Gold is now well below $960 and GLL closed Friday, June 19 at $15.04 for a 3.7% gain from $14.50.
I am maintaining a stop-loss at $14.50. If gold continues to decline, I will change to a $1 trailing stop once GLL closes above $16. The current GLL chart is shown below:
Note the blue arrows indicating the price reversal (gap-up opening for GLL) as gold headed down toward $960 and the clear short-term MACD signal for GLL.
The second suggested contrarian position was buying corporate bonds with
iShares iBoxx $ Investment-Grade Corporate Bond
(LQD) - Get Report
. If LQD had been bought at the market close on May 26, the position would be ahead 2.8% as of the market close on June 19.
I suggested that the position could be hedged against a sharp drop in interest rates by going short Treasuries, such as through the
ProShares UltraShort 20+ Year Treasury ETF
(TBT) - Get Report
, which is 2 times short long-term Treasuries. If the hedged position (an equal dollar amount in each LQD and TBT) was opened at the close of market on May 26, it would be up 1.3% as of the market close on June 19. An equal number of shares (as opposed to an equal dollar amount) of LQD and TBT would have produced a gain of 1.6%.
The third contrarian position was shorting financial stocks using
ProShares UltraShort Financials
(SKF) - Get Report
, which is 2 times short the Dow Jones U.S. Financial Index. If SKF had been bought at market close on May 26, the position would be down 2.3% as of market close on June 19. The stock chart shows a nice low volatility pattern that is often associated with a rounded bottoming process. We have placed a stop-loss order just below the bottom of this pattern at $38.
We suggested entering a short position on oil when the MACD (12, 26, 9) curve turned down, which it did on June 11, crossing the moving average line on June 16. Buying
ProShares UltraShort Oil & Gas
(DUG) - Get Report
, which is two times short the Dow Jones U.S. Oil & Gas Index, on market close on June 16, the entry would be at $17.14. The close on June 19 was $18.13, a gain of 5.8%.
I like trailing stops for positions that can move quickly and have moderate volatility. In this case I have selected a 15% trailing stop, which is currently at $15.60 based on the Friday intraday high of $18.35. If oil continues to move down, I will change the trailing stop-loss to 20% when DUG moves above $20.
The sixth contrarian idea was to buy health care stocks through the
Health Care Select Sector SPDR
(XLV) - Get Report
. Buying XLV at the market close on May 26 has produced a return of 2.7%, including dividend, through June 19. We are holding this position in our portfolio with no stop-loss protection.
The seventh idea was to sell real estate using
Proshares Ultrashort Real Estate
(SRS) - Get Report
. The closing price on May 26 was $20.21 and the closing price on June 19 was $20.18, for a loss of 0.1%. We are maintaining a 20% trailing stop-loss on this position.
The eighth contrarian idea was to buy the dollar. There is still a preponderance of opinion favoring the dollar declining back toward 2008 lows near 72. For the past month, the index has hovered near 80, down from a high around 89 earlier in 2009. The closing price for
PowerShares DB U.S. Dollar Index Bullish
(UUP) - Get Report
on June 19 was exactly the same as the closing price on May 26. We are maintaining a 5% trailing stop-loss order on UUP.
The ninth idea was to buy the
Nasdaq 100
and sell the
S&P 500
in equal dollar amounts. We have chosen to do this with 2 times leveraged ETFs:
ProShares UltraShort S&P 500
(SDS) - Get Report
for shorting the S&P 500 and
ProShares Ultra QQQ
(QLD) - Get Report
for buying the Nasdaq 100.
Both indices have advanced since May 26, but the NASDAQ 100 has been much stronger, so the combined position has advanced 2.3%. Simply buying QLD (no S&P 500 short hedge), the gain would have been 7.8%. We suggested the hedge to protect against a broad market pullback, which has occurred only recently.
Finally, we suggested that either buying or selling Treasuries could be contrarian. The short position could be established with TBT while the long position could use
iShares Barclay's 20+ Year Treasury Bond
(TLT) - Get Report
. To date, TBT is down 1.3% and TLT has gained 0.8%. The trailing stop-loss we have for TBT is 15% and 7.5% for TLT. During this time period I have not use either position in any portfolios.
The following table summarizes the current status of all the contrarian ideas for the summer.
At the time of publication, Lounsbury was long GLL, SKF and DUG.
John B. Lounsbury is a financial planner and investment adviser, providing comprehensive financial planning and investment advisory services to a select group of families on a fee-only basis. He worked for 34 years with IBM, and spent 25 years in R&D management and corporate staff positions. He also was a Series 6, 7, 63 licensed representative with a major insurance company brokerage for nine years.
Specific interests include political and economic history and investment strategy analysis. He holds degrees from the University of Vermont, Columbia University and the Illinois Institute of Technology, where he studied chemistry, physics and mathematics. He is a contributor to Seeking Alpha and his own blog,
.