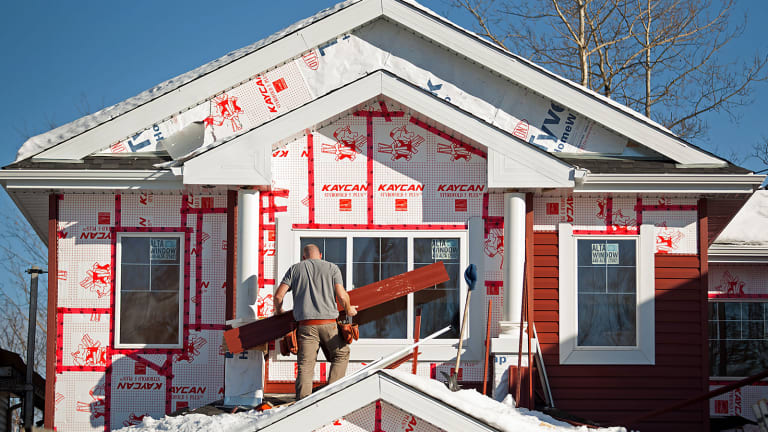 It's party time for Americans who work in, and make money off of, the U.S. housing market.
With the spring housing market only weeks away, the early numbers show a rising real estate sector and reflect equally bullish numbers from housing stocks and funds, especially home construction exchange-traded funds.
Take the iShares U.S. Home Construction ETF (ITB) - Get iShares U.S. Home Construction ETF Report , which is up 10.88% on a year-to-date basis, versus a 6.6% return by the S&P 500 over the same time period. The fund holds 44 stocks, including housing sector stalwarts like Lennar (LEN) - Get Lennar Corporation Class A Report, Toll Brothers (TOL) - Get Toll Brothers, Inc. Report , Home Depot (HD) - Get Home Depot, Inc. (HD) Report and Lowe's (LOW) - Get Lowe's Companies, Inc. (LOW) Report, and boasts a top "1" ranking by Zacks.
The sector also includes the SPDR Homebuilders ETF (XHB) - Get SPDR S&P Homebuilders ETF Report , up 8.57% on a year-to-date basis. The fund is basically split into three categories, including building products (31.98% of the fund); homebuilding (30.94%); and home furnishings (11.23%), and top holdings include Williams-Sonoma (WSM) - Get Williams-Sonoma, Inc. Report (4.92%), Bed Bath & Beyond (4.78%) and Toll Brothers (4.76%), thus offering a risk guardrail in the event one sector lost some luster.
Other financial industry gurus tout another housing market fund -- iShares Global Timber & Forestry (WOOD) - Get iShares Global Timber & Forestry ETF Report . "Lumber is a large part of the home building process and WOOD gives investors access to the diversified global timber market," says Ryan Bayonnet, a certified financial planner with Hyland Financial Planning, near Cleveland, Ohio. "The fund holds a diversified 25 stocks, with its top three holdings being the timber giants West Fraser Timber (WFT) - Get Weatherford International plc Report , Weyerhaeuser and Rayonier. WOOD is the cheapest and most diversified way to capitalize on this part of the home building process and only costs $47 a year (in fees) on a $10,000 investment."
All three funds appear to be capitalizing on rosier projections for the U.S. housing market in 2017, industry experts tell TheStreet.
"There is a lot of optimism coming from consumers and lenders headed into the spring home-buying season, much of which is tied to the new administration," says Darius Mirshahzadeh, CEO at The Money Source in San Francisco. "We'll likely see homeownership pick up dramatically, following the lowest drop in homeownership rates in 50 years."
Mirshahzadeh says that on the consumer side, the stock market is going up. "When the stock market goes up, consumers' optimism also increases because their 401(k)s are going up and taxes are being cut," he says.
He also notes the cost of homeownership is likely to become more accessible for consumers, and soon. "Lenders are anticipating further action from the Trump administration to deregulate," Mirshahzadeh notes. "The ordered review of Dodd-Frank was likely just the beginning. Plus, the Qualified Residential Mortgage Rule, which establishes stringent rules for what types of mortgages are protected within safe harbor, will likely be rolled back."
Arturo Neto, founder and chief investment strategist at Orenda Partners in Coral Gables, Fla., agrees, adding that the U.S. housing market is in a pressure cooker right now.
"The housing market is ready to explode," he says. "The problem has been a lack of inventory of homes for sale, and a slow acceleration of new starts by the homebuilders. With no inventory, prices may have spiked a bit faster than if the market was more balanced. If more homes are put up for sale, we could see a nice spike in home buying activity, even though it has already been on a slightly positive uptrend."
Neto does say that interest rate increases could hamper expected sector growth (the Federal Reserve is expected to hike rates again).
"We may get to a point when banks start lending to people with 'normal' credit at a time when homes become less affordable because of price increases," he notes. "It will be interesting to watch how this unfolds and it will be one of the risks that may limit the upside potential."
On the markets side of the equation, Neto says he likes the SPDR S&P Homebuilders ETF (XHB) - Get SPDR S&P Homebuilders ETF Report , because it has "high exposure" to housing-related consumer discretionary stocks and home improvement companies.
"For example, the largest holding is Williams Sonoma and both Home Depot and Lowe's are top holdings," he says. "If home sales disappoint, we may still see consumers ramp up home remodeling projects or buy new furniture and accessories."