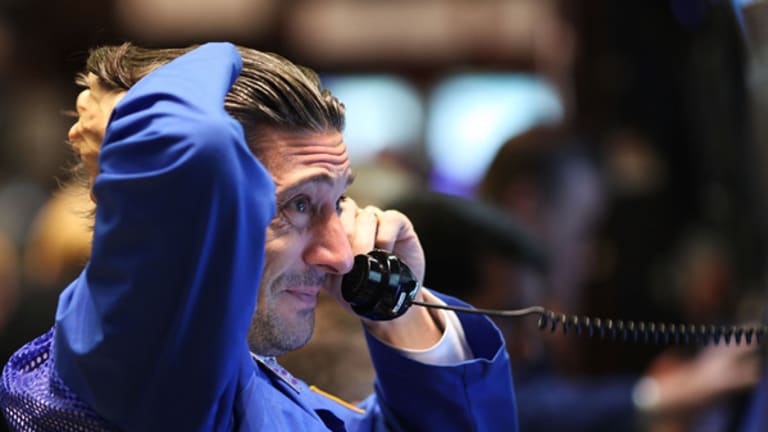 Stop Trading UNG
Trading should be halted immediately after UNG decided not to issue any additional shares.
NEW YORK (
) -- The
United States Natural Gas ETF
(UNG) - Get United States Natural Gas Fund LP Report
closed at a 8.43% premium to net asset value Thursday, underscoring the fund's decision to not issue additional shares. Premiums like this are unacceptable, and this fund is now an ETF in name only.
Trading in UNG should be halted immediately.
ETFs are designed as transparent vehicles that are set to track an underlying basket ofsecurities.
Transparent is hardly a word that one can use when describing the current state ofUNG. The fund's refusal to create additional units is an admission that the fund managersare not sure of what the fund's investment strategy should be.
UNG is currently examining investment alternatives for the fund's assets. Managers havebeen buying swaps and unloading soon-to-be-regulated futures contracts. A halt in tradingwould allow UNG managers to wait for answers from the Commodities Futures TradingCommission and come up with a game plan.
UNG has not been tracking its underlying basket for some time now. The creation of additional shares was halted in early July when UNG ran out of its allotment of additional shares.
Since thecreation/redemption process is the heart of all ETFs, trading should have been halted whenit went into
.
Regulators are changing the rules mid-game with UNG. They have taken the wheels off ofthe UNG bicycle and then patiently asked it to continue rolling down the street. Thisdangerous, unwieldy fund will continue to be a safety hazard.
UNG managers cannot be blamed for not wanting to create additional shares. The ongoingCFTC debate will bring new regulation, likely in the form of position limits, which willparalyze UNG's current creation process. The rules are about to change again, and UNG isskipping its turn until they've been established.
The continued trading of this fund is a public health hazard that must be addressed. Withoutthe creation process, this fund cannot trade as advertised and it faces a potential lawsuit.
It is the creation and redemption process that keeps a fund's market price in line with itsunderlying value. In an age of electronic trading and high volume, extreme premiums anddiscounts should be viewed with a skeptical eye.
In the last month every regulator in the book has wanted to scrutinize the booming ETFindustry. It's time for one of them to do the right thing and call a time out before someonegets hurt.
-- Written by Don Dion in Williamstown, Mass.
At the time of publication, Dion does not own any fund mentioned.
Don Dion is president and founder of
, a fee-based investment advisory firm to affluent individuals, families and nonprofit organizations, where he is responsible for setting investment policy, creating custom portfolios and overseeing the performance of client accounts. Founded in 1996 and based in Williamstown, Mass., Dion Money Management manages assets for clients in 49 states and 11 countries. Dion is a licensed attorney in Massachusetts and Maine and has more than 25 years' experience working in the financial markets, having founded and run two publicly traded companies before establishing Dion Money Management.
Dion also is publisher of the Fidelity Independent Adviser family of newsletters, which provides to a broad range of investors his commentary on the financial markets, with a specific emphasis on mutual funds and exchange-traded funds. With more than 100,000 subscribers in the U.S. and 29 other countries, Fidelity Independent Adviser publishes six monthly newsletters and three weekly newsletters. Its flagship publication, Fidelity Independent Adviser, has been published monthly for 11 years and reaches 40,000 subscribers.