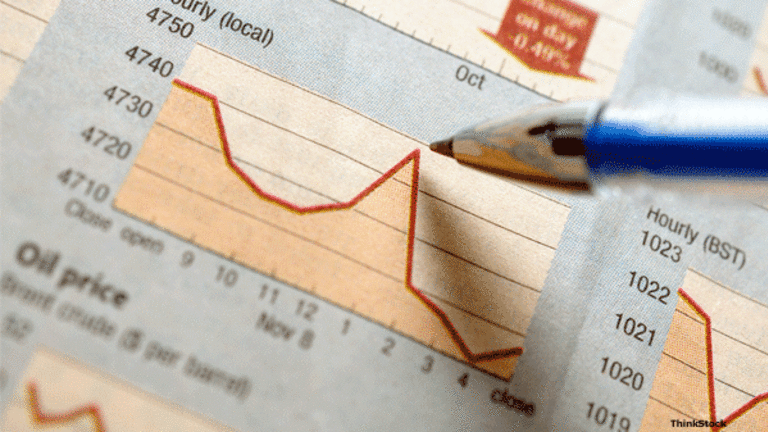 Publish date:
Split Could Set Straight Two Direxion ETFs
The pending reverse split of FAS and FAZ should lower transaction fees for frequent investors while discouraging less sophisticated ones.
The pending reverse split of FAS and FAZ should lower transaction fees for frequent investors while discouraging less sophisticated ones.
The combination of market volatility and the methodology of Direxion Shares Daily Financial Bull (FAS) - Get Report ETF and Direxion Shares Daily Financial Bear (FAZ) - Get Report has eroded the per-share value of these ETFs, prompting the issuer to notify investors of reverse splits planned for July 8.
The low price of FAZ and FAS, approximately $5 and $8 respectively, has caused a surge of volume in the funds in recent months as investors require more shares to meet intraday hedging objectives. The pending reverse split of the shares should lower transaction fees for frequent investors while discouraging investors who should avoid the funds in the first place.
FAS and FAZ were launched by Direxion in November of 2008, as measures of volatility reached incredible peaks. As investors were looking for even greater means to bet on the market's intraday moves, Direxion introduced the two triple-leveraged funds, which provide 3 times exposure for shareholders on a daily basis. Because the funds have a daily "reset" in their tracking of the market, risk that a long-term loss will result grows over time.
In one of my recent articles,
"Big Action in Triple-Leveraged ETFs,"
I discussed how math can work against long-term holders of leveraged ETFs. Because the funds only track returns on a daily basis, a percentage move down that follows a percentage move up can be detrimental. Case in point: FAS, the 3 times bull ETF, is down more than 67% year-to-date while its bearish peer FAZ is down nearly 86%. Clearly, these ETFs do not track the movement of the actual market over time.
Direxion Shares
and
Direxion Funds
, managed by
Rafferty Asset Management
is the issuer of leveraged index funds, ETFs and alternative-class fund products for investment advisors and sophisticated investors who seek to effectively manage risk and return in both bull and bear markets. Founded in 1997, the company has approximately $6.5 billion in assets under management as of May 31, 2009. Disclosure available on the company's Web site further specifies that the products are intended for advanced investors only.
On Wednesday, July 8, Direxion will execute a 1-for-5 reverse split of the shares of FAS and a 1-for-10 reverse split of the shares of FAZ. Because of the split, some investors will be left holding fractional shares that cannot be traded on NYSE Arca. According to Direxion's press release:
Thus, FAS and FAZ will redeem for cash a shareholder's fractional shares at the Funds' respective split-adjusted NAVs as of July 8, 2009. Such redemptions could cause a shareholder to realize a gain or loss in connection with the redemption of the shareholder's fractional share. Otherwise, the reverse split will not result in a taxable transaction for holders of FAS or FAZ shares. No transaction fee will be imposed on shareholders for such redemption.
Direxion will provide a one-time opportunity for shareholders to redeem their odd-lot shares. While the split will hike up the price of FAS and FAZ, potentially discouraging some investors from scooping up shares, further market volatility could erode the price of FAS and FAZ once again in the future.
The reverse split in FAS and FAZ should dampen the explosion in volume that the funds have seen in the past few months. Since the share price of FAS and FAZ has been so low -- approximately $8 and $5, respectively -- investors have had to buy more and more shares to have equivalent investments.
The drop in price has also potentially attracted investors who do not belong in leveraged funds. With higher share prices and lower share volume, the headlines for these funds may finally become representative of their actual meaning to the market.
In a Q&A available on their website, direxionshares.com, the issuer notes that the reverse split could be beneficial to their shareholders. The primary reason that Direxion is completing the split is the fees that are currently incurred by shareholders. Direxion notes:
The bid-ask spread is expected to decline as a percentage of the price paid per share. For instance, a penny spread on a $5 stock is 20 basis points (0.2%), while a penny spread on a $50 stock is 2 basis points (0.02%). Further, commissions charged by brokers who assess their clients on a per share basis will be smaller as investors will need to buy or sell fewer shares to meet their investment goals. In short, Direxion believes that the reverse splits will adjust the share prices to a more cost efficient level for the Funds' shareholders.
While investors may begrudge the taxable event that will result from redeeming odd-lot shares in the wake of the split, the reduction in transaction fees may be a satisfying reward.
Direxion's reverse split will reduce fees and refocus investors in the short term, but due to the nature of the funds, long-term problems will remain. The split will prop up the funds' price for now, but erosion could haunt investors once again. In the meantime, it is more important than ever for investors to focus on the true purpose of the funds: as an intraday hedge for sophisticated investors.
At the time of publication, Dion had no positions in the stocks mentioned.
Don Dion is the publisher of the Fidelity Independent Adviser family of newsletters, which provides to a broad range of investors his commentary on the financial markets, with a specific emphasis on mutual funds and exchange-traded funds. With more than 100,000 subscribers in the U.S. and 29 other countries, Fidelity Independent Adviser publishes six monthly newsletters and three weekly newsletters. Its flagship publication, Fidelity Independent Adviser, has been published monthly for 11 years and reaches 40,000 subscribers.
Dion is also president and founder of Dion Money Management, a fee-based investment advisory firm to affluent individuals, families and nonprofit organizations, where he is responsible for setting investment policy, creating custom portfolios and overseeing the performance of client accounts. Founded in 1996 and based in Williamstown, Mass., Dion Money Management manages assets for clients in 49 states and 11 countries. Dion is a licensed attorney in Massachusetts and Maine and has more than 25 years' experience working in the financial markets, having founded and run two publicly traded companies before establishing Dion Money Management.