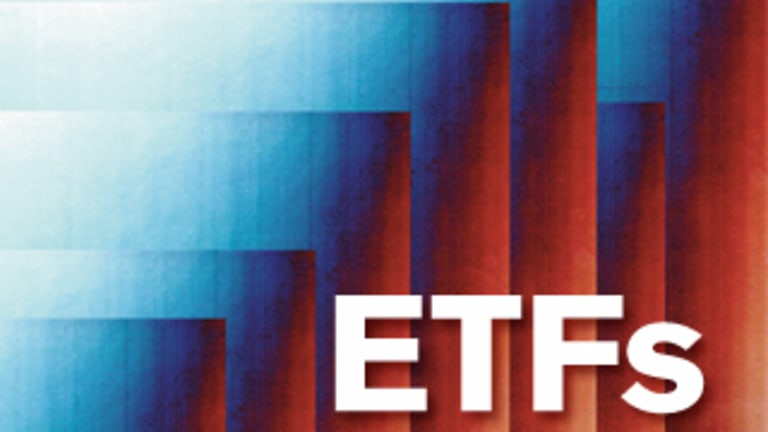 SPDR, MFS Offer Actively Managed ETFs Suite
The ETF giant and the mutual fund giant collaboration on equity ETFs likely to lead to many other pairings.
NEW YORK (TheStreet) --Yesterday we looked at the first of what will likely be several partnerships between investment companies to bring new and what they hope will be innovative ETFs to the market.
ETF giant, SPDR has paired with traditional mutual fund giant MFS to launch three new systematic equity ETFs.
SPDR MFS Systematic Value Equity SYV
They are SPDR funds that are actively managed by MFS. The systematic approach means combining fundamental and quantitative analysis to build and then maintain the portfolios. The process starts with screening the relevant universe for the specific fund for stocks rated buy or hold rated by MFS and then those stocks are quantitatively scored on a proprietary multifactor model for inclusion in the fund.
SPDR and MFS believe that current conditions make for a favorable time for the sort of stock picking that these funds will employ because of expectations for improved economic growth which they believe will lead to improved earnings growth. They also note decreased correlations as being conducive for a stock picker's market. While you would expect a fund provider to make a favorable case for its funds, this week's Barron's made a similar argument for active management.
All three funds benchmark to domestic, large cap indexes but the funds will have more concentrated portfolios with 40 to 55 holdings.
The Systematic Core Equity fund tracks the S&P 500. Technology is the largest sector in the fund at 22% followed by healthcare at 16% and financials at 15%. The S&P 500 weighs those sectors at 18%, 13% and 16% respectively.
SYE's largest holdings include Exxon Mobil (XOM) - Get Exxon Mobil Corporation Report, JPMorgan (JPM) - Get JPMorgan Chase & Co. (JPM) Report and IBM (IBM) - Get International Business Machines (IBM) Report which are also in the top 10 of the S&P 500 but SYE only has four of its top 10 holdings in common with the benchmark which should reasonably address any concerns about closet indexing.
Closet indexing is a derogatory term that refers to an actively managed fund being constructed so similarly to the benchmark as to offer no reasonable opportunity for outperformance. It would not make sense to buy an actively managed fund that did not provide a reasonable opportunity to outperform. An actively managed fund may never outperform but not trying to outperform either on a nominal or risk adjusted basis is pointless.
The Systematic Core Growth fund benchmarks to the Russell 1000 Growth Index. Tech is also the largest sector in this fund at 28% followed by consumer discretionary at 17% and health care at 14%. Its benchmark allocates 27%, 19% and 12% respectively to those same sectors. SYG only has two of its top ten in common with Russell 1000 Growth, again allaying concerns of closet indexing.
Finally the Systematic Core Value fund tracks the Russell 1000 Value Index. Like the other funds SYV looks similar to its benchmark at the sector level; financials, healthcare and energy are the largest in both but it also avoids closet indexing in its stock picks only have two of its top 10 in common.
All three funds will have 0.60% expense ratio which is cheap for active management that adds some sort of value. There is of course no way to know whether any of the three will outperform their respective benchmarks but there is no reasonable risk of these funds blowing up relative to their benchmarks. But for proper context, these funds will not be able to somehow go up the next time there is a bear market and broad based indexes drop 30%.
At the time of publication the author held no positions in any of the stocks mentioned.
This article represents the opinion of a contributor and not necessarily that of TheStreet or its editorial staff.