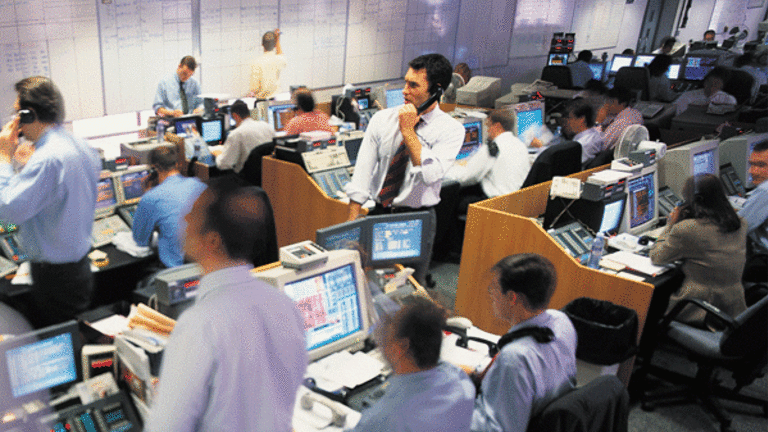 NEW YORK (
) -- As investors digest news of the
in
PowerShares DB US Dollar Index Bullish ETF
(UUP) - Get Invesco DB US Dollar Index Bullish Fund Report
, they should take note of an alarming new trend in the ETF industry.
As investors flood into funds to take advantage of the latest market trends, some ETFs have reached a breaking point.
During 2009, an influx of investor interest in funds like
United States Natural Gas
(UNG) - Get United States Natural Gas Fund LP Report
and
PowerShares DB Commodity
(DBC) - Get Invesco DB Commodity Index Tracking Fund Report
has resulted in creation halts and strategy reconstructions. While UNG and DBC have been saved by strategy overhauls, the fate of other funds is less certain.
The Commodities Futures Trading Commission has been monitoring the impact that certain ETFs have on the commodities that they are designed to track. New position limits prompted the
of funds like UNG, DBC and PowerShares DB Agriculture, and the
of the popular
PowerShares DB Crude Oil Double Long ETN
(DXO)
.
More recently, the
iPath Dow Jones Platinum ETN
(PGM) - Get iPath Series B Bloomberg Platinum Subindex Total Return ETN Report
to stay within position limits.
Another
to funds like UNG and UUP is the necessary SEC approval to create additional blocks of shares. As investors rush into ETFs, it triggers the creation of new shares by authorized market participants.
The process of share creation is perhaps the most defining aspect of the ETF industry. Unlike closed-end funds, ETFs are designed to closely track their underlying indexes. This is
because of share creation and redemption.
When the creation process is interrupted, as is currently the case with UUP, ETFs cease to exist as ETFs, but rather trade at premiums to their underlying value like CEFs. Professional traders breed in these gaps, as the people with the inventory increase their vig and lock in their hedges. Increased electronic participation and volume have helped to narrow the spreads in popular ETF funds. A creation halt is great for shareholders and bad for individual investors chasing a trend.
Be it a creation halt or forced restructuring, any disruption in the pricing of an ETF comes at the expense of the consumer. ETFs are designed as transparent, fluid vehicles, where you can price what you're buying and reasonably calculate how much the other guy is making on the trade. Halting share creation, or forcibly causing a change in strategy, throws this balance out of
.
The creation halt contagion has thus far only spread to a limited number of commodities and currency funds. Continued share halts, however, carry serious implications for other ETF products.
Both UUP and the ill-fated DXO were created as ETF pairs. While their partners,
PowerShares DB US Dollar Index Bearish
(UDN) - Get Invesco DB US Dollar Index Bearish Fund Report
and
PowerShares DB Crude Oil Double Short ETN
(DTO) - Get DB Crude Oil Double Short Exchange Traded Notes Report
, have yet to reach the critical mass necessary to trigger a creation halt, they could experience the same problems faced by UUP and DXO in the months to come.
The ETF industry is booming, and the participants need to put their heads together and figure out how to keep the wheels greased. Regulators need to figure out how to closely watch funds without disrupting the flow of trading. ETF issuers need to work with regulators so that they don't break the promises made to investors.
In the meantime, investors should avoid ETFs whose share creation has been put on hold, and be wary of similar futures-based funds. Existing ETF owners should continue to check their portfolios to make sure they are running smoothly. ETFs have brought investors increased access to market niches. With this increased access comes increased responsibility.
-- Written by Don Dion in Williamstown, Mass.
At the time of publication, Dion owns PowerShares DB US Dollar Index Bearish.
Don Dion is president and founder of
, a fee-based investment advisory firm to affluent individuals, families and nonprofit organizations, where he is responsible for setting investment policy, creating custom portfolios and overseeing the performance of client accounts. Founded in 1996 and based in Williamstown, Mass., Dion Money Management manages assets for clients in 49 states and 11 countries. Dion is a licensed attorney in Massachusetts and Maine and has more than 25 years' experience working in the financial markets, having founded and run two publicly traded companies before establishing Dion Money Management.
Dion also is publisher of the Fidelity Independent Adviser family of newsletters, which provides to a broad range of investors his commentary on the financial markets, with a specific emphasis on mutual funds and exchange-traded funds. With more than 100,000 subscribers in the U.S. and 29 other countries, Fidelity Independent Adviser publishes six monthly newsletters and three weekly newsletters. Its flagship publication, Fidelity Independent Adviser, has been published monthly for 11 years and reaches 40,000 subscribers.