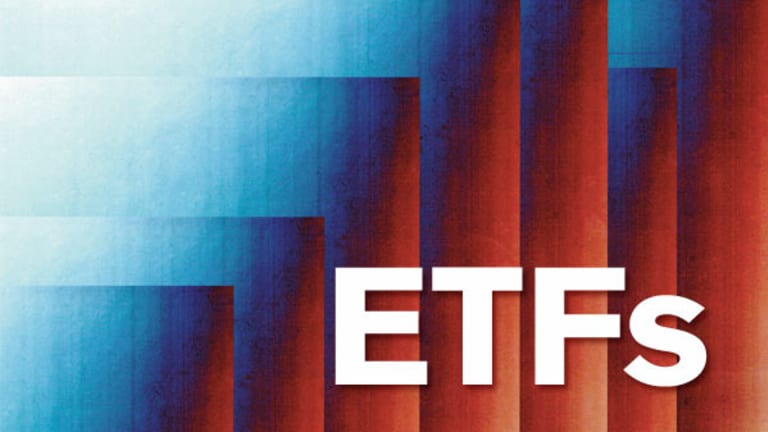 Small Dividend Stocks Deliver Hefty Returns
These ETFs beat the S&P 500 while providing rich income.
NEW YORK (TheStreet) -- Searching for income, investors have been pouring into exchange-traded funds that hold big dividend-paying stocks.
A favorite choice is
Vanguard High Dividend Yield ETF
(VYM) - Get Vanguard High Dividend Yield Index ETF Report
, which yields 2.9%. But you can get more income with two ETFs that invest in smaller stocks:
WisdomTree SmallCap Dividend
(DES) - Get WisdomTree U.S. SmallCap Dividend Fund Report
, which yields 3.7%, and
WisdomTree MidCap Dividend
(DON) - Get WisdomTree U.S. MidCap Dividend Fund Report
, with a yield of 3.2%.
Besides solid dividends, the WisdomTree funds have also delivered strong total returns. During the past five years, the small-cap fund returned 8.9% annually, compared to 5.5% for the
S&P 500
and 7.7% for
iShares Russell 2000 ETF
(IWM) - Get iShares Russell 2000 ETF Report
. WisdomTree Midcap returned 9.4% annually, compared to 7.3% for
iShares Russell Midcap
(IWR) - Get iShares Russell Midcap ETF Report
.
Not many funds focus on small-cap dividend stocks. When they seek income, investors prefer funds that hold familiar mega-cap dividend payers, such as
Exxon Mobil
(XOM) - Get Exxon Mobil Corporation Report
and
Johnson & Johnson
(JNJ) - Get Johnson & Johnson Report
. Small-cap companies are often seen as more volatile and less likely to deliver stable income. But even though small stocks can be volatile, they have a long track record for generating compelling results.
Many academic studies have shown that small stocks outdo large ones over the long term. Dividend-paying small stocks do especially well. From the end of 1984 through the first quarter of this year, the dividend-paying members of the Russell 2000 outdid the nondividend payers by 2.6 percentage points annually, says Adam Peck, portfolio manager of
Heartland Value Plus
(HRTVX) - Get Heartland Value Inv Report
, a mutual fund that buys small-cap dividend stocks.
Peck says that dividend stocks can be less volatile than nondividend payers. "Dividend payers tend to be more well-established companies with consistent cash flows," he says.
>>Also see: Countrywide II Off to the Races >>
Because they must make regular cash payments to shareholders, dividend companies tend to be disciplined about how they manage their balance sheets, Peck says. When they are required to pay dividends, CEOs are less likely to take on debt or spend heavily on risky acquisitions.
Jeremy Schwartz, WisdomTree's research director, says that average dividend stocks are more profitable. The stocks in the WisdomTree small-cap index have returns on equity of 7.5%, compared to 5.6% for the
Russell 2000
. "About 20% of the weight of the Russell 2000 is in unprofitable companies," says Schwartz. "Dividend payers tend to be more profitable."
To construct the benchmarks for its dividend funds, WisdomTree starts with all the dividend payers in the categories. The stocks are weighted according to the total dividends they pay.
If a company pays out 1% of all dividends in a group, then that is its approximate weighting in a fund. Big holdings in the mid-cap ETF include
H&R Block
(HRB) - Get H&R Block, Inc. Report
and money transfer company
Western Union
(WU) - Get Western Union Company Report
.
WisdomTree's system of weighting by dividends is very different from the traditional market capitalization approach used by Russell and most other major benchmarks. In the traditional system, stocks with the biggest market values account for the greatest weighting. As a result, the benchmarks tend to put more emphasis on popular growth stocks that don't necessarily pay dividends. In contrast, the WisdomTree dividend system emphasizes high-yield stocks.
The two WisdomTree dividend portfolios may offer a way for income investors to diversify blue-chip portfolios. For starters, the smaller WisdomTree stocks don't always move in lockstep with the S&P 500.
In addition, the WisdomTree funds emphasize different sectors than many market-cap weighted portfolios do. While the Vanguard High Dividend ETF has 32% of assets in health and consumer defensive stocks, WisdomTree SmallCap has only 10% in those sectors. Instead, WisdomTree has an overweight in industrials and consumer cyclicals.
>>Also see: The Canadian Takeover of U.S. Real Estate >>
Schwartz argues that diversification could be particularly important for traditional dividend investors in the current market. In recent months, many blue-chip dividend payers have enjoyed big runs as investors have sought income. Now prices of many consumer staples and health stocks appear rich. By adding some smaller stocks to a dividend portfolio, investors may protect against a correction.
This article was written by an independent contributor, separate from TheStreet's regular news coverage.
Stan Luxenberg is a freelance writer specializing in mutual funds and investing. He was executive editor of Individual Investor magazine.