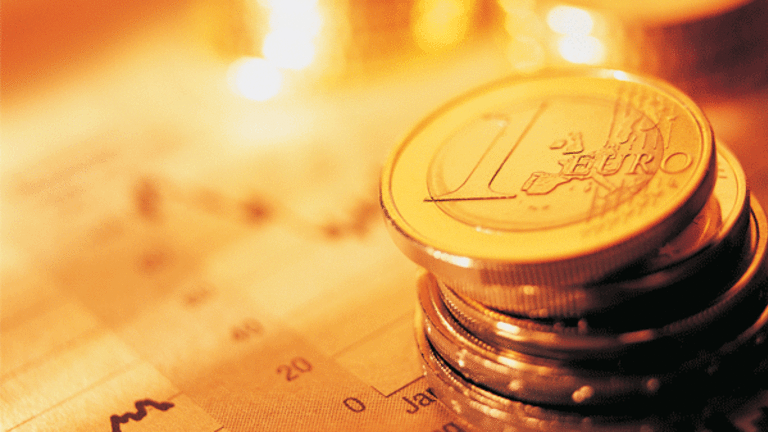 Shifting to Non-Cyclical Stock ETFs in Q2
If you believe the bull market will remain intact in 2012, you might wish to overweight non-cyclicals.
The following commentary comes from an independent investor or market observer as part of TheStreet's guest contributor program, which is separate from the company's news coverage.
NEW YORK (
) -- For three years, individual investors betting on the "end of days" have been burned at the stake. Summertime corrections occurred in 2009, 2010 and 2011, and each time markets recovered handsomely.
In 2012, it would be easy to employ the same pattern of "selling in May and going away." On the other hand, the more predictable the pattern, the less likely it is to occur.
Instead, we may see a year like 2003 where stocks kept defying the odds and simply moved higher. Or, we may see a series of volatile pullbacks that are short in duration. What's more, the series of selloffs may not be greater than 7% to 8%, whereby eager-to-participate "newbies" continuously buy the dips.
I will not pretend to know what will happen next. But I do know that non-cyclical stock ETFs have had a habit of outperforming the market in periods of corrective activity and heightened uncertainty.
For example, stock assets floundered through the economic soft patch period circa May 2010 to August 2010.. It was at this time that
Vanguard Consumer Staples
(VDC) - Get Vanguard Consumer Staples ETF Report
provided a measure of stability to portfolios. The same stability with VDC occurred in 2011, during Europe's sovereign debt contagion scare. Specifically, during a May-October bearish downtrend, VDC held up far better than the markets at large.
The non-cyclical phenomenon can be seen in a two-year price ratio (VDC:SPY). Notice that the price ratio rose in both summertime periods; conversely, it fell during the bullish periods (i.e., September 2010 to April 2011 and October 2011 to Present).
If you believe that the bull market will reward riskier cyclicals (e.g., financials, technology, energy, consumer discretionary, industrials, etc.) throughout 2012, you shouldn't rebalance. And if you believe a recessionary bear is set to maul equities, you should head for the most comforting safe havens -- money market cash, short-term treasuries and the yen.However, if you believe that 2012 may be rocky and trendless at times, but that the bull market will remain intact, you might wish to overweight non-cyclicals for Q2. In fact, some non-cyclicals produce reliable income streams. Here are several ETFs that may fit your bill:
1.
iShares High Dividend Equity Fund
(HDV) - Get iShares Core High Dividend ETF Report
. Want to get your capital appreciation cake and eat the "yield-inspired" icing too? HDV provides a 29% exposure to non-cyclical pharmaceuticals as well as a 30-day, annualized SEC yield of 3.7%. That's 150 basis points more than a 10-year yield. In other words, HDV could be flat for a decade and still give you a heck of a lot more to cheer about. (But how about just overweighting it for now!)
2.
PowerShares S&P 500 Low Volatility
(SPLV) - Get Invesco S&P 500 Low Volatility ETF Report
. You can argue with its underachievement in 2012, as the S&P 500 has been rocking its low volatility boat. But you can't argue with a strong technical uptrend or an anticipated yield north of 3%. This ETF seeks investment results that correspond to the price and yield of the S&P 500 Low Volatility Index, which consists of the 100 stocks from the S&P 500 with the lowest realized volatility over the past 12 months. Typically, stocks with less volatility are inherently non-cyclical in nature -- from staples to utilities to health care.
One last word about the runaway bull. In February of this year, the number of New York Stock Exchange companies at 52-week highs minus those hitting 52-week high lows hit 280 companies. Then, the S&P 500 hovered at the 1350 level. Today, as the S&P 500 continues to hold the 1400 mark, the net difference between 52-week highs and 52-week lows is down to 38. In essence, less corporations are shouldering the weight for the heralded benchmark.
Granted, many technical analysts will call this a bearish sign. Others will simply say that there is little conviction about the direction of the economy, the political landscape or the world's well-being at large. That said, I feel it would be equally unwise to abandon equities completely. It's far better to
modify the nature of your risk exposure than to choose a course of "all in" or "all out."
Disclosure Statement: ETF Expert is a website that makes the world of ETFs easier to understand. Gary Gordon, Pacific Park Financial and/or its clients may hold positions in ETFs, mutual funds and investment assets mentioned. The commentary does not constitute individualized investment advice. The opinions offered are not personalized recommendations to buy, sell or hold securities. At times, issuers of exchange-traded products compensate Pacific Park Financial or its subsidiaries for advertising at the ETF Expert website. ETF Expert content is created independently of any advertising relationships. You may review additional ETF Expert at the site.
Gary Gordon reads:
On Twitter, Gary Gordon follows: