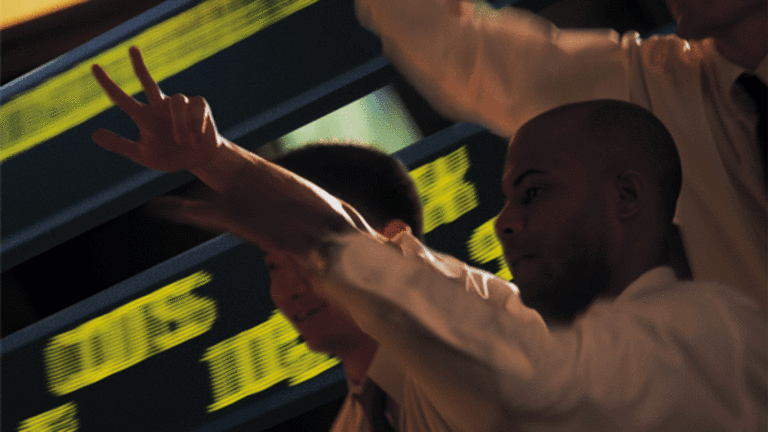 Semiconductors Showing Solid Strength
Overall, the fundamentals are encouraging and the industry will likely remain a hotbed for mergers-and-acquisitions activity in 2011 and beyond.
Overall, the fundamentals are encouraging and the industry will likely remain a hotbed for mergers-and-acquisitions activity in 2011 and beyond.
Editor's note: This piece originally ran earlier today on our newest Premium service, ETF Profits. Click here for a 14-day trial to this exciting product!
In today's fast-moving markets, it's not easy to develop a bearish or bullish stance and stick with it, especially when whipsaw action is commonplace. I use price and volume clues in the major stock indices to tell me when to be bullish and when to bearish, and recent market action has caused me to slant toward the bearish side. But don't get me wrong: I'm not expecting a bull-blown bear market to take shape. But I am expecting a short-term pullback before the bull run resumes. Recent U.S. economic data have been too good to ignore, but I also believe that the market needs to digest its recent gains a bit more.
On Wednesday, I established a long position in the
ProShares UltraShort QQQ
(QID) - Get Report
at $51.75. Stocks opened strongly Thursday, putting pressure on the QID, which was trading 2.7% lower at $50.72 in early trading. Timing is everything in the market, and if my timing turns out to be wrong, I will cut losses short and move on. As I wrote yesterday, I tend to cut losses between 5% and 10% below my purchase price. One thing I'm good at is admitting when I'm wrong on a trade. However, after one day, it's too early to say my timing was wrong with the QID.
I outlined my reasons for buying the QID on Wednesday, and I'm sticking with the thesis for now. I noted some risks with the trade, namely that major stock indices were still holding above their respective 50-day moving averages, a key support level. Today, the
Nasdaq
is trying to make a case it will find support again at its 50-day moving average as it did in November before starting another leg higher.
If the market uptrend resumes, it would be silly to fight the tape. That's why I'm constantly on the lookout for bullish ETF setups. They're not abundant at the moment, but I am encouraged by the continued resilience of the
Semiconductors Holders Trust
(SMH) - Get Report
. The fund has total assets of $1.5 billion, holds 18 stocks and yields about 1.4%. Its three biggest weightings are
Texas Instruments
(TXN) - Get Report
,
Intel
(INTC) - Get Report
and
Applied Materials
(AMAT) - Get Report
, accounting for about 50% of the fund's assets.
On Wednesday, chip stocks got a lift after JPMorgan Chase made positive comments about the semiconductor industry as a whole and raised ratings on Texas Instruments,
ON Semiconductor
(ONNN)
and
Xilinx
(XLNX) - Get Report
. Fundamentals in the semiconductor space to continue to look solid. In late January, the Semiconductor Industry Association (SIA) said 2010 global chip sales jumped 32% from 2009 to $298.3 billion. For 2011, the SIA forecasts moderate single-digit growth, which is still encouraging after robust growth in 2010.
I also believe the semiconductor industry will continue to be a hotbed for merger-and-acquisition activity in 2011 and beyond.
Qualcomm
(QCOM) - Get Report
recently plans to buy
Atheros Communications
( ATHR) and there are scads of small-cap names in the space growing rapidly with niche products. Firms like this tend to draw the attention of larger firms that are looking to reignite growth.
The SMH could be poised to take advantage of another upward push in the market. It's plenty liquid with an average daily volume of over 6 million shares, and the fund's resilience in recent weeks is worth noting.
The SMH had a good day Wednesday, outperforming the market with a gain of 2.1% in strong volume. Its weekly chart shows a nice breakout in early November and strong price action since then. Similar to the major stock indices, the SMH has found support at its 10-week moving average and it could find support there again.
Its price action last week was bullish even though it gave up 1.5% for the week. Notice how it closed near its weekly high. That's a sign of support. If a new round of buying comes into the market and major stock indices start making new highs again, the SMH's current technical picture indicates that it has a good chance of outperforming the broad markets. That said, I still want to the major stock indices prove themselves first. Price and volume action today and tomorrow in the indices should provide clues about where the market is headed. Shares of SMH were recently trading around $36.38, up 1.2% on the day.
Indeed, one has to be nimble in today's fast-moving market because market conditions and overall sentiment can turn on a dime. An old friend from Rhode Island wrote me yesterday and said: "The market is like weather in New England. If you don't like it, wait a minute." So true.
So let's watch how things play out today and tomorrow. Friday's employment report will likely be a market mover one way or the other. To me, the job market feels like a coiled spring. Investors have been waiting for a month of strong job growth but have been disappointed the past two months. This time around, the expectations are that the economy will add 220,000 jobs with the overall unemployment number ticking higher to 9.2%. I will watch how the market trades today and tomorrow and let it be my guide as to whether I should continue with my bearish stance or switch gears and starting putting cash to work again.
At the time of publication, Shreve was long QID.
Ken Shreve is manager of TheStreet's
model portfolio. An experienced commentator in the financial markets, Ken Shreve got his start with
Investor's Business Daily
in 1995, where he worked under the tutelage of one of the great growth investors, IBD Chairman and Founder William J. O'Neil. Over the years, Ken has taught several high-level workshops with William O'Neil & Co. Portfolio Managers. In recent years, his daily market wrap video was one of the most-visited areas of Investors.com. Ken continues to provide market commentary on national radio and has appeared numerous times on
CNBC
.