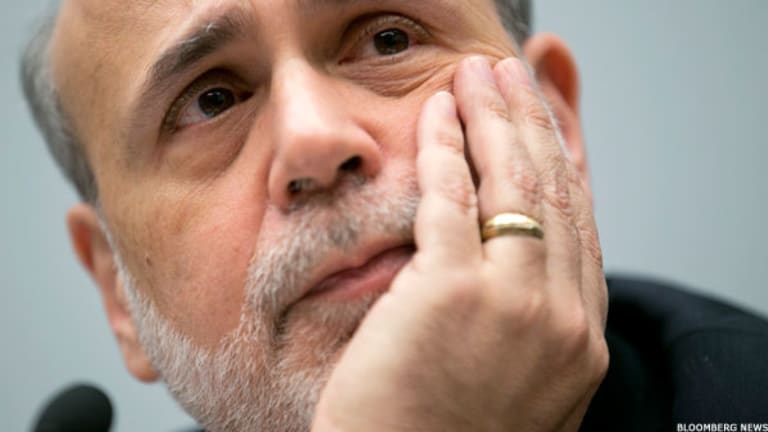 Sector ETFs That 'Dovetail' With Bernanke's Thinking
Is the Fed chairman a genius, a knucklehead or a mere mortal? Here's how to invest around him.
NEW YORK (ETF Expert) -- Is the current chairman of the Federal Reserve a genius, a knucklehead or a mere mortal?
In late May, Ben Bernanke appeared to communicate that our central bank would soon be slowing down its bond purchasing program. Rate-sensitive assets from U.S. Treasury bonds to real estate investment trusts experienced a blood-letting that hardly seemed therapeutic to market participants. The carnage to foreign stocks and bonds was even more severe.
Now, in an apparent about-face, the chairman is emphasizing the Fed's "highly accommodative" stance through an ultra-low rate policy. Presto... stocks and bonds from China to Europe to the Americas rocketed higher.
Many financial professionals recall how previous Federal Reserve Chairman Alan Greenspan had attained deity status by the mid-1990s. Market watchers had credited him with orchestrating an incredible boom in the American economy as well as decades of success for securities.
However, criticism with regard to the dot-come disaster (e.g., "He raised rates too rapidly") and the housing collapse (e.g., "He raised rates too slowly", "He raised rates too high", etc.) changed public perception; that is, Mr. Greenspan may have been human after all.
Did Greenspan receive too much of the blame? Too much of the credit? Yes and yes. On the other hand, Bernanke's guidance has exerted far more influence on global assets than his predecessor's guidance ever had. What's more, even as U.S. stock power their way to record highs, it is too early to tell whether buying bonds to suppress interest rates is beneficial or detrimental to the U.S. economy. (Can you know if the patient has been cured if the patient still requires an enormous amount of medicine?)
The global investing community currently believes that the Federal Reserve is less likely to taper its debt buying this year. All
S&P 500
sectors rallied on this belief; some more than others.
Here are the one-day, turbo-charged results for both the market-cap weighted Select Sector SPDR ETFs as well as the sector ETFs in the Guggenheim Equal Weight series:
The easy take-away from the sector snapshot is that investors coveted basic materials and technology. At first blush, one might think that the leadership demonstrates a preference for stocks that perform best at the earliest stages of economic recovery. Yet, late-stage "faves" like consumer staples and utilities were nearly as convincing. Meanwhile, the ongoing underperformance of energy seems out of character with crude oil near its own 52-week highs.
More likely, the basic materials bounce has more to do with hopes for the People's Bank of China to get on the stimulus bandwagon. Recently dismal trade data have encouraged investors to revisit the least popular year-to-date sector. Moreover, technology's victory may be more attributable to the steeper technical sell-off in the previous month. Support at the 100-day and 200-day not only held firm, but the tech-heavy
Nasdaq
traded higher in 11 of the last 12 sessions.
Perhaps ironically, the sector ETFs that may fare the best with Bernanke in their corner are not represented in the tables above. With the
Fed backing away from the tapering conversation,
rate-sensitive sectors tied to real estate become far more attractive. Not surprisingly,
Vanguard REIT
(VNQ) - Get Vanguard Real Estate ETF Report
and
Guggenheim Timber
(CUT) - Get Invesco MSCI Global Timber ETF Report
amassed one-day gains of 2.4% and 3.4%, respectively.
This article was written by an independent contributor, separate from TheStreet's regular news coverage.
Disclosure Statement: ETF Expert is a website that makes the world of ETFs easier to understand. Gary Gordon, Pacific Park Financial and/or its clients may hold positions in ETFs, mutual funds and investment assets mentioned. The commentary does not constitute individualized investment advice. The opinions offered are not personalized recommendations to buy, sell or hold securities. At times, issuers of exchange-traded products compensate Pacific Park Financial or its subsidiaries for advertising at the ETF Expert website. ETF Expert content is created independently of any advertising relationships. You may review additional ETF Expert at the site.
Gary Gordon reads:
On Twitter, Gary Gordon follows: