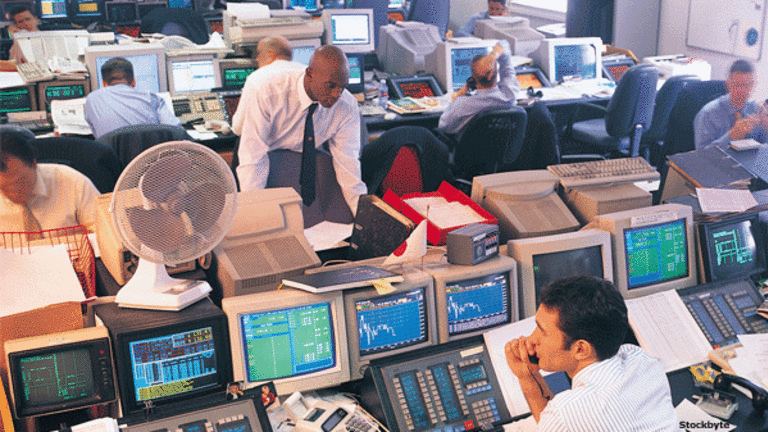 Right Time for ETF Trading, Not Investing
The current market conditions are yielding some attractive opportunities for ETF traders, but not for long-term ETF investors.
The following commentary comes from an independent investor or market observer as part of TheStreet's guest contributor program, which is separate from the company's news coverage.
NEW YORK (
ETF Expert
) -- If you watch violent television shows, are you more likely to kill somebody? Or, are those who have a predisposition towards violence more likely to view blood, guts and gore? (Watching the stock ticker on Thursday, Sept. 22, was about as gory as it gets!)
Too often, the mainstream media endeavor to attribute a rationale for the irrational. For instance, every participant in the stock markets was well aware of the
intention to unleash yet another stimulative exercise for the economy, "Operation Twist."
And nearly every pundit worried that stocks might collapse if the Fed didn't announce a plan to sell shorter-term U.S. treasuries in exchange for purchasing longer-term bonds. (Makes you wonder how bad stocks might have tanked if the Fed had "disappointed" Wall Street.)
We all know what happened next. Shortly after the announcement on Wednesday, the
Dow
fell nearly 300 points. And Thursday, the Dow shed an additional 400 points. So naturally, the two-day 6% shellacking is a direct result of Bernanke's efforts to moderate intermediate- and long-term interest rates, right? That's what the talking heads are saying ... and the timing speaks for itself.
When two events occur close together, like the Fed announcement and a subsequent minicrash, the cause of the selloff may seem obvious.
In actuality, though, traders merely looked for an excuse to push markets toward the low end of the summertime trading range (
1096-1233). And in fact, the excuse was not the "Twist" announcement, but rather, the Fed's assessment that there are "significant downside risks" to the global economy.
Was anyone not aware that there are strains in global financial markets with Europe setting new 52-week lows again and again? We've known that the global economy has been weakening and that the European quagmire has been worsening for weeks; traders merely used the opportunity to move from the high end of the long-standing trading range to the low end of that range.
If you need proof that it's all about the traders, and not new "info," consider the movement of the
VelocityShares Daily Inverse VIX Short Term ETN
(XIV)
. At the precise moment that traders pushed the S&P 500 below the Aug. 8 closing low of 1119.46, I recommended XIV to a few friends. I picked up a few shares myself.
Why? Because when the CBOE Volatility Index (VIX) is pushing 52-week highs and its inverse is pushing 52-week lows, there's a very good chance that "long traders" and short-covering will cool off the volatility. Sure enough, the stock market finished 1.4% higher than its low for the dismal day, and I have an unrealized gain of 3.5% in VelocityShares Daily Inverse VIX Short Term ETN in less than 45 minutes.
I won't be holding XIV, nor do I know how the trade will ultimately fare. More importantly, I am
not
"recommending" that ETF investors start trading their accounts on a daily basis.
The reason that I am bringing this tale to the reader's attention is to let he/she know that this market is not a market for making heroic decisions. An ETF investor may need to wait to see a breakdown below the bear's watermark of S&P 500 1096 or a breakout above the correction mark of S&P 500 1233 before enacting substantive portfolio changes.
In a majority of the portfolios I manage for my clients, there's a healthy helping (20%) of cash and a healthier serving of (40%) of income-oriented ETFs. For example,
iShares High Yield Corporate Bond
(HYG) - Get Free Report
is remarkably attractive when one considers the spread between HYG and comparable Treasury bond ETFs. Even the equity component is yield-oriented, with
SPDR S&P Dividend Aristocrats
(SDY) - Get Free Report
and
PowerShares S&P Low Volatility
(SPLV) - Get Free Report
.
Remember, one week earlier, U.S. stock assets had just completed their biggest five-day run-up in more than two years. Traders pushed stocks from the middle of the range to the high end, and on what? News that China might buy Italian bonds? Word that Germany and France want Greece to remain in the eurozone?
By the same token, don't blame Chubby Checker's "Twist" for institutional trading action that pushed markets back toward the floor. As an ETF investor, you'll need to see whether the floor holds up or not.
You can listen to the ETF Expert Radio Show
"LIVE", via podcast or on your iPod
. You can follow me on Twitter at
.
Disclosure Statement: ETF Expert is a website that makes the world of ETFs easier to understand. Gary Gordon, Pacific Park Financial and/or its clients may hold positions in ETFs, mutual funds and investment assets mentioned. The commentary does not constitute individualized investment advice. The opinions offered are not personalized recommendations to buy, sell or hold securities. At times, issuers of exchange-traded products compensate Pacific Park Financial or its subsidiaries for advertising at the ETF Expert website. ETF Expert content is created independently of any advertising relationships. You may review additional ETF Expert at the site.