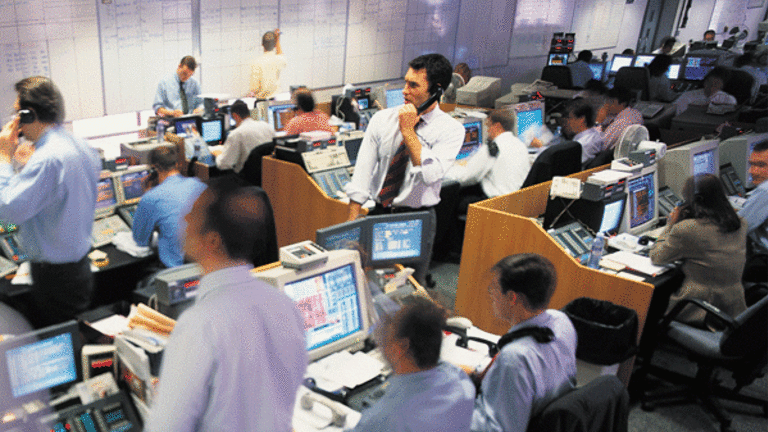 RevenueShares Tries a Different ETF Strategy
RevenueShares is looking to boost investor returns through strategies that weight factors such as dividends, earnings and revenue.
As the exchange-traded fund industry grows, fund issuers have developed creative new ways to maximize the returns of passive strategies. While non-traditional funds like
Direxion Daily Financial Bull 3X Shares
(FAS) - Get Direxion Daily Financial Bull 3x Shares Report
and
United States Natural Gas
(UNG) - Get United States Natural Gas Fund LP Report
have gained popularity among many investors willing to take on the risk, companies like
RevenueShares
,
WisdomTree
and
PowerShares
are seeking to put a new twist on traditional investing.
Shunning the popular market-cap weighting strategy employed by ETF giants like
iShares
and
State Street
(STT) - Get State Street Corporation Report
, RevenueShares and WisdomTree are looking to increase investor returns through strategies that weight factors like dividends, earnings and revenue. PowerShares offers a line of "Dynamic" ETF products that allocate assets using a combination of performance data.
In the last decade, cap weighting may have been king, but new breeds of funds have arrived. This article will be the first in a series that examines the alternative strategies to increase awareness of the growing ETF market.
RevenueShares
RevenueShares applies a revenue-weighting strategy to traditionally cap-weighted indexes. By allocating assets by revenue, this firm seeks to "reduce the erosion of investor returns created by cap-weighting's tendency to overweight outlier firms in the index whose stock prices have been elevated to levels beyond the company's actual growth rate and also the tendency of cap-weighted indexes to underweight stocks that are experiencing cyclical setbacks."
RevenueShares currently has six ETF products:
RevenueShares Large Cap Fund
(RWL) - Get Invesco S&P 500 Revenue ETF Report
,
RevenueShares Mid Cap Fund
(RWK) - Get Invesco S&P MidCap 400 Revenue ETF Report
,
RevenueShares Small Cap Fund
(RWJ) - Get Invesco S&P SmallCap 600 Revenue ETF Report
,
RevenueShares Financial Sector Fund
(RWW) - Get Invesco S&P Financials Revenue ETF Report
,
RevenueShares ADR Fund
(RTR)
and
RevenueShares Navellier Overall A-100 Fund
(RVW)
. The "core index" ETFs of RWL, RWK and RWJ are rebalanced annually while the specialty indexes are rebalanced quarterly.
Unlike WisdomTree or RAFI -- which have created branded indexes -- RevenueShares seeks to apply its revenue-weighting mechanism to known indexes. Like the well-known State Street Global Advisors SPDRs ETFs, RevenueShares has filed for all of the S&P industry sectors. RWL, for example, applies the revenue strategy to the same index that
SPDR S&P
(SPY) - Get SPDR S&P 500 ETF Trust Report
and
iShares S&P 500 Index
(IVV) - Get iShares Core S&P 500 ETF Report
track.
RevenueShares has taken a measured approach to launching its ETF product line, not wanting to flood the market with funds. "We will only release ETFs one by one as the market demands them. The last thing we want to do is flood the market with ETFs that don't receive interest and trading volume from advisors, and thus fail," said Paul Weisbruch of RevenueShares.
RevenueShares' familiar indexes and revenue approach make these funds appropriate for longer-term investors. Rather than tracking an extremely focused portion of the market, or resetting on a daily basis, RevenueShares' products are designed as a cheaper alternative to popular mutual funds.
While investors will have to pay-up for the RevenueShares strategy -- IVV's 0.09% management fee is less than RWL's 0.49% -- the ETFs have done well in 2009.
iShares S&P MidCap 400 Index
(IJH) - Get iShares Core S&P Mid-Cap ETF Report
is up 18.23% year to date, while RWK has jumped 30.62%.
Investors should remain mindful, however, of lower volume in the RevenueShares ETF funds. While the structure of ETF products allows investors to jump quickly in and out of funds, RevenueShares' products are intended for a longer-term audience.
At the time of publication, Dion had no positions in the securities mentioned.
Don Dion is the publisher of the Fidelity Independent Adviser family of newsletters, which provides to a broad range of investors his commentary on the financial markets, with a specific emphasis on mutual funds and exchange-traded funds. With more than 100,000 subscribers in the U.S. and 29 other countries, Fidelity Independent Adviser publishes six monthly newsletters and three weekly newsletters. Its flagship publication, Fidelity Independent Adviser, has been published monthly for 11 years and reaches 40,000 subscribers.
Dion is also president and founder of Dion Money Management, a fee-based investment advisory firm to affluent individuals, families and nonprofit organizations, where he is responsible for setting investment policy, creating custom portfolios and overseeing the performance of client accounts. Founded in 1996 and based in Williamstown, Mass., Dion Money Management manages assets for clients in 49 states and 11 countries. Dion is a licensed attorney in Massachusetts and Maine and has more than 25 years' experience working in the financial markets, having founded and run two publicly traded companies before establishing Dion Money Management.