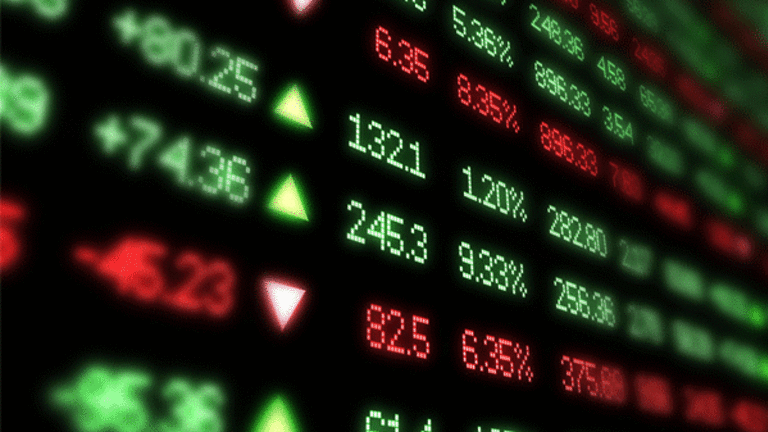 RevenueShares Fund Is Ripe for Rally
With its unique weighting method, the fund is heavy on energy and financials, which could eventually lead the market higher.
With its unique weighting method, the fund is heavy on energy and financials, which could eventually lead the market higher.
The
PowerShares FTSE RAFI US 1000 Portfolio
(PRF) - Get Report
started an indexing segment of fundamentally weighted ETFs. The latest entrant is the RevenueShares family of funds, including the recently listed
RevenueShares ADR Fund
(RTR)
. RTR takes the components of something called the S&P ADR Index, a cap-weighted index, and re-weights the constituents by revenue.
In the cap-weighted S&P version,
HSBC Holdings
(HBC)
is the largest constituent, at 3.67%, followed by
BP
(BP) - Get Report
, with 2.95%, and
Total
(TOT) - Get Report
, at 2.71%. In RTR,
Royal Dutch Shell
(RDS.A)
is the largest holding at 5.63%, followed by BP, at 4.38%, and
Toyota
(TM) - Get Report
, with 3.77%. The RevenueShares Web site only provides the top 10 holdings for the S&P benchmark, so it is difficult to compare most of the positions. But, in analyzing RTR, there are quite a few things that pop up.
Think about what the fund does. It weights (mostly) large-cap stocks by revenue. Over the past few years an anomaly emerged within the energy sector. The price of oil skyrocketed, including a parabolic rise to $147 a barrel. Since then, oil has dropped dramatically, as have the prices of energy stocks, slightly more so than the broader market.
The anomaly in oil shows up in the composition of RTR. With oil making all-time highs for an extended period, oil companies posted record revenue. Because of that, energy accounts for over 26% of RTR, versus only 9% in the
iShares MSCI EAFE Index Fund
(EFA) - Get Report
. RTR has only mid-single-digit exposure to health-care and consumer stocks, compared with 9% and 19% for EFA, respectively.
RTR will charge a 0.49% expense ratio and, although there has been no dividend declared (the fund just started trading this month), the RevenueShares Web site lists the 30-day SEC yield at 4.29%. The fund will rebalance annually.
One surprising thing is that the backtest is nothing to write home about. From Jan. 1, 2005, RTR's index outperformed the benchmark S&P ADR Index by 46 basis points annualized. For three years, it won by 7 basis points. For two years, it lagged by 59 basis points. Over one year, it fell short by 35 basis points, and year to date it trails by 1.33%.
If there is a reason to use this fund as a proxy for foreign large-cap exposure, it is in the sector weightings. The heavy exposure to energy and financials, also more than 20% of the fund, and limited investments in more defensive health-care and consumer sectors give RTR a chance to outperform during a meaningful bear-market rally or a rally that turns out to be the start of the next bull market.
Health-care and consumer names tend to be more defensive in nature and do not typically lead out of a bear market. Being underweight sectors that should lag in that instance is a catalyst to outperform. Additionally, the drubbing in both the energy and especially the financial sector give the potential for an oversized move up within an overall rally even if the fundamentals do not justify such a move.
Anyone who believes there is no hope for a rally, bear market or otherwise, might want to avoid RTR.
At the time of publication, Nusbaum had no positions in the securities mentioned.
Roger Nusbaum is a portfolio manager with Your Source Financial of Phoenix, and the author of Random Roger's Big Picture Blog. Under no circumstances does the information in this column represent a recommendation to buy or sell stocks. Nusbaum appreciates your feedback;
to send him an email.