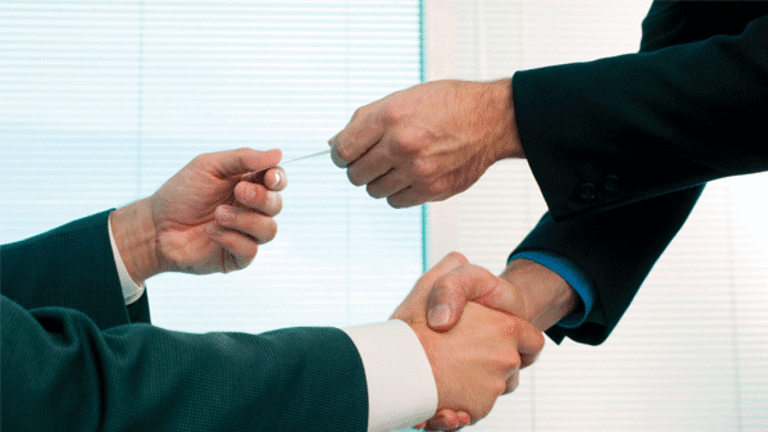 Regulatory Storm Brews for ETFs
While so far agencies have only produced lot of thunder and no lightning, the noise has succeeded in disrupting the ETF industry.
While so far agencies have only produced lot of thunder and no lightning, the noise has succeeded in disrupting the ETF industry.
A regulatory storm is brewing on the horizon, and the first drops of doubt are beginning to fall on the ETF industry. Both brokers and issuers are running for cover before the skies open up. Lawsuits, like lightning, could strike at any time, singling out a firm from the herd and driving deep cracks into the industry floor.
Starting with a small firm called
Edward Jones
,
brokers have bowed out of the leveraged ETF arena
. Despite increasingly revealing warning labels, the wrong kinds of investors continue to get dragged into ultra-long or triple-down funds.
Like many medications, leveraged ETFs were designed to treat specific conditions. Daily leveraged funds like
Direxion's Daily Financial Bull
(FAS) - Get Report
or
ProShares UltraShort Financials
(SKF) - Get Report
are designed to be used with existing portfolios to provide hedging capabilities. Long real estate? Hedge your portfolio over a single trading day with the purchase of
ProShares UltraShort Real Estate ETF
(SRS) - Get Report
.
These useful remedies, however, can sometimes fall into the wrong hands or be taken for the wrong reasons. The heady rush of being ultra-long or ultra-short has proven to be a temptation too great for some investors who rushed to their brokers to get their fix. Once difficult to access, these strategies have been made available by the structure of ETF products.
The Hippocratic oath of doctors does not extend to the offices of Wall Street, and questions have been raised about the dispensing of these ETF products. Not wanting to be seen as irresponsible drug dealers,
brokerage firms are washing their hands of leveraged ETFs
before the financial DEA comes knocking. Firms like
UBS
(UBS) - Get Report
and
Ameriprise
(AMP) - Get Report
have bowed out of the leveraged ETF business.
Fear of regulation has spread to the ETF industry as well. The
U.S. Natural Gas
(UNG) - Get Report
ETF recently declined to issue additional shares despite a request for these very same shares only a month before. During the period in between the request and the SEC's response, another financial regulatory authority, the Commodities Futures Trading Comission (CFTC),
.
Economic downturns and the collapse of financial bubbles are a breeding ground for finger-pointing. One group that has been targeted with a vengeance are the "speculators." Whether the headline is housing or commodities, the shadowy figures of speculators seem to haunt the recesses of plotlines across the industry. One of the places that speculators seem most at home is the commodities futures markets.
The CFTC is the sheriff in that town and this agency has been monitoring a new bully in the commodities markets. Funds like UNG and
U.S. Oil
(USO) - Get Report
use futures contracts to track their objectives. These funds have become so popular so fast that they now represent a significant segment of the open interest in these markets.
The CFTC has begun to examine whether these funds could be dictating these commodities markets, rather than tracking them. While upcoming regulation could take many forms, a likely incarnation will be position limits.
UNG managers watched closely during July as these details emerged, gradually battening down the hatches and shifting position. When the SEC finally granted its request for new shares,
UNG wasn't about to take the bait
. Fear had taken hold and UNG does not want to increase its bet on the table if the rules could change midgame.
Thus far, the fear of regulation has succeeded in idling a major natural gas ETF in the middle of rush hour traffic and sending brokers running for the hills. Both brokers and issuers
will protect themselves from lawsuits and regulation
before reaching out to investors.
Neither party will go gently into the night. ProShares and Direxion have defended their products, and Charles Schwab himself recently stepped forward to question regulation. In a recent
Wall Street Journal
editorial, Schwab noted:
"I've always believed in the power of the market to drive innovation and drive down cost. I also believe in the individual and his or her ability to make reasoned decisions. I don't think our clients, or our competitors' clients, are looking for regulators or politicians to protect them from risk by constraining their choices."
Schwab's comments suggest that some brokers may not restrict their product offerings on the basis of intimidation.
ETFs, like drugs, should not all be dispensed in the same manner. Traditional ETFs, like Tylenol, should be available to all investors. The warning on the box plus a childproof cap should be sufficient to prevent a widespread misuse of traditional funds.
Nontraditional ETF strategies, like prescription drugs, should require additional documentation. I've called for
restricting access to leveraged ETFs
to only those investors cleared for margin or options trading. These aren't suitable for unsophisticated do-it- yourself investors.
While the regulatory storm so far has been a lot of thunder and no lightning, the noise has succeeded in disrupting the ETF industry.
Regulators should react or fall silent
so that brokers, issuers and ETF investors can go on with their lives.
At the time of publication, Dion had no positions in the stocks mentioned.
Don Dion is president and founder of
, a fee-based investment advisory firm to affluent individuals, families and nonprofit organizations, where he is responsible for setting investment policy, creating custom portfolios and overseeing the performance of client accounts. Founded in 1996 and based in Williamstown, Mass., Dion Money Management manages assets for clients in 49 states and 11 countries. Dion is a licensed attorney in Massachusetts and Maine and has more than 25 years' experience working in the financial markets, having founded and run two publicly traded companies before establishing Dion Money Management.
Dion also is publisher of the Fidelity Independent Adviser family of newsletters, which provides to a broad range of investors his commentary on the financial markets, with a specific emphasis on mutual funds and exchange-traded funds. With more than 100,000 subscribers in the U.S. and 29 other countries, Fidelity Independent Adviser publishes six monthly newsletters and three weekly newsletters. Its flagship publication, Fidelity Independent Adviser, has been published monthly for 11 years and reaches 40,000 subscribers.