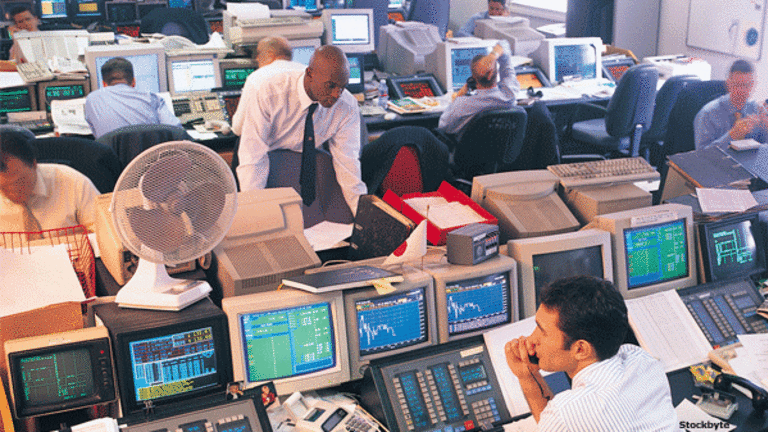 Regulator Keeps ETF Investors on Ice
The Commodities Futures Trading Commission has again extended its deadline for futures regulation.
NEW YORK (TheStreet) - As the tax-cut bill and challenges to Obamacare loom large, commodities regulation is once again getting pushed to the backburner.
The Commodities Futures Trading Commission has extended its deadline for futures regulation again, in a move that would affect many of the largest ETFs in the market.
Since the summer of 2009, ETF investors have been acutely aware of the damage caused by the mere speculation about future policies. After stop-and-go regulatory efforts caused a huge bubble in the pricing of the
United States Natural Gas ETF
(UNG) - Get United States Natural Gas Fund LP Report
, the CFTC seemed to finally be showing some commitment to resolving questions surrounding position limits in the futures marketplace. Clarification was supposed to be provided by year's end.
The most essential aspects of ETF trading revolve around the creation and redemption of shares. Creation and redemption of large blocks of ETF shares by authorized participants drives the pricing process by allowing for arbitrage and encouraging a close relationship between underlying value and market price. This is the essential promise that ETF issuers make to everyday investors: "You'll get what you pay for."
In the case of derivative-backed commodity ETFs, the creation and redemption process involves futures contracts. As long as authorized participants, ETF issuers and intermediary banks are able to work together to seamlessly create new shares (which involves the buying of futures contracts) and redeem existing shares (which involves the selling of futures contracts), popular funds like UNG should be able to stay in line with underlying value, fulfilling the "essential promise" of the ETF industry.
Fulfilling this essential promise, however, has not been easy in recent years. The CFTC has been steadily mounting a campaign against "speculators" in the commodities marketplace, suggesting that new position limits should curtail the amount of contracts that investors can purchase.
Since the Summer of 2009, the CFTC has made many pushes to make these new limitations seem imminent, and ETF issuers scrambled to get in line. UNG managers began selling off NYMEX-traded natural gas futures and opting for other types of derivatives. PowerShares, creator of the popular
PowerShares DB Commodity ETF
(DBC) - Get Invesco DB Commodity Index Tracking Fund Report
, redesigned a pair of futures-backed funds to lessen exposure to certain types of contracts.
ETF issuers may have been quick to react to the promised position limitations, but they have since been sitting on their hands. Solid answers and position limits were promised in December of 2009, in an initiative in early 2010, and - most recently - as part of the new Dodd-Frank act. After the release of the Dodd-Frank act, which expanded the powers of the CFTC, answers to the "position limit" question were again promised by the end of 2010.
Now, the CFTC is pushing out deadlines once again. While there's an excellent argument to be made for proceeding with caution, the resulting delay has left the ETF industry in a type of "no mans" land.
ETF issuers have continued to push out an array of interesting equity-backed commodity products in 2010 -- along with several notable futures-backed ETNs -- but the development of futures-backed ETFs is at a standstill. Uncertainty over whether new rules will impact existing products still remains. If ETF investors are looking for answers this holiday season, it looks like they'll have to accept another raincheck from the SEC.
Written by Carolyn Dion in Williamstown, Mass.
At the time of publication, Dion Money Management owned PowerShares DB Commodity ETF.
Carolyn Dion is an analyst and associate editor for the Fidelity Independent Adviser family of newsletters, Dion Money Management's affiliate newsletter company. A former ETF specialist and NYSEArca lead market maker, Dion provides analysis on the exchange-traded product industry.
In addition to her role as analyst and editor, Carolyn is vice president of Dion Money Management, a fee-based investment advisory firm, where she assists in the development of ETF strategies. Founded in 1996 and based in Williamstown, Mass., Dion Money Management manages more than $530 million in assets for clients in 49 states and 11 countries.