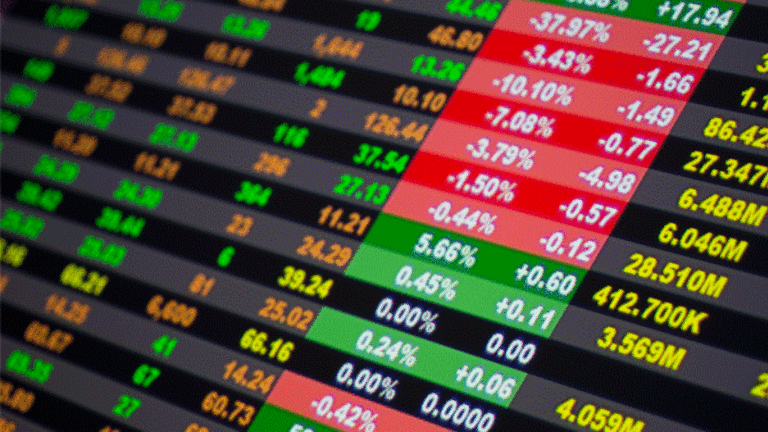 Publish date:
Real Estate Funds Hit by Housing Data
The average fund tracking this sector fell 4.11% over five business days, but you didn't have to be in a specialized fund to get hit.
The average fund tracking this sector fell 4.11% over five business days, but you didn't have to be in a specialized fund to get hit.
It was a black week for real estate funds. Aside from the two funds shorting the industry, the average real estate fund fell 4.11% in the five business days ended Thursday.
The latest readings on the housing market have exacerbated what has been a disastrous year for the homebuilding industry. It's difficult to imagine how the mid-October bulletins on the industry could have been much worse.
First, the National Association of Home Builders indicated that a broad measure of member confidence had collapsed to its lowest level since the series began in January of 1985. Gauges of current sales of single-family homes and traffic of new buyers both suffered declines.
A day later, the Commerce Department announced that housing starts crumbled 10% in September following a downward revised 3.2% setback in August, leaving new home construction 31% below September of last year. An indication that the damage was far from finished was that building permits sank 7.3% in September, following up on a setback of 4.8% the prior month.
Then the
Federal Reserve
got its shot in by noting in its "beige book" report that lower prices on new homes, the contraction of construction activity and tightening of the mortgage market would combine to slacken the pace of current economic expansion.
As if that weren't enough, less than a day later, the Conference Board's index of leading indicators rose just 0.3% in September. The biggest drag on their gauge of future economic activity was the drop in building permits.
Leading the retreat are the two exchange-traded funds targeting U.S. homebuilders. The
iShares Dow Jones US Home Construction Index Fund
(ITB) - Get Report
fell 12.28%, while the
SPDR S&P Homebuilders ETF
(XHB) - Get Report
dug a 9.74% hole. Both have earned our lowest possible rating, E-, for poor performance and excess volatility.
You didn't have to own a fund with a specialized investment mandate to feel the pain.
TheStreet.com Ratings searched its database for funds exposed to 10 major homebuilding stocks:
Centex
(CTX)
,
Champion Enterprises
(CHB)
,
DR Horton
(DHI) - Get Report
,
KB Home
(KBH) - Get Report
,
Lennar
(LEN) - Get Report
,
MDC Holdings
(MDC) - Get Report
,
NVR
(NVR) - Get Report
,
Pulte Homes
(PHM) - Get Report
,
Ryland Group
(RYL)
and
Toll Brothers
(TOL) - Get Report
. Each of the stocks is widely held by the funds we track.
Read
here for an explanation of our ratings.
Rising as the rest of the sector crumbled, the two funds shorting the group were virtually the only oasis. In the volatile markets we are seeing, short-term trades in contrarian funds present opportunities. The
(SRPIX) - Get Report
ProFunds Short Real Estate ProFund (SRPIX) gained 4.62% by shorting the Dow Jones U.S. Real Estate Index. Likewise, the
UltraShort Real Estate ProShares
(SRS) - Get Report
became the top performer, returning 8.73% by being leveraged 200% short the same index.
We also found three open-end funds and two exchange-traded funds with portfolios at least 10% exposed to the sector.
Not surprisingly, the two ETFs with the most exposure were the two that topped our worst performers list for the past week. The iShares DJ US Home Construction Index ETF is a pure homebuilding play, with the above 10 major builders making up 57% of its portfolio's value. Its biggest holdings include Champion Enterprises and Toll Brothers. The ETF's shares have been hit with a wrecking ball, down 45.83% in the 12-month period ended Sept. 30. They have collapsed 36.35% in the latest three months alone.
The SPDR S&P Homebuilders ETF takes a more oblique approach to the industry, with home improvement retailers, home furnishings and materials firms among its holdings in addition to homebuilders. Its largest holdings are
Ethan Allen
(ETH) - Get Report
and
Home Depot
(HD) - Get Report
. The ETF's shares are down 34% for 12 months and 29.01% for the past calendar quarter.
The three open-end funds with at least 10% exposure to the homebuilding sector,
(EUEYX)
Alpine U.S. Real Estate Eq Y (EUEYX),
(FSHOX) - Get Report
Fidelity Select Construction & Housing (FSHOX) and
(FREEX) - Get Report
Franklin Real Estate Sec A (FREEX), are also ranked at the lowest possible grade of E- from TheStreet.com Ratings. Grades of D+ or lower equate with current recommendations of sell.
Kevin Baker became the senior financial analyst for TSC Ratings upon the August 2006 acquisition of Weiss Ratings by TheStreet.com, covering mutual funds. He joined the Weiss Group in 1997 as a banking and brokerage analyst. In 1999, he created the Weiss Group's first ratings to gauge the level of risk in U.S. equities. Baker received a B.S. degree in management from Rensselaer Polytechnic Institute and an M.B.A. with a finance specialization from Nova Southeastern University.