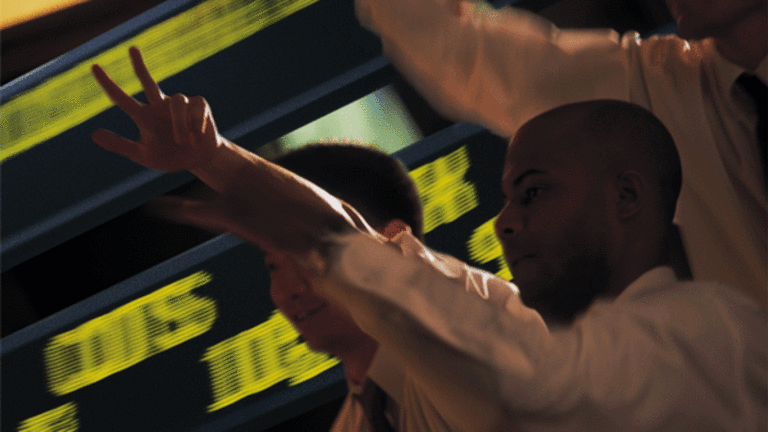 Rally Hasn't Erased Losses for Bullish ETFs
Even with double-digit stock gains in the past month, bullish ETFs that use leverage have recovered only a fraction of the past year's losses.
TSC Ratings provides exclusive stock, ETF and mutual fund ratings and commentary based on award-winning, proprietary tools. Its "safety first" approach to investing aims to reduce risk while seeking solid outperformance on a total return basis.
This year's stock market rebound has renewed investor confidence, but exchange-traded funds that are bullish on equities have a long way to go to make up the past year's losses.
The
S&P 500
index has advanced 10% in the past month, erasing a third of its decline in the past year. Even with double-digit returns, leveraged ETFs that bet on rising stocks have recouped only a fraction of their losses since May 2008.
Among the 50 leverage funds that are bullish, 20 have hit the market in the past year. The remaining 30 have lost 63%, on average, during that time.
For the month that ended May 5, the
ProShares Ultra Financials Fund
(UYG) - Get ProShares Ultra Financials Report
returned 27% with its 200% leveraged bet on rebounds in
Bank of America
(BAC) - Get Bank of America Corp Report
and
Citigroup
(C) - Get Citigroup Inc. Report
. However, the fund is still down 89% over the past year.
Of the 74 leveraged funds that take short positions, 26 were introduced in the past year. Thirty of the remaining 48 funds have generated returns in the past year. But the one-year average for the group has shrunk to 9.1%.
Industrial stocks have surged in the past month, causing the
ProShares UltraShort Industrials
(SIJ) - Get ProShares UltraShort Industrials Report
to lose 26%. The fund's one-year return has withered to 39% from 188% two months ago.
Unlike mutual funds, which are meant to be held for years, leveraged ETFs are designed for short-term trading.
Kevin Baker became the senior financial analyst for TSC Ratings upon the August 2006 acquisition of Weiss Ratings by TheStreet.com, covering mutual funds. He joined the Weiss Group in 1997 as a banking and brokerage analyst. In 1999, he created the Weiss Group's first ratings to gauge the level of risk in U.S. equities. Baker received a B.S. degree in management from Rensselaer Polytechnic Institute and an M.B.A. with a finance specialization from Nova Southeastern University.