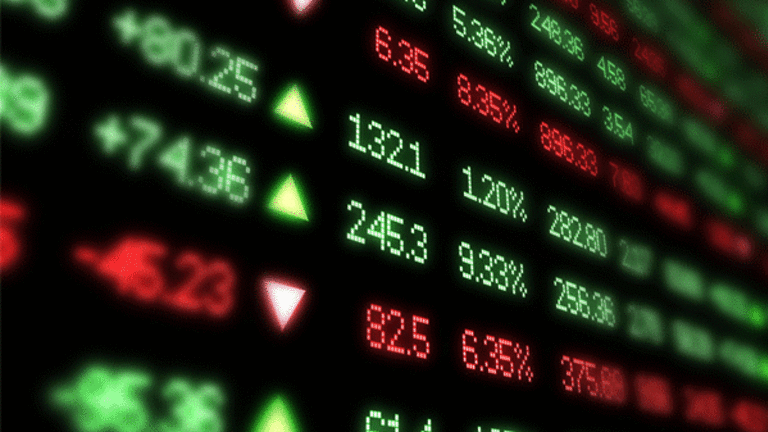 Profit Estimates Require Leap of Faith
Forecasts are likely to prove out of reach for some sectors.
'Tis the time of year when we traditionally take stock of where we've been, count our blessings and ponder what the future holds.
For investors, 2006 was a year of surprises. Few would have predicted at the start of the year that
S&P 500
earnings growth would actually accelerate in 2006 -- up 14%, compared with a 12% gain during 2005 -- and that the stock market would applaud with a powerful rally.
And, contrary to conventional wisdom, small-caps have outperformed large caps yet again, as stocks in the
iShares Russell 2000
(IWM)
index delivered 23% earnings growth. As they say, it's tough to make predictions, especially about the future.
Of course, we're not going to let that stop us, so here's our best guess at where the growth will -- and won't -- be in 2007. Using current consensus estimates for the index constituents, we've calculated anticipated 2006-07 earnings growth of various well-known broad market exchange-traded funds.
Estimates for next year range from a high of 27% for the small-cap iShares Russell 2000 index fund to a low of 6% for the large-cap
iShares Russell 1000 Value
(IWD)
fund. The benchmark
Dow Industrials
and S&P 500 are forecast to have 10% and 9% earnings per share growth in 2007, respectively.
Like the year now ending, one thing we can say with confidence about 2007 is that a year from now, we'll probably look back and see many areas where conventional wisdom proved wrong. In particular, we find it hard to believe that the growth estimates at the top of the range will actually be realized.
Despite mounting evidence of an economic slowdown, and despite the fact that estimates for most index funds show a plausible deceleration in earnings growth vs. 2006, growth for the Russell 2000 and
Nasdaq 100
(QQQQ)
will supposedly accelerate if consensus estimates are to be believed.
This would be contrary to the historical performance for the Russell 2000 and Nasdaq indices; during the last downturn these two indices saw profits decline much more severely than did other benchmarks. In fact, they were the only two indices we cover to actually lose money (i.e., have negative earnings) on the whole during the years 2001-02.
We'll concede that the Nasdaq index may have been unduly penalized by the bursting of the tech bubble back then, so any downturn this time may not be as severe. But we find it implausible that iShares Russell 2000 -- which consists of the very smallest companies and in which the consumer discretionary sector accounts for nearly one third of assets -- will see earnings growth accelerate during an economic slowdown.
It isn't as if these funds are cheap, with the Nasdaq 100 trading at 23.2 times the optimistic earnings per share estimates for 2007, and iShares Russell 2000 at 21.1 times estimated 2007 EPS, compared with the S&P 500 at 14.9 times its more plausible estimates for next year.
P/E Ratio On Estimated 2007 EPS

Among international ETFs,
the iShares MSCI Canada
fund
(EWC)
is estimated to have the fastest EPS growth next year, at 15%, though down from 20% this year.
At the opposite end, somewhat surprisingly, is the
iShares FTSE/Xinhua China 25
undefined
, with just 4% growth for 2007 compared with 16% this year, and a huge deceleration in earnings growth for the
iShares S&P Latin America 40
,
(ILF)
, where earnings growth is expected to slow to just 3%, down from 26% this year.
That said, we think it's important not to get caught up in the growth figures for any one year. Amid all the gnashing of teeth on Wall Street about the apparent slowdown in earnings growth, we'd point out that the anticipated 9% earnings growth for the S&P 500 in 2007 is still well above the historical average of just 6.3% annual earnings growth since World War II.
Plus, historically speaking, there is almost no correlation between earnings growth and stock prices in any given year (because changes in interest rates and inflation, price to earnings levels and expectations about the future and other factors also exert a large impact on stock prices).
As a result, we think it makes sense to concentrate on areas with achievable earnings targets, where more reasonable valuations leave room for error in an uncertain world.
Michael Krause is president and founder of AltaVista Independent Research. AltaVista provides fundamentally driven analysis of exchange-traded funds to help investors select ETFs based on investment merit, much the same way they would evaluate a single stock. The firm offers both print and online ETF research to subscribers, but does not manage clients' money. Mr. Krause is also a frequent contributor to broadcast and print media.