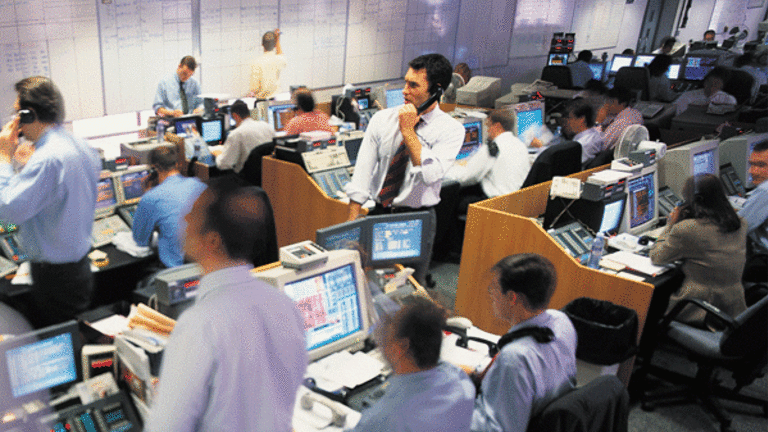 Professor Buffett's Top Lessons for 2010
Here are some of Dion's most popular pieces on the legendary investor this year.
NEW YORK (TheStreet) -Whether or not you are a fan of Warren Buffett, it is hard to ignore the draw of this world famous investor.
Whether it was the celebration of his 80th birthday, his appearance in front of the Financial Crisis Inquiry Commission, his trip to China, his decision to appoint Todd Combs as future
Berkshire Hathaway
(BRK.A)
CIO, or his controversial new op-ed piece for the
New York Times
, the Oracle of Omaha proved to be a major newsmaker in 2010.
Here are some of my most popular Warren Buffett-related pieces from the past year.
Tread Carefully With Baby Berkshires
Published 02/05/2010 6:00 a.m. EST
Although Professor Buffett broke his own rules on splitting shares to pay for the acquisition of
Burlington Northern Santa Fe
(BNI)
, the move appears to have paid off handsomely.
Since the 50-for-1 split on Jan. 20, Warren Buffett's
Berkshire Hathaway B Shares
(BRK.B)
has been on an upward trajectory as investors pile into the firm in hopes of gaining access to the mind of the savviest investor around.
From the day of the split to Feb. 3, BRK.B has jumped over 6%, while the rest of the S&P has dipped over 3%.
Class A Berkshire
(BRK.A)
shares have gained throughout the period as well, jumping 7%.
Aside from the strong returns, the reduced price of the Baby Berkshires has led to a staggering increase in volume. Prior to the division, high prices kept BRK.B volume light. However, on Jan. 20, the day of the split, BRK.B's volume jumped to over 1.2 million shares, more than double of the previous day. At one point since the split, the single-day volume nearly reached 2 million shares.
This popularity is expected to continue after the
S&P 500
recently announced that Berkshire Hathaway officially met its requirements for inclusion to the index and will be added to it in the near future.
With prices still within the reach of the average investor, it may be time to consider adding Berkshire B Shares as a small position in a well diversified portfolio. Time is of the essence, however, because of the popularity of the stock and the fact that Buffett has said that no additional shares of BRK.B would be issued in the future.
However, before jumping in, investors need to do their homework before playing with Professor Buffett.
Though it will soon find its place in the S&P 500, Berkshire Hathaway is considerably different from the many of its peers. When buying BRK.B, you are not buying a single entity. Rather, holding Berkshire is akin to holding a basket of companies Buffett has taken bets on during his impressive investing tenure. Therefore, as in the case with ETFs and mutual funds, investors need to be aware of what companies they are getting into before getting their feet wet.
Looking at Buffett's most recent holdings report, it quickly becomes apparent that the company has a huge percentage of its portfolio dedicated to its top two holdings:
Coca-Cola
(KO)
and
Wells Fargo
(WFC)
. Currently, over a third of Berkshire Hathaway's portfolio is dedicated solely to these two companies.
As with other financial instruments with top-heavy weighting, investors are particularly vulnerable to any violent market swings. If either of these top companies takes a considerable hit, there could be a gut-wrenching drop.
This risk is further multiplied if, on top of owning Berkshire Hathaway, investors already hold large positions in these heavily weighted firms via their common stocks.
Additionally, investors need to be aware that Berkshire Hathaway is not a static company. On the contrary, over the course of holding shares of Buffett's firm, there is a good chance that underlying positions will shift, holdings will be dropped and new positions will be added. As a result, investors need to be prepared for any impact these changes may have on the company's stock value.
Though Buffett has proven his investing excellence time and again, playing Berkshire Hathaway should not be a passive process. Rather, to avoid the risks that can come with holding a dynamic play like BRK.B, investors need to keep a watchful eye on not just their BRK.B positions, but their entire portfolios.
At the time of publication, Dion did not any equities mentioned in the story.
A Dividend ETF to Make Buffett Proud
Published 04/09/2010 06:00 A.M. EDT
This year, Warren Buffett's $47 billion fortune placed him behind only telecom giant
and
Microsoft
(MSFT)
founder
on
Forbes
' list of the world's billionaires.
However, Buffett's massive wealth can not be attributed to an ample salary. For the past 25 years Buffett's annual compensation for running Berkshire Hathaway has been only $100,000.
Given this relatively meager pay, the investor has had rely on different methods of generating income.
Buffett has made the most significant portion of his fortune simply through holding shares of
Berkshire Hathaway
(BRK.A)
stock. Shares of this textile mill turned world renowned investment conglomerate have soared since Buffett first took the helm, pocketing the investor billions.
Today, Buffett's 350,000 Berkshire Hathaway A Class Shares account for approximately 95% of his total wealth.
The remaining 5% of Buffett's riches have been earned from other sources, including his personal investments.
While the investor has typically been known for managing Berkshire's legendary portfolio, Buffett also commands a separate, personal portfolio on the side valued at $1.8 billion.
Within this portfolio, Buffett holds multimillion-dollar stakes in companies including
Johnson & Johnson
(JNJ)
,
Kraft
undefined
,
Proctor & Gamble
(PG)
,
United Parcel Services
(UPS)
and
General Electric
(GE)
.
Aside from the strong stable returns earned from these large-cap household names, Buffett's personal portfolio holdings also provide the investor with an impressive quarterly dividend.
So far, 2010 has been a good year Buffett and other dividend seeking investors. As of March 10, nearly 10% of the S&P 500 companies increased their dividends and additional hikes appear to be on the horizon.
According to a report from Robert Miles, author of
Warren Buffett Wealth
, the Buffett's personal portfolio generated last year a 2.3% yield that amounted to a nearly $43 million payout.
Today, using ETFs, investors can follow Buffett's lead and gain exposure to strong dividend-paying companies. My favorite play on this asset class is the
iShares Dow Jones Select Dividend Index Fund
(DVY)
.
DVY is designed to track the Dow Jones U.S. Select Dividend Index that is made up of over 100 top dividend paying companies, including
McDonald's
(MCD)
,
Lorillard
(LO)
,
Chevron
(CVX)
and
Eaton Vance
(EV)
.
The fund's sector breakdown shows particularly heavy focus on utilities firms, which accounts for over a quarter of the total index. Other dominant industries include consumer goods, industrials and financials which together account for another 50% of the fund.
In 2010, DVY has managed to beat out the broad U.S. markets. The fund has gained over 7% while the
SPDR S&P 500 ETF
(SPY)
has gained slightly over 6%.
While its performance against the broad market is notable, DVY's real claim to fame is its quarterly dividend. In the past year, investors holding the fund recieved an approximately 3.5% yield for an even greater percentage payout than that of Warren Buffett's portfolio.
DVY is a strong, liquid fund investors can use to generate comfortable yields comparable to those earned by Warren Buffett. However, investors can also use the stability and diversification of DVY to create a strong base for building a successful ETF portfolio.
Feel free to share your own favorite divided yielding products in the comments section below.
At the time of publication, Dion was long the iShares Dow Jones Select Dividend Index Fund.
Buffett's Steadfast Belief in U.S. Recovery
Published 07/15/2010 10:24 p.m. EST
The market's recent stretch of strength has been a welcome relief.
However, debt issues facing Europe and uncertainty regarding the longevity of China's reign as an economic workhorse plague the confidence of investors and market analysts alike; both groups continue question the strength and longevity of our current economic recovery, opting to stick with the bear camp.
Although the bears appear to be far-outnumbering the bulls today, a collection of prominent analysts, market commentators and celebrity investors predict economic prosperity in the foreseeable future. One such proponent is the Oracle of Omaha himself, Warren Buffett.
In a recent interview with the Huffington Post and
Yahoo
(YHOO)
, the chairman of
Berkshire Hathaway
(BRK.A)
touched on a vast range of topics including the economy and finance, unconditional love, and LeBron James.
Regarding the current state of the U.S. economy and his prospects for the future, the charismatic financier maintained cheerful optimism. In the interview, Buffett insisted that the government was pulling its weight, that confidence was returning, and that many businesses under his careful watch were outperforming and even hiring.
Two prominent Buffett holdings that reflect the Oracle's optimistic views are
Posco
(PKX)
and
General Electric
(GE)
.
On Wednesday, South Korean steelmaker Posco announced that it was planning to raise 2 trillion won ($1.6 billion) over the second half of this year in order to fund new investments and acquisitions. This comes after Asia's third largest steel maker saw its profit nearly triple in the second quarter of 2010.
Looking to the future, the steel company expects the global economic recovery to further spur demand for steel-related goods including automobiles.
General Electric is another notable company in
that is donning bullish horns. In a July 15
Bloomberg
article, CEO Jeff Immelt announced that the firm is planning to spend $20 billion over the next two years in an effort to further ramp up research and development. Immelt looks to introduce 30 additional products this year, and is striving for a similar goal in 2011.
Today, all eyes are on GE as it announces second- quarter earnings before the opening bell. In the report, investors will be closely watching to see whether or not the company's recent focus on R&D has been effective. Additionally, analysts will be interested in the impact of GE's recent efforts to reduce its Capital division, as well as plans to sell its majority stake in NBC Universal in order to focus more on industrial initiatives.
Although optimistic of the economy and his holdings, Buffett appears to be exercising a cautious approach to playing these markets. Looking at Berkshire Hathaway's current holdings, for instance, one notices that large, stable companies make up the lion's share of his portfolio. Top holdings include
Coca-Cola
(KO)
,
Wells Fargo
(WFC)
,
American Express
(AXP)
,
Johnson & Johnson
(JNJ)
and
Proctor & Gamble
(PG)
.
I, like Buffett, stand by the belief that, although in store for some rough market shakeups, the U.S. and global economy remain steadfastly on the path to recovery.
Therefore, in order to best prepare for this type of market environment, I have urged ETF investors to structure their portfolios in a way that will internalize market strength while protecting against turmoil.
This means holding a good balance of defensive bond, currency and gold positions while simultaneously focusing on equity positions dedicated to dividend-paying companies.
Some of my favorite exchange-traded products which provide both price appreciation and consistent dividend payments include
J.P. Morgan Alerian MLP Index ETN
(AMJ)
(AMJ) and
iShares Dividend Select Index Fund
(DVY)
.
Do you see the U.S. and global economy on the road to recovery? If not, what factors are weighing on your outlook for the markets in the coming months? Feel free to leave a comment below.
At the time of publication, Dion Money Management owns iShares Dividend Select Index Fund.
Written by Don Dion in Williamstown, Mass.
Readers Also Like:
>>Black Friday's Unknown Consumer Stocks
At the time of publication, Dion Money Management owned iShares Dow Jones Select Dividend Index Fund.
This commentary comes from an independent investor or market observer as part of TheStreet guest contributor program. The views expressed are those of the author and do not necessarily represent the views of TheStreet or its management.