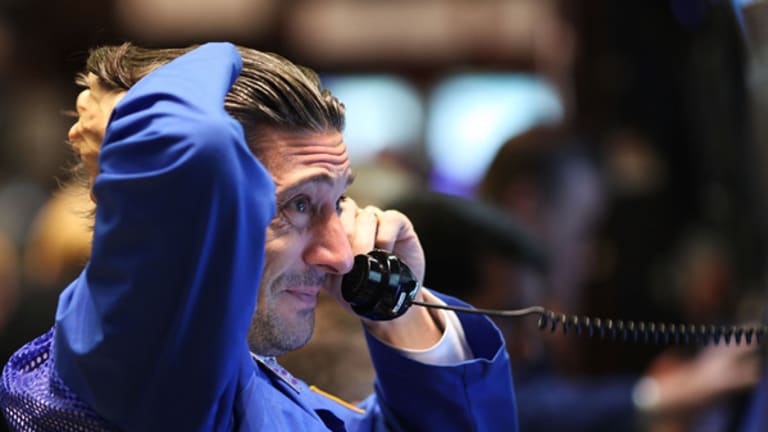 Professor Buffett's Tongue-in-Cheek Butterfly Effect Lesson
He makes billions on greenback emissions, then issues a warning on U.S. debt. Did the government take notes?
He makes billions on greenback emissions, then issues a warning on U.S. debt. Did the government take notes?
The federal government chose an interesting time to leak information regarding a drop inthe forecasted government deficit.
On Tuesday, Professor Buffett shared a lecture on the butterfly effect in
The Oracle issued a warning concerning the consequences of our continuouspumping of "greenback emissions" into the United States. However, recently, thesesame "emissions" have earned, or is still expected to earn, the Oracle and
Berkshire Hathaway
(BRK.A) - Get Report
billions and billions of dollars in profit.
Buffett opines that the United States deficit will reach $1.8 trillion in the coming year. Thisnumber is equal to around 13% of the nation's total GDP. This deficit has led to amushrooming of our nation's net debt.
Buffett calculates net debt will grow up to 1% a month, to a shocking 56% of the GDP in 2009, from 41%. This number is staggering andBuffett fears that, without some kind of control over our debt creation, the U.S. risks losingits reputation for financial integrity.
Buffett applauds the recent efforts by the
Federal Reserve
as well as the Bush and Obamaadministrations to tackle the recent economic crisis. However, he reminds us that we haveyet to see the many side effects of injecting numerous doses of monetary medicine into theeconomy.
While his warning rings true, what Warren Buffett fails to mention in his piece is that he hasalready seen one side effect of the staggering increase in the debt-to-GDP ratio. BothProfessor Buffett and Berkshire Hathaway have raked in billions of dollars in profit fromtheir investments in the companies that most benefited from federalassistance. While he cautions that thegrowing debt is bad for the future of the United States, the words of warning come afterthe investor has gained gloriously from the whole ordeal in the present.
At a time when the banking system of the United States was on the brink of collapse, Buffettinvested in the floundering
Goldman Sachs
(GS) - Get Report
. Less than a year and billions of greenbackemissions later, the investing wizard turned the then risky investment into more than $2 billion inprofit.
Goldman is not the only bank held by Berkshire Hathaway that benefited from federalassistance, however. The company is also the top holder of
American Express
(AXP) - Get Report
andhas stakes in
Wells Fargo
(WFC) - Get Report
,
US Bancorp
(USB) - Get Report
,
Bank of America
(BAC) - Get Report
and
GeneralElectric
(GE) - Get Report
. As federal money continued to enter the veins of the U.S. economy, Berkshirereaped many of the rewards.
Buffett's warning to the United States is a bold move for the investor. The Oracle was notonly a big beneficiary during the first injection of funds, but a major lobbyist for thestruggling banking system when the government was debating whether to save thebanks and former investment banks. Though far from the main cause, Buffett's actions didplay a part in the inflation of our staggering debt that he is now concerned about.
Interestingly, on Wednesday, one day after Buffett offered his warning about our staggeringdeficit and ballooning debt, the White House leaked news of reduced deficit estimates. Areport claimed that
President Obama's budget office will announce a deficit
total of $1.58trillion. This number is a surprising $262 billion less than was originally forecasted in May.
The drop in federal spending is supposedly due to a cut in contingency plans to the financialsystem and fewer-than-anticipated bank failures leading the Federal Debt Insurance Corp.to spend $78 billion less than originally expected.
Whether the announced drop in federal spending is related to Buffett's article can bedebated for years. What matters is that this forecast shows that we are already taking stepsto resolve the debt crisis that threatens the future of our economy.
In calling for control over greenback emissions, Buffett risks losing additional profit thatmay come from further stimulus efforts. However, as shown in his op-ed piece, Buffett isnot only concerned with the size of his own purse. Rather he has the futures of our childrenand our children's children in mind when he cautions us about the future consequences ofour federal debt creation today. As shown by recent news out of the White House, like it ornot, this is one Professor Buffett lesson we are already taking to heart and acting on.
At the time of publication, Dion had no positions in the securities mentioned. .
Don Dion is president and founder of
, a fee-based investment advisory firm to affluent individuals, families and nonprofit organizations, where he is responsible for setting investment policy, creating custom portfolios and overseeing the performance of client accounts. Founded in 1996 and based in Williamstown, Mass., Dion Money Management manages assets for clients in 49 states and 11 countries. Dion is a licensed attorney in Massachusetts and Maine and has more than 25 years' experience working in the financial markets, having founded and run two publicly traded companies before establishing Dion Money Management.
Dion also is publisher of the Fidelity Independent Adviser family of newsletters, which provides to a broad range of investors his commentary on the financial markets, with a specific emphasis on mutual funds and exchange-traded funds. With more than 100,000 subscribers in the U.S. and 29 other countries, Fidelity Independent Adviser publishes six monthly newsletters and three weekly newsletters. Its flagship publication, Fidelity Independent Adviser, has been published monthly for 11 years and reaches 40,000 subscribers.