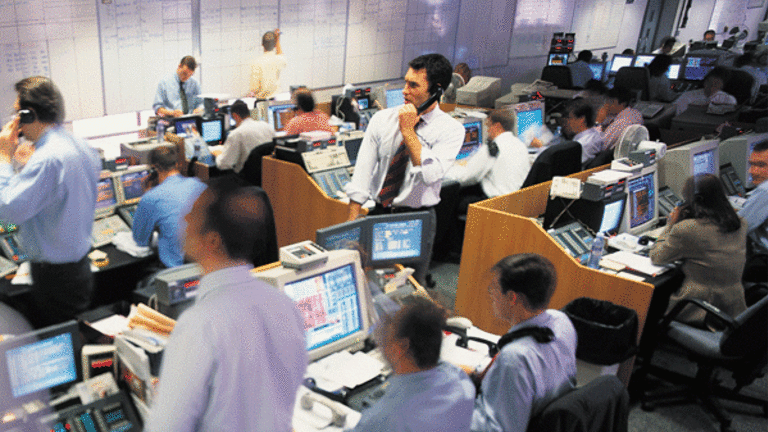 Professor Buffett Teaches by the Book
News on the oracle is focused on Berkshire's book value, an increase in payouts on credit swaps and new electric cars.
WILLIAMSTOWN, MASS. (TheStreet.com) -- This week's news on Warren Buffett is centered on the book value of Berkshire Hathaway (BRK.A) - Get Berkshire Hathaway Inc. Class A Report, the company's increase in payouts on credit swaps in the second quarter and new competition in electric cars.
On Monday,
Barron's
reported that Berkshire's book value grew in the second quarter. The value of the company's investment portfolio rallied 11.4% to almost $74,000 a share. With shares of Berkshire Hathaway class A shares currently trading at $104,000, the company is trading close to 1.4 times its book value.
Warren Buffett typically avoids sharing the intrinsic value of his company. Instead, the investor points to book value, one of his favorite indicators, as a proxy for the statistic.
Much of the company's impressive investment income can be attributed to Buffett's high-yield investments in companies such as
Goldman Sachs
(GS) - Get Goldman Sachs Group, Inc. Report
and
General Electric
(GE) - Get General Electric Company Report
as well as a number of junk bonds. While these investments have paid off, the returns have not come without a cost.
Bloomberg reports that in the second quarter Berkshire increased it's payouts on credit derivatives backing junk debt as more companies defaulted. The firm reportedly paid close to $825 million on the contracts vs. the $675 million in the three months ending March 31.
Although Buffett scoffed at the idea of holding credit swaps as recently as 2002, he has since had a change of heart. Today, Berkshire typically guarantees the debt of 100 companies for five-year periods. In his most recent annual letter, Buffett said that in a worst case scenario this action could cost Berkshire $6.4 billion in additional payments.
While $6.4 billion may be too big of a price tag for many to stomach, Buffett thought differently and once again came out on top. Berkshire posted a $391 million second-quarter gain on its credit default swaps trades as the market value of the underlying debt improved.
Recently, Buffett and Berkshire saw a nice boost when an investment in
BYD
, a Chinese car company, earned the firm $1 billion in profits. BYD is currently the seventh largest car company in China. In December, the automaker released the F3 DM sedan, the first mass-produced electric car and currently the fourth bestselling automobile in the country.
However, last week a
Reuters
article announced that Nissan had unveiled its first electric-powered car. The Leaf is set to be showcased throughout Japan, the U.S. and Europe by the end of the year. This emission-free automobile boasts a lithium-ion battery that after an eight-hour charge can take motorists as far as 100 miles and top out at speeds of 90 miles per hour. Nissan explained that the midsized hatchback's ability to seat five makes it a better option than other electric cars on the market.
The United States is not sitting by while other countries make headway in the electric car market. On Tuesday,
General Motors
released big news concerning its own electric car, the Chevy Volt. According to
The Wall Street Journal
, GM claimed that the Volt is now expected to get an unheard of 230 miles per gallon in city driving. While the car is only expected to get 40 miles on a single charge, the gas mileage rating currently exceeds any other car offered in the U.S., including the
Toyota
(TM) - Get Toyota Motor Corp. Report
Prius.
Buffett's investment and return from BYD shows that the investor is still very much abreast of up-and-coming trends. While ETF instruments such as
Claymore/AlphaShares China Small Cap Index ETF
(HAO) - Get Invesco China Small Cap ETF Report
allow average investors access to the successful BYD, investing in international companies can be a risky endeavor. Instead, investors should keep an eye on domestic car companies as they begin to add competition to the electric car market.
Currently a reliable option for investors looking for exposure to the auto industry is
Fidelity Select Automotive
(FSAVX) - Get Fidelity Select Automotive Report
. The fund is up more than 100% in a year-to-date period ending on August 10.
FSAVX is currently the only pure play on the sector and will likely benefit the most as more companies follow the lead of BYD. The top holdings in FSAVX include
Ford
(F) - Get Ford Motor Company Report
,
Johnson Controls
(JCI) - Get Johnson Controls International plc Report
and
Harley Davidson
(HOG) - Get Harley-Davidson, Inc. Report
.
-- written by Don Dion in Williamstown, Mass.
At the time of publication, Dion was long FSAVX.
Don Dion is president and founder of
, a fee-based investment advisory firm to affluent individuals, families and nonprofit organizations, where he is responsible for setting investment policy, creating custom portfolios and overseeing the performance of client accounts. Founded in 1996 and based in Williamstown, Mass., Dion Money Management manages assets for clients in 49 states and 11 countries. Dion is a licensed attorney in Massachusetts and Maine and has more than 25 years' experience working in the financial markets, having founded and run two publicly traded companies before establishing Dion Money Management.
Dion also is publisher of the Fidelity Independent Adviser family of newsletters, which provides to a broad range of investors his commentary on the financial markets, with a specific emphasis on mutual funds and exchange-traded funds. With more than 100,000 subscribers in the U.S. and 29 other countries, Fidelity Independent Adviser publishes six monthly newsletters and three weekly newsletters. Its flagship publication, Fidelity Independent Adviser, has been published monthly for 11 years and reaches 40,000 subscribers.