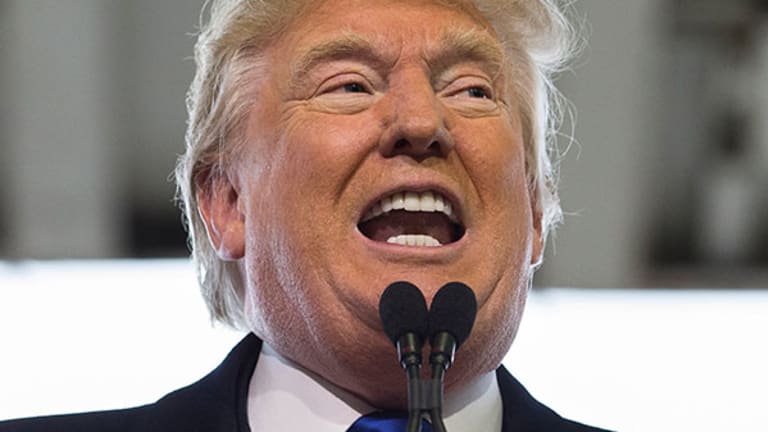 Prepare for Trump-Related Turmoil With This 'Portfolio Insurance'
The holiday-shortened week is the calm before the storm. By purchasing this inverse exchange-traded fund, investors can hedge their bets ahead of a likely correction.
The U.S. is bracing for the inauguration on Jan. 20 of a tempestuous new president with radical policies who lost the popular vote by nearly 3 million ballots.
Massive anti-Donald Trump protests are scheduled for Jan. 21, and polls show that he is the least popular president-elect in 20 years.
Investors must contend with the consequences of a divided country. Whether one hates or loves Trump, no one can deny that he will put the world on edge into the foreseeable future.
Put aside ideological predilections. Democrats as well as Republicans should fasten their seat belts for a bumpy ride in global markets.
Even the conservative, free-market oriented magazine The Economistthis year listeda Trump presidency as one of its "Top 10" global risks.
Case in point: his remarks last week about launching a nuclear arms race with Russia has alarmed the defense and foreign policy establishment and will probably roil the financial landscape for months to come.
Indeed, Trump's economic prescriptions could fit in a tweet: boost defense, confront China, cut taxes and regulations, embrace Russia, erect immigration and trade barriers, and favor oil. The nation's tweeter-in-chief has shown the ability to crush a stock, even mega-caps such as Boeing and Lockheed Martin, simply by taunting the company with an ill-tempered tweet.
The latest Twitter imbroglio occurred last week, when Trump yet again sent shares of Lockheed Martin, the world's largest defense contractor, tumbling when he tweeted that the "tremendous cost and cost overruns" of the F-35 program led him to ask Boeing to "price-out a comparable F-18 Super Hornet."
Impulsive tweets that clobber share prices are hardly a logical way to establish defense spending priorities.
Trump's destabilizing behavior is unlikely to abate, even after he is sworn in. And if there is anything that Wall Street hates, it is uncertainty.
At the same time, many analysts are calling for a long overdue correction and recession next year. The upshot: It is time for investors to take out a little insurance on their portfolios.
Investors should think about purchasing the ProShares Short S&P 500Exchange-Traded Fund (SH) - Get ProShares Short S&P500 Report .
With $2 billion in assets, the ProShares Short S&P 500 ETF follows a simple but still effective game plan: It seeks to match the inverse of the daily performance of the S&P 500. As such, it is a broad method for shorting the U.S. stock market as a whole.
The fund invests in derivatives that measure the 500 large-capitalization U.S. stocks. The expense ratio is 0.89%.
The ETF is down 10.61% this year, but it is poised to gain early next year.
Since Nov. 8, the broader indexes have hit new highs. However, the rally has recently fizzled.
Stocks over the past two weeks have traded in a narrow range, with economic bellwethers such as FedEx providing bad omens in the form of disappointing quarterly earnings.
In this holiday-shortened week, stocks are likely to continue meandering in lackluster fashion, but that is probably just the calm before the storm. It is foolhardy to try to time a market correction, but a day of reckoning is imminent.
As this ancient bull market enters its eighth year, stocks are a bubble in search of a pin. Equity valuations are excessive, and the Federal Reserve's interest rate increase this month could prove to be the bull's death knell.
The last time the Fed raised rates, on Dec. 15, 2015, the markets plunged by more than 8% over the next month.
What's more, recoveries tend to last about eight years before a recession, and the Obama recovery is more than eight years old.
Investors should hedge their bets. Take a modest position in ProShares Short S&P 500 to mitigate the losses ahead.
---
As an investor facing what promises to be a volatile 2017, you want to be in control of your own destiny. That means being able to predict in advance how much money your investment portfolio will generate. Think it can't be done? Our top analyst has a system that can ensure you will make a profit on more than 80% of your trades. To find out the secret, just click here!
John Persinos is an investment analyst at Investing Daily.
At the time of publication, he owned stock in BA.
Persinos also is an expert on the defense industry and serves as an analyst with aerospace consulting company Teal Group.