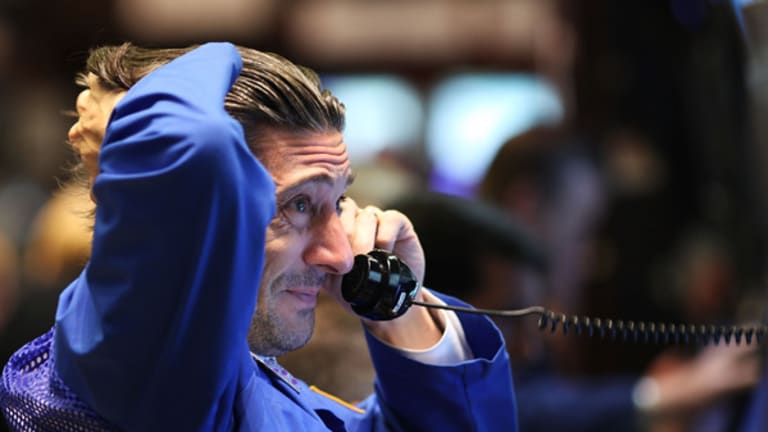 Preferred-Stock ETFs Shine
These ETFs have grown popular, offering investors diversification, liquidity and tax advantages.
Preferred stocks are a combination of debt and equity instruments that have become popular in the ETF world in the past year.
As nationalization fears have eased, reducing the volatility in these funds, investors have sought out preferred ETFs as an inexpensive way to access the preferred marketplace.
Currently there are three
,
PowerShares Financial Preferred Portfolio
(PGF) - Get Invesco Financial Preferred ETF Report
,
iShares S&P U.S. Preferred Stock Index ETF
(PFF) - Get iShares Preferred & Income Securities ETF Report
and
PowerShares Preferred Portfolio
(PGX) - Get Invesco Preferred ETF Report
.
All three funds are in positive territory year to date, with PGF leading the pack with a 13.74 return for that period. All three funds have high trading volumes, with PGF taking the top spot with a three-month average daily trading volume of 1.3 million shares.
Preferred ETFs offer investors inexpensive access, diversification and increased liquidity for preferred shares.
Several factors have helped the preferred ETFs gain more attention in the last few months. Since financial companies have been in a weak position due to the ongoing credit and housing market concerns, the yields on their preferred shares have increased significantly.
This has been a good trend for debtlike instruments as investors seek havens that provide their portfolio with income. The payouts provided by preferred securities have the payout advantage of bonds and the tax advantage of common dividends.
Investors looking for regular distributions like the payout schedule provided by preferreds, while the Jobs and Growth act of 2003 reduced the tax on dividends, making payouts from these funds relatively tax efficient.
When it comes to hierarchy, preferred stock has a senior dividend claim to common stock but takes a back seat to bonds. This means that in the event of the issuer becoming insolvent, preferred dividends will be paid before common stock dividends, but only after bond payments have been made.
While this hierarchy provides a more reliable payout structure for preferred ETF holders, it will not protect investors to the extent that an investment in bonds would. This protection is a key consideration for investors wary of PGF components such as
Bank of America
(BAC) - Get Bank of America Corp Report
,
JP Morgan
(JPM) - Get JPMorgan Chase & Co. (JPM) Report
,
Wells Fargo
(WFC) - Get Wells Fargo & Company Report
and
ING Group
(ING) - Get ING Groep NV Sponsored ADR Report
.
The ongoing stress in the financial markets makes both debt and equity investors more vulnerable to losses. As common shareholders see a dilution in their stock, particularly in that of financial institutions, as shares are pumped into the market to increase financing, it is likely that preferred structure will stay intact.
There has been some talk about a reduction in the tax advantages of preferred shares as federal deficits continue to grow. Even if the tax rate were increased on preferred payouts, however, it is still likely that the tax structure would remain advantageous to regular capital gains.
PGF, PFF and PGX have rallied significantly since the lows of late 2008 and are nearly at the levels seen in October before the worst of the financial crisis. Why, then, should people buy preferred funds now when common stock could have a larger upside potential?
The fear caused by the financial collapse paralyzed investors who could not imagine buying into companies like BAC or JPM even if the yield appeared ridiculously high.
The recent upswing in the economy may have restored some faith in investors who are once again considering the market for high-yield funds. Prospective preferred ETF holders should purchase PGF, PFF or PGX for the right reasons -- as part of a larger strategy, for their potential to pay out regular dividends and likelihood to remain more tax-efficient than other instruments.
At the time of publication, Dion was not long on any of the securities and funds mentioned.
Don Dion is the publisher of the Fidelity Independent Adviser family of newsletters, which provides to a broad range of investors his commentary on the financial markets, with a specific emphasis on mutual funds and exchange-traded funds. With more than 100,000 subscribers in the U.S. and 29 other countries, Fidelity Independent Adviser publishes six monthly newsletters and three weekly newsletters. Its flagship publication, Fidelity Independent Adviser, has been published monthly for 11 years and reaches 40,000 subscribers.
Dion is also president and founder of Dion Money Management, a fee-based investment advisory firm to affluent individuals, families and nonprofit organizations, where he is responsible for setting investment policy, creating custom portfolios and overseeing the performance of client accounts. Founded in 1996 and based in Williamstown, Mass., Dion Money Management manages assets for clients in 49 states and 11 countries. Dion is a licensed attorney in Massachusetts and Maine and has more than 25 years' experience working in the financial markets, having founded and run two publicly traded companies before establishing Dion Money Management.