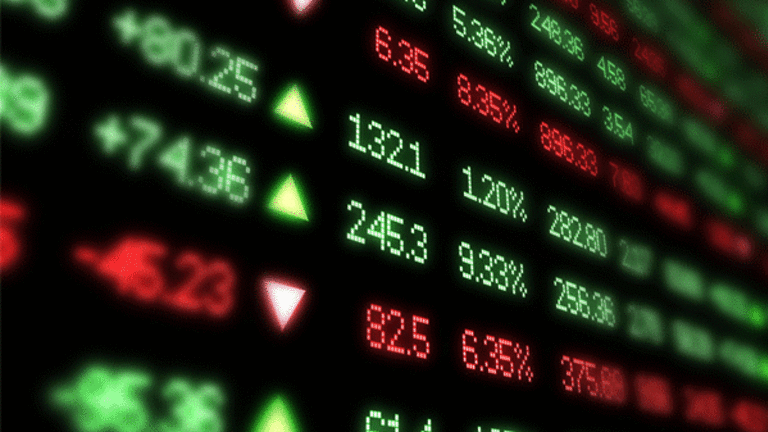 PowerShares Small-Cap ETFs in Focus
ETF providers can avoid regulatory pressure by turning to small-cap U.S. sector-specific products.
NEW YORK (TheStreet) -- PowerShares is going old school in a quest to dominate the small-cap sector space with new small-cap ETFs. They're likely to face a lot of competition though, as providers find the profitable leveraged and active market segments stalled by regulators.
Because of their complex designs, leveraged and active ETFs hold titles as being some of the most expensive exchange traded products currently available. Given the higher fees, there is no wonder that a number of new fund providers hope to launch products that fall within these two categories.
Recently, however their plans have been put on hold, thanks to the ongoing regulatory firestorm from the SEC which is hindering the advancement in these ETF arenas and forcing fund providers to turn to other methods of turning profit.
Last
, I highlighted the exotic international arena as a possible avenue for investors seeking to avoid the regulatory hammer. These funds employ no leverage, drive traffic and warrant higher fees than traditional international funds. IndexIQ, a relatively new player to this ETF class, recently expanded its offerings in this field with the
IndexIQ Small-cap South Korea Index ETF
(SKOR).
Aside from this, there are other ways providers can avoid the SEC. For one, providers can turn to small-cap U.S. sector-specific products. Late last week, PowerShares unveiled a suite of nine new products aimed at tracking slices of the U.S. market from a small-cap perspective.
The funds recently launched include the:
PowerShares S&P SmallCap Consumer Discretionary Portfolio ( XLYS)
PowerShares S&P SmallCap Financial Portfolio
PowerShares S&P SmallCap Consumer Staples Portfolio ( XLPS)
PowerShares S&P SmallCap Energy Portfolio ( XLES)
PowerShares S&P SmallCap Health Care Portfolio ( XLVS)
PowerShares S&P SmallCap Industrials Portfolio ( XLIS)
PowerShares S&P SmallCap Information Technology Portfolio ( XLKS)
PowerShares S&P SmallCap Materials Portfolio ( XLBS)
PowerShares S&P SmallCap Utilities Portfolio ( XLUS)
Investors may notice that these funds' ticker symbols are a direct nod to State Street's line of sector SPDR funds, adding an S to the existing SPDR symbols. PowerShares clearly wants to rule the small-cap sector space in the same way that State Street SPDRs dominate the large-cap sector. It marks a deviation from the firm's heavy use of alternative indexing strategies, as these funds will track the S&P 600 Capped SmallCap Sector indices. PowerShares' most popular ETF is the
QQQ
( QQQQ) and this straight indexing strategy for small-caps is likely to prove popular with investors as well.
Like the international small-cap funds, these instruments employ no leverage, thereby avoiding regulatory pressure. Instead, the funds are designed like traditional ETFs in that they track an index made up of company stocks. By focusing solely on the smallest firms within a single industry, however, PowerShares can justifiably raise their instruments' fees.
PowerShares' XLFS charges investors 0.29% vs. the 0.21% fee required to hold the large-cap SPDR, XLF.
Unlike large-cap focused sector instruments these funds lack exposure to the giants that typically command the large slices of indices and therefore drive a fund's performance. Instead, these funds have more diversified holdings, with most instruments having no single company representing more than 5% of the fund's index.
However, there are exceptions to this. The instrument that has me most concerned is XLPS, which has nearly a quarter of its index dedicated to its top two holdings:
Casey's General Stores
(CASY) - Get Casey's General Stores, Inc. Report
and
TreeHouse Foods
(THS) - Get TreeHouse Foods, Inc. Report
. Small-caps are more volatile than large-caps and single stock exposure is even riskier because these firms often have greater geographic risk and single product risk.
Small-cap sector instruments provide ETF providers with another avenue to offer increased fees while avoiding the regulatory umbrella. However, as usual, investors should be cautious before jumping into any new product. New ETFs, especially those blazing a brand new trail, tend to pick up steam slowly.
Don Dion is president and founder of
, a fee-based investment advisory firm to affluent individuals, families and nonprofit organizations, where he is responsible for setting investment policy, creating custom portfolios and overseeing the performance of client accounts. Founded in 1996 and based in Williamstown, Mass., Dion Money Management manages assets for clients in 49 states and 11 countries. Dion is a licensed attorney in Massachusetts and Maine and has more than 25 years' experience working in the financial markets, having founded and run two publicly traded companies before establishing Dion Money Management.
Dion also is publisher of the Fidelity Independent Adviser family of newsletters, which provides to a broad range of investors his commentary on the financial markets, with a specific emphasis on mutual funds and exchange-traded funds. With more than 100,000 subscribers in the U.S. and 29 other countries, Fidelity Independent Adviser publishes six monthly newsletters and three weekly newsletters. Its flagship publication, Fidelity Independent Adviser, has been published monthly for 11 years and reaches 40,000 subscribers.