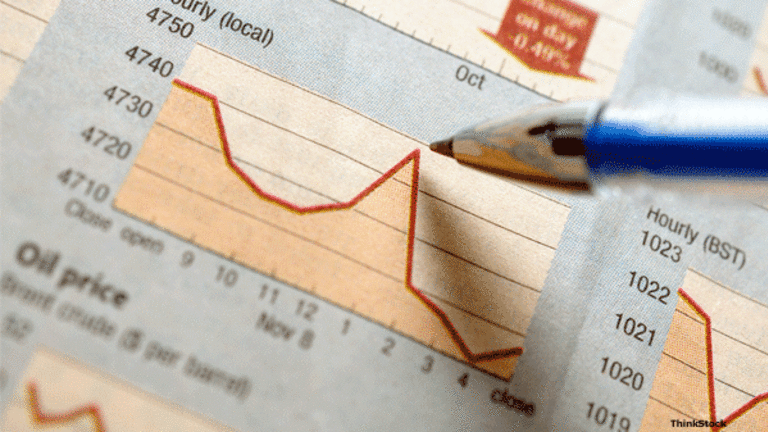 PowerShares Makes Big Fundamental Bet
Company launches 10 funds based on FTSE RAFI fundamental indices.
WisdomTree Investments'
recent
launch of 20 exchange-traded funds that track indices weighted by fundamentals, rather than market cap, generated a lot of discussion about these new investment vehicles.
This week, the hype is mounting as
PowerShares Capital Management
launches 10 new products based on the FTSE RAFI fundamental indices.
The PowerShares ETFs, which began trading Wednesday on the
Nasdaq
, have sparked two main questions among investors: Can fundamentally weighted ETFs outperform traditional market-cap weighted ETFs, and how will this newest batch of PowerShares ETFs compare with the fundamentally weighted WisdomTree ETFs?
"This is really going to be the bottom line in what happens with the performance of these products," says Ronald DeLegge, publisher and editor of
ETFguide.com.
"Backtesting has shown some stellar returns, but this is real-life performance," he adds.
While there is some actual history, there's not much to go by.
PowerShares launched a lone fundamentally weighted ETF in December, the
FTSE RAFI US 1000 Portfolio
(PRF) - Get Invesco FTSE RAFI US 1000 ETF Report
. Year to date, it has outperformed the
S&P 500
by about 2.4 percentage points, according to Morningstar.com.
WisdomTree's 20 fundamentally weighted ETFs launched in June, so it's too early to get a good measure of their performance, though Luciano Siracusano, director of research at WisdomTree, says the indices that the ETFs track "are consistently outperforming the comparable cap-weighted indices."
But even considering their scant trading history, PowerShares president Bruce Bond says there is good reason to believe fundamentally weighted ETFs will outperform market-cap weighted ETFs.
"A market-cap weighted index tends to overbuy overvalued stocks and underweight undervalued stocks," he says. The FTSE RAFI, however, weighs companies based on their current financial size and "doesn't incorporate the emotion of the market and all the other things that create volatility in the market."
That will "create better performance over time and lower risk over time," Bond says.
He adds, however, that "investors need to know that they need to be careful and understand the index they are investing in thoroughly."
There's also been a lot of debate over how fundamentally weighted products compare to one another, since the methodologies used by the different indices to weigh stocks are very different. The FTSE RAFI indices tracked by the Powershares ETFs select, rank and weigh stocks based on companies' sales, cash flow, book price and dividends.
Meanwhile, WisdomTree's ETFs only include stocks that pay dividends, and the firm weighs them based on either the amount of cash dividends the companies pay or the companies' dividend yields.
The latter methodology has garnered more criticism from industry observers."For as much as I like dividends and as much as I would like companies to pay out more in dividends ... it's a rather limiting way to define a market segment," says J.D. Steinhilber, founder of
AgileInvesting.com, an investment-advisory subscription service that provides advice on managing portfolios with ETFs.
Steinhilber adds that by including only companies that pay dividends, some major companies that don't pay them --
Oracle
(ORCL) - Get Oracle Corporation Report
,
Cisco
(CSCO) - Get Cisco Systems, Inc. Report
,
Apple Computer
(AAPL) - Get Apple Inc. (AAPL) Report
,
Google
(GOOG) - Get Alphabet Inc. Class C Report
and
Yahoo!
(YHOO)
, to name a few -- are excluded.
Another drawback, he says, is that dividend-oriented funds generate higher taxable income, which results in a heftier tax bill for investors.
For people who are looking for dividend exposure, the WisdomTree products may be good options, but not as a core holding, Steinhilber says.
However, WisdomTree's Siracusano says the company chose to use the dividend-weighted methodology "because we think it's the most transparent, the most easily understood ... When you start adding other factors, it gets very complicated."
"Every index family makes decisions to exclude some companies," Siracusano says. If, for example, Cisco was included in the index but doesn't pay a dividend, there has to be a way to rank or weigh it. "Instead of making up rules, we just rank companies that have dividends ... It's something investors can understand easily."
Steinhilber, still, is more supportive of the FTSE RAFI multifactor fundamental indexing approach that PowerShares has gotten behind; he adds, however, that the methodology is not without flaws.
The FTSE RAFI indices are more value oriented, which could generate some alpha over the long term, but in the current cycle, growth is poised to outperform, which could hurt performance. Also, he explains, the FTSE RAFI doesn't account for the expected growth rates of companies, so it doesn't represent the fact that certain companies are growing faster than others.
Overall, though, Steinhilber says that for a core equity fund, he prefers the FTSE RAFI.
He also believes both products are expensive.
The expense ratio for the PowerShares ETFs is capped at 0.60%, while WisdomTree's ETFs charge 0.28% to 0.38% for domestic products and 0.48% to 0.58% for international ones.