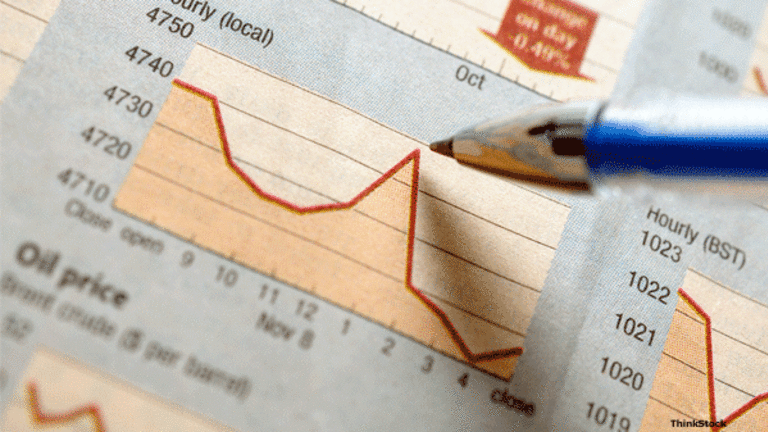 Platinum Futures Fund Latest Casualty
The iPath Dow Jones Platinum ETN is the latest fund to halt creation because of anticipated position limits
NEW YORK (
) -- The
iPath Dow Jones Platinum ETN
(PGM) - Get Free Report
is the latest exchange traded casualty, as ETF issuers struggle to keep ahead of upcoming futures regulation.
The futures-based platinum fund, which has just $100 million in assets, has halted creation of new shares due to anticipated position limits.
PGM's creation halt follows in the footsteps of new "accountability" limits set by the New York Mercantile Exchange. When it comes to platinum, "accountability" limits are tripped at a lower threshold than other commodities. Currently, the limit is set at 1,500 net futures positions, approximately the same size as PGM's assets.
PGM will now enter into the same precarious territory as funds like
United States Natural Gas
(UNG) - Get Free Report
,
iShares S&P GSCI Commodity Indexed Trust
(CSG)
,
iPath Natural Gas
(GAZ) - Get Free Report
and
PowerShares DB Crude Oil Double Long
(DXO)
, as it halts creation to stay ahead of regulation.
Halting creation isn't the only way to stay ahead of the regulatory curve. UNG has begun to restructure its underlying methodology, exchanging to-be regulated futures contracts for other investments, like swaps. PowerShares recently also restructured shares of its
Deutsche Bank
(DB) - Get Free Report
indexed
DB Agriculture
(DBA) - Get Free Report
and
DB Commodity
(DBC) - Get Free Report
funds.
During the DBC restructuring process, index provider Deutsche Bank took the unusual step of exchanging New York Mercantile-traded futures contracts for some holdings in Brent Oil Contracts, which trade abroad.
The willingness of these managers
to restructure their portfolios
suggests that when it comes to commodities ETFs - there's a will and a way.
The
did not have as neat of a result. The popular leveraged oil fund decided to redeem shares of the fund for value, euthanizing the fund before it could be killed off by regulation.
Whether ETFs are
eventually restructured or closed
, the halt in share creation can negatively impact investors. ETFs are designed to track an underlying net asset value, and a halt in the creation/redemption process can dislodge a fund's price from its worth. Investors end up paying premiums to buy into a strategy that others have bought at cost.
The resumption of creation for UNG's shares has helped to put the fund back in line. UNG's premium, which crept towards 20% at the height of its creation halt, has returned to a less than 5% premium to NAV. This fund has been buoyed by natural gas prices, but it is easy to see how a dramatic drop in premium during an inconvenient time would have disastrous results.
Definitive regulation on futures limitations is expected by the end of the month. ETF investors need an answer, and the uncertainty surrounding futures-based products needs to end. ETF issuers should remain committed to transparency when listing their holdings. If futures are replaced by swaps, disclosure should highlight inherent risks.
Investors who want exposure to the price metals like gold, silver and platinum without derivative exposure should
physically-backed commodity funds like
SPDR Gold Shares
(GLD) - Get Free Report
,
iShares Comex Gold
(IAU) - Get Free Report
,
ETF Securities Gold Trust
(SGOL) - Get Free Report
,
iShares Silver
(SLV) - Get Free Report
and
ETF Securities Silver Trust
(SIVR) - Get Free Report
(SIVR).
Abroad, ETF Securities has launched similar physically-backed platinum and palladium funds. The issuer filed for similar funds in the U.S. earlier this year, but has yet to gain approval and launch.
-- Written by Don Dion in Williamstown, Mass.
At the time of publication, Dion owns iShares Comex Gold.
Don Dion is president and founder of
, a fee-based investment advisory firm to affluent individuals, families and nonprofit organizations, where he is responsible for setting investment policy, creating custom portfolios and overseeing the performance of client accounts. Founded in 1996 and based in Williamstown, Mass., Dion Money Management manages assets for clients in 49 states and 11 countries. Dion is a licensed attorney in Massachusetts and Maine and has more than 25 years' experience working in the financial markets, having founded and run two publicly traded companies before establishing Dion Money Management.
Dion also is publisher of the Fidelity Independent Adviser family of newsletters, which provides to a broad range of investors his commentary on the financial markets, with a specific emphasis on mutual funds and exchange-traded funds. With more than 100,000 subscribers in the U.S. and 29 other countries, Fidelity Independent Adviser publishes six monthly newsletters and three weekly newsletters. Its flagship publication, Fidelity Independent Adviser, has been published monthly for 11 years and reaches 40,000 subscribers.