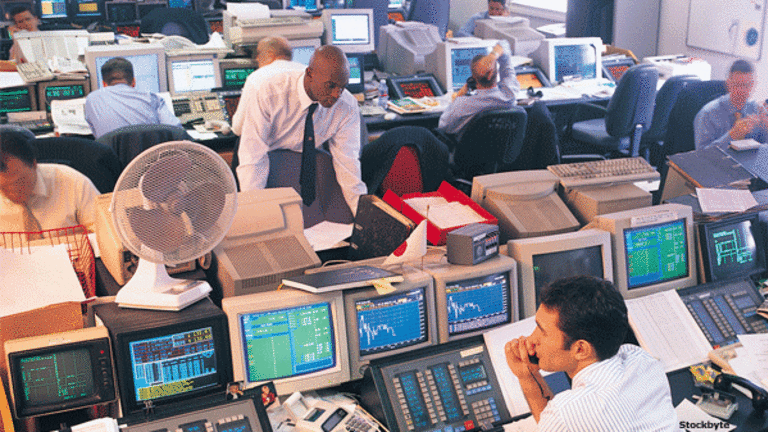 Pimco Breaks Ground on Active ETFs
However, these bold new funds will have to prove their viability as investors appreciate the passive nature of traditional ETFs.
Pacific Investment Management
(PIMCO) has announced its plan to launch five actively managed ETFs to compete with rivals like
State Street
(STT) - Get State Street Corporation Report
and
PowerShares
.
So far, the actively managed ETF space has been all talk and no game. While compelling arguments exist as to why these funds should be such a roaring success, this is new and uncertain territory for the industry. The role of ETFs is changing, and the fund companies are now testing already-claimed territory.
The seedlings of the ETF industry grew in and around the massive roots of mutual fund giants. The nimble new products could do things that their mutual fund peers could not: offer transparency, tax advantages and liquidity through major exchanges. ETF patches also gained strength in the sunlight not stolen by the massive trees above -- areas of the market like commodities that were previously not accessible through mutual funds.
This small forest carpet, however, is beginning to grow strength, and more robust strains of the ETF flora may begin to sap energy from the host. In the past decade, the ETF industry has surged 10-fold to more than $500 billion. ETFs like
S&P 500 Depository Receipts
(SPY) - Get SPDR S&P 500 ETF Trust Report
and
Financial Sector Select SPDR
(XLF) - Get Financial Select Sector SPDR Report
see millions of shares trade hands per day. As they eye any and all profitable portions of the market, the big names now want a piece of the action.
While retail investors were early adopters of ETFs and institutional investors continued to embrace mutual funds (or separate account management), the line has begun to become blurred. In a recent article in
Trader
,
Knight Equity Markets
, a giant market-maker, copped to seeing a "tidal wave of volume and liquidity in the ETF space." What makes this influx of volume different, however, is that it represents "the rise of a new ETF customer base: traditional asset managers."
This result is the predictable outcome of a combination of market forces. ETFs have been growing rapidly, attracting volume and the subsequent notice of traders and investors. Transparent portfolios are increasingly attractive in an uncertain climate. Retirement assets, while beaten up, still comprise an enormous chunk of the market. ETF issuers would like to be everything to everyone.
The first actively managed ETF,
Grail American Beacon Large Value ETF
(GVT)
, highlights large-cap names like
Royal Dutch Shell
(RDSB)
,
Chevron
(CVX) - Get Chevron Corporation Report
,
Apple
(AAPL) - Get Apple Inc. Report
and
Microsoft
(MSFT) - Get Microsoft Corporation Report
at the top of its roster. The allocations are small and the expense cap of 0.79% is about what you'd normally see from a more exotic passive strategy.
In the last five years I have watched firsthand the interest for ETFs grow more rapidly. I design custom portfolios for investors at
Dion Money Management
using ETFs and mutual funds. In the course of talking to clients, I could see the demand for ETFs catching on. In 2006 I launched two ETF newsletters, the weekly
Sector Momentum Tracker
and monthly
ETF Report
to address the blossoming need for ETF information.
As both an asset manager and a publisher, I believe that the ETF boom has just begun. New issuers will continue to join the fray and a new round of products will pour into the market. ETFs used to have to explore new territory to survive; now they will begin to more aggressively undercut already-existing funds.
Active ETFs, for all their good intentions, will have to prove their viability in the open marketplace. So far, investors have used ETFs for their passive nature, transparency and simplicity. Will investors want products that strip away some of what makes an ETF an ETF in favor of a mutual fund in ETF's clothing?
The role of issuers should be to respond to the real demand in the ETF marketplace with funds that offer strategies that people want to buy. The undergrowth of ETFs is climbing rapidly toward the canopy above. ETF issuers must see the forest for the trees.
At the time of publication, Dion had no positions in the stocks mentioned.
Don Dion is the publisher of the Fidelity Independent Adviser family of newsletters, which provides to a broad range of investors his commentary on the financial markets, with a specific emphasis on mutual funds and exchange-traded funds. With more than 100,000 subscribers in the U.S. and 29 other countries, Fidelity Independent Adviser publishes six monthly newsletters and three weekly newsletters. Its flagship publication, Fidelity Independent Adviser, has been published monthly for 11 years and reaches 40,000 subscribers.
Dion is also president and founder of Dion Money Management, a fee-based investment advisory firm to affluent individuals, families and nonprofit organizations, where he is responsible for setting investment policy, creating custom portfolios and overseeing the performance of client accounts. Founded in 1996 and based in Williamstown, Mass., Dion Money Management manages assets for clients in 49 states and 11 countries. Dion is a licensed attorney in Massachusetts and Maine and has more than 25 years' experience working in the financial markets, having founded and run two publicly traded companies before establishing Dion Money Management.