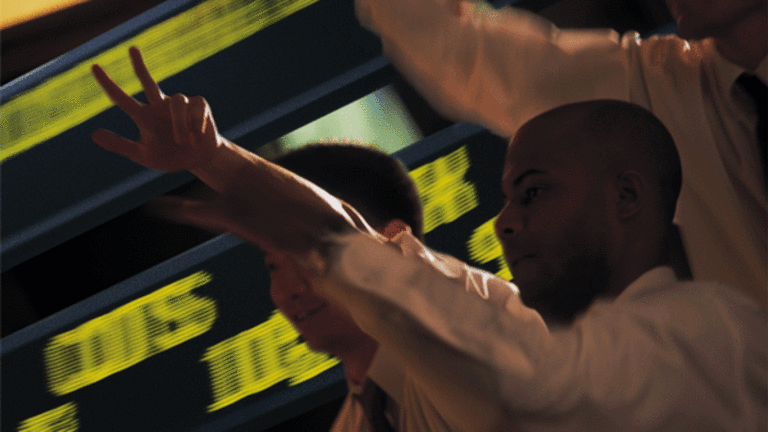 Picking Warren Buffett's Brain
Buffett appears to be relying on more conservative investments to sustain his massive fortune amid today's unique economic climate.
Berkshire Hathaway's quarterly 13-F filing and comments made by David Sokol may indicate that the Warren Buffett empire is adapting a more conservative mindset heading into the near future.
The
Berkshire Hathaway
(BRK.A) - Get Berkshire Hathaway Inc. Report
13-F filing was released to the public this week and, as usual, it proved to be a popular resource for fans of the famous investor.
Every quarter, Warren watchers anxiously await the release of this document which shows how Buffett adjusted his legendary portfolio during the most recent three-month period. The changes to Berkshire's portfolio can provide clues as to how the famous investor feels the market environment will play out heading into coming weeks, months and years.
This time around, though only one new name,
Fiserv
(FISV) - Get Fiserv Inc. Report
, was added to the Berkshire Hathaway portfolio, investors were nonetheless treated to a number of interesting changes.
For the most part, the financier opted to focus his attention on the large, stable companies that represent core Berkshire Hathaway positions. For instance, the most notable tweak documented in this quarter's filing was a big increase to his
Johnson & Johnson
(JNJ) - Get Johnson & Johnson Report
position. In the previous three-month period, Buffett's empire upped its stake in the healthcare titan by more than 70%. This dramatic increase marks a sharp reversal from recent years during which the Berkshire's JNJ position was slashed, allowing Buffett to free up cash in order to fund other attractive investment opportunities.
Discount retailer,
Wal-Mart
(WMT) - Get Walmart Inc. Report
was another notable position that saw an increase.
While Buffett offered his blessing to JNJ and WMT, not all Berkshire holdings were so lucky. The most notable cuts listed in Berkshire's filing were to its stakes in
Procter & Gamble
(PG) - Get Procter & Gamble Company (The) Report
,
ConocoPhillips
(COP) - Get ConocoPhillips Report
and
Kraft
( KFT).
Even Berkshire Hathaway's unchanged positions have drawn interest from followers.
Republic Services
(RSG) - Get Republic Services Inc. Report
, a trash company that has received a vote of confidence from both Buffett and Bill Gates in recent quarters, saw no tinkering from Berkshire over the past three months. On the other side of the spectrum, the company's stake in
Moody's
(MCO) - Get Moody's Corporation Report
was also left alone. In prior quarters Buffett had shown his disappointment in the troubled ratings agency through a number of dramatic cuts.
While it garnered most of the press due to the release of the 13-F, Warren Buffett's stock portfolio was not the only element of the Berkshire Hathaway umbrella that received headlines this week. The investment firm's multi-billion dollar derivative portfolio also fell into the spotlight as David Sokol shared words regarding how Berkshire will adjust in light of the passage of the Dodd-Frank financial reform bill.
In an interview with
Bloomberg
, Sokol -- an individual viewed by many as a likely candidate to succeed Buffett -- explained that, with the passage of Dodd-Frank, which includes provisions that require firms like Berkshire to post collateral on new derivatives contracts, fewer opportunities may exist in the near future.
Buffett has faced a great deal of scrutiny in recent months as news comes to light of the investor's expansive derivative portfolio. In the past the investor offered criticism for these instruments, labeling them "financial weapons of mass destruction."
By increasing stakes in the large, stable core Berkshire Hathaway positions and hinting that the firm's exposure to derivatives contracts may soon be scaled back, Buffett appears to be relying on more conservative investments to sustain his massive fortune amid today's unique economic climate.
Don Dion is president and founder of
, a fee-based investment advisory firm to affluent individuals, families and nonprofit organizations, where he is responsible for setting investment policy, creating custom portfolios and overseeing the performance of client accounts. Founded in 1996 and based in Williamstown, Mass., Dion Money Management manages assets for clients in 49 states and 11 countries. Dion is a licensed attorney in Massachusetts and Maine and has more than 25 years' experience working in the financial markets, having founded and run two publicly traded companies before establishing Dion Money Management.
Dion also is publisher of the Fidelity Independent Adviser family of newsletters, which provides to a broad range of investors his commentary on the financial markets, with a specific emphasis on mutual funds and exchange-traded funds. With more than 100,000 subscribers in the U.S. and 29 other countries, Fidelity Independent Adviser publishes six monthly newsletters and three weekly newsletters. Its flagship publication, Fidelity Independent Adviser, has been published monthly for 11 years and reaches 40,000 subscribers.