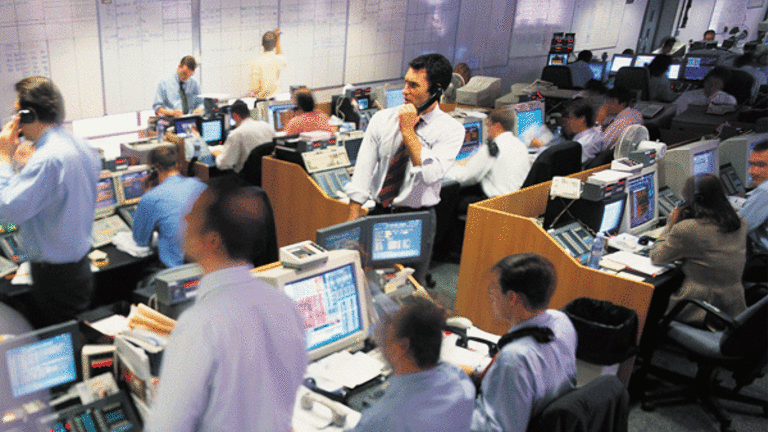 Permanent ETF Focuses on Steady Performance
This new fund calls for equal allocations of equities, long bonds, precious metals and cash.
NEW YORK (
) -- Innovative ETF provider Global X recently launched the
Global X Permanent ETF
(PERM)
, which provides one-stop access to the permanent portfolio concept originated by Harry Browne which called for equal 25% portfolio allocations to equities, long bonds, precious metals and cash.
The idea is very simple -- no matter what is going on the world at any given moment, at least one of the four asset classes should be doing well.
The portfolio is very unlikely to be a world beater but is also very unlikely to ever blow up and given the poor performance of U.S. equities over the last 12 years, the humble goal of not blowing up is attractive, especially for people not looking to make a full-time job out of retirement investing.
The long bond portion of the Permanent ETF uses individual U.S. Treasuries with maturities going out to 2039 and 2040. Long bonds have generally been a very good place to be over the last few years. If interest rates rise meaningfully, then this portion of the fund will get hit hard. As a general rule of thumb a 1% rise in interest rates will equate to about a 12% drop in the price of long bonds.
The allocation to cash is actually in U.S. Treasury bills maturing in 2013 and 2014. Because they are so close to maturity, the bills will not be sensitive to interest rate fluctuation. This segment might benefit from higher rates as right now the yield will be close to zero but if and when short term rates move back to "normal," the cash will again pay interest. It should be stated that the objective of holding cash is to avoid price fluctuation. If the equity market goes down a lot, an allocation to cash will provide comfort but if the equity market goes up a lot, the cash will be a drag on returns.
The precious metal allocation is comprised of 20% of PERM in
ETF Securities Gold Trust
(SGOL) - Get Aberdeen Standard Physical Gold Shares ETF Report
and 5% of PERM in the
ETF Securities Silver Trust
(SIVR) - Get Aberdeen Standard Physical Silver Shares ETF Report
. Global X believes that the trust format of the more popular
SPDR Gold Trust
(GLD) - Get SPDR Gold Shares Report
and
iShares Silver Trust
(SLV) - Get iShares Silver Trust Report
can have less favorable tax treatment than the exchange traded commodity format used by ETF Securities.
The equity exposure is a mix of individual stocks and ETFs. For domestic large-cap equity exposure, PERM will own the 50 largest stocks in the
S&P 500
, excluding materials and energy stocks. The 50 will have a targeted equal weighted of 0.20% each.
For natural resources PERM will own the five largest agribusiness by market cap, five largest mining companies (excluding gold and silver miners) and the five largest energy companies. PERM will also own the 10 largest U.S. real estate investment trusts.
PERM will use
Vanguard FTSE All World ex-US
(VEU) - Get Vanguard FTSE All-World ex-US Index Fund Report
for international equity exposure and the
Vanguard Small Cap ETF
(VB) - Get Vanguard Small-Cap ETF Report
for domestic small-cap exposure.
With only 25% of the fund exposed to equities, there is a very high likelihood that it will have a low correlation to broad indexes like the S&P 500, and this is one of the objectives. Investors learned about the importance of asset allocation the hard way in 2008 and also back in 2000 and there is now greater understanding of the importance of having some of the portfolio that does not like the S&P 500. I think this will turn out to be a very popular fund as a core holding because of these attributes.
At the time of publication, Nusbaum was not hold any positions in the funds mentioned, although positions may change at any time.
Roger Nusbaum is a portfolio manager with Your Source Financial of Phoenix, and the author of Random Roger's Big Picture Blog. Under no circumstances does the information in this column represent a recommendation to buy or sell stocks. Nusbaum appreciates your feedback;
to send him an email.