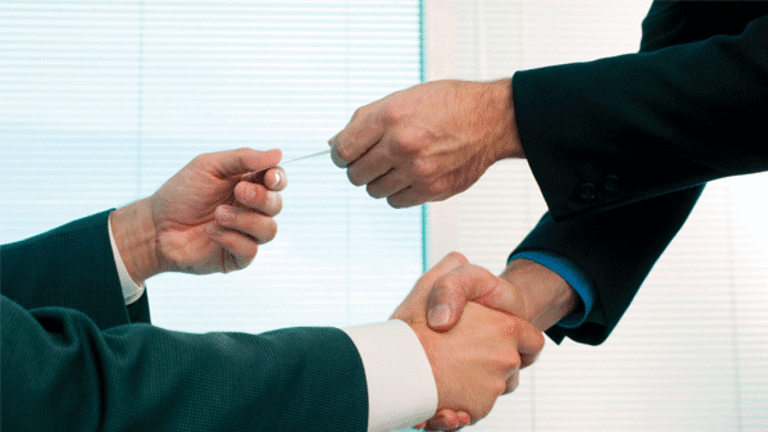 Paired ETFs Strategy Can Smooth Volatility
This worked well during the market's recent meltdown.
Given the recent stress test in the market, I thought it might be worthwhile to revisit an ETF strategy I explored
last month: pairing a sector ETF with an inverse sector ETF so that the long holding went up a little more than the inverse ETF went down as the market moved higher over time.
The idea was to reap price appreciation of a few percent and some yield from both holdings. The goal was to try to capture most of the market's return with only a small fraction of the risk.
It seems to have delivered the desired results. Even better, it can work for several sectors, and may find more applications as ETF offerings expand.
In my initial column, I looked at the usually high-yielding financial sector. I paired the
WisdomTree International Financial Sector Fund
(DRF)
with the
ProShares UltraShort Financials Fund
(SKF) - Get ProShares UltraShort Financials Report
, and looked at putting $20,000 into DRF and $10,000 into SKF.
If an investor had entered this pair on Feb. 26 (the day before the big dip started) at the open, he could have bought 698 shares of DRF at $28.62 and 145 shares of SKF at $68.58, making the invested amount $29,920.86. At the close on March 9, two weeks later, DRF closed at $27.43, down 4.1%; SKF closed the same session at $74.39, up 8.4%.
In dollars and sense, the combo was worth $29,932.69, up $11.32. During the same two-week stretch, the
S&P 500
was down 3.3%. I'd say that judging by this small sample, the concept seems to work, and it sure was tested during that particular "dip."
Quite a Test
The financial sector ETF pair trade survived the market's meltdown
Source: BigCharts.com
The concept stands up (so far, anyway) in other sectors, such as the utility sector. Take a look at the pairing of the
WisdomTree International Utilities Fund
(DBU)
and the
ProShares UltraShort Utilities Fund
(SDP) - Get ProShares UltraShort Utilities Report
during the same time frame and investment size:
Utilitarian Pairing
This combination would've worked well, too
Source: BigCharts.com
In the same period, the DBU/SDP pairing would have been up 0.9% -- not stellar, but definitely still way ahead of the S&P 500.
One last combination to check out as a broader example would be
WisdomTree High-Yielding Equity Fund
(DHS) - Get WisdomTree U.S. High Dividend Fund Report
paired with
ProShares UltraShort S&P 500 Fund
(SDS) - Get ProShares UltraShort S&P500 Report
. Using the same dollars and dates going long with DHS and short with SDS resulted in the trade being up $48. Again, that's not a huge amount but it still looks pretty good compared to the broader market.
Keep this trade in context: It's a way to allocate some portion of a diversified portfolio into a holding, or in this case, two holdings, that have the potential to offer decent yield, a little price appreciation and dramatically less volatility than the overall market.
I focus on WisdomTree because, for now, it offers the highest yields for the long component and because its instruments have, in their short trading history, done a good job of outperforming their benchmark indices and the indices that underlie the ProShares inverse funds.
The pairing can really be sector-agnostic, as long as:
It delivers yield. The long holding pays a dividend and the inverse fund pays interest because it owns Treasuries and futures contracts.
Two products correlate properly to create the effect. For example, one sector that might seem like an obvious candidate is telecom, but ProShares doesn't have an inverse telecom fund.
One more caveat: Don't consider these sector fund combinations discussed here exposure to that sector. This really is an absolute return strategy, and I'd expect the blend of the long and short to have almost no correlation to the underlying sectors.
As a best-case scenario, a paired trade of this nature could serve as a fixed-income proxy, but without the interest-rate risk. The strategy can be problematic in that it will lag the stock market when it's up a lot, which is why anyone interested in this strategy should apply it to only a small portion of an account.
The other issue to resolve is when to rebalance. After the two-week period studied, any pairing would be off slightly from the original 2:1 ratio. I believe that rebalancing once or twice a year or after a very large move in the broader market (larger than the decline from the week before last) would suffice.
Please note that due to factors including low market capitalization and/or insufficient public float, we consider WisdomTree International Financial Sector Fund, ProShares UltraShort Financials Fund, WisdomTree International Utilities Fund, ProShares UltraShort Utilities Fund and WisdomTree High-Yielding Equity ETF to be small-cap stocks. You should be aware that such stocks are subject to more risk than stocks of larger companies, including greater volatility, lower liquidity and less publicly available information, and that postings such as this one can have an effect on their stock prices.
At the time of publication, Nusbaum was long ProShares UltraShort S&P 500 Fund for a client account, although positions may change at any time.
Roger Nusbaum is a portfolio manager with Your Source Financial of Phoenix, and the author of Random Roger's Big Picture Blog. Under no circumstances does the information in this column represent a recommendation to buy or sell stocks. Nusbaum appreciates your feedback;
to send him an email.