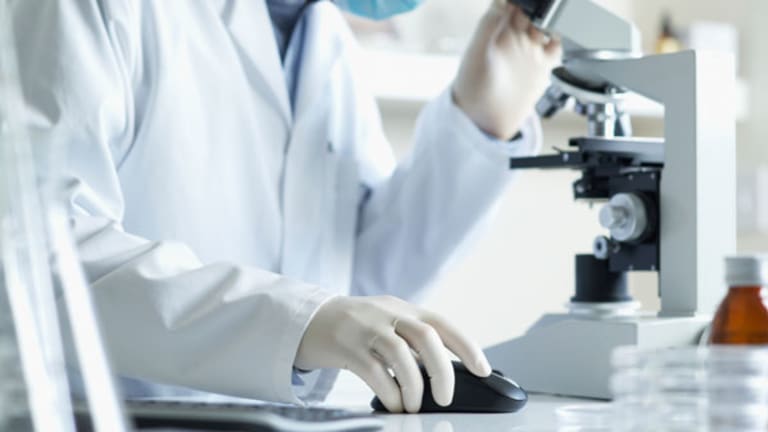 Obamacare Boosts Health Funds
Pharmaceutical and hospital stocks rally as more consumers gain insurance.
Pharmaceutical and hospital stocks rally as more consumers gain insurance.
NEW YORK (TheStreet) -- Health exchange-traded funds have been strong performers lately.
The rollout of the Affordable Care Act -- Obamacare -- may be bumpy. But the markets seem convinced that millions of newly insured patients will soon be visiting hospitals and purchasing prescriptions. During the past year, Health Care Select Sector SPDR (XLV) - Get Report returned 38.3%, topping the S&P 500 by more than 15 percentage points.
In the years leading up to the start of Obamacare, pharmaceutical stocks slowed as investors worried that new regulations and taxes would harm profits. But now new revenues promise to offset the additional costs. During the past year, SPDR S&P Pharmaceuticals (XPH) - Get Report returned 60.6%.
Buoyed by some high-profile drug approvals, biotechnology ETFs soared. For the year, iShares Nasdaq Biotechnology (IBB) - Get Report returned 74.1%.
There was less excitement for medical insurers and devices, as iShares US Healthcare Providers (IHF) - Get Report returned 32.2% and iShares US Medical Devices (IHI) - Get Report returned 34.0%.
Besides Obamacare, other factors have been boosting health stocks. During the financial crisis, the growth of health revenues slowed as patients postponed elective procedures. Now that the economy is growing, waiting rooms are filling again. In addition, innovative approaches in genome research and biotechnology are resulting in a wave of new drugs that could produce increasing sales.
To help breakthrough products reach the markets, the U.S. Food and Drug Administration has begun speeding up its approval process. With more applications put on the fast track, the FDA approved 39 drugs in 2012, up from an average annual figure of 23 during the preceding decade.
The fast-track process has been a great help for young biotechnology companies that are struggling to survive, says Todd Rosenbluth, director of ETF & mutual fund research for S&P Capital IQ. "Time is of the essence for companies that don't have a big product line," he says. Rosenbluth recommends three broad health ETFs that track each other closely: Health Care Select Sector SPDR, Vanguard Health Care (VHT) - Get Report, and iShares U.S. Healthcare (IYH) - Get Report. All the funds have the same top eight holdings. Big positions include Johnson & Johnson (JNJ) - Get Report, Pfizer (PFE) - Get Report and Merck (MRK) - Get Report. The SPDR fund, which owns all the health stocks in the S&P 500, focuses on large blue chips. The Vanguard and iShares portfolios are a bit broader and include more small caps. Because small stocks shined in 2013, the Vanguard fund outdid SPDR by 2 percentage points for the year.

Can health stocks continue rallying? Probably. The SPDR sector fund has a price-earnings multiple of 18, about the same as the figure for the S&P 500. Many health stocks could deserve a premium at a time when they seem poised to deliver increased revenue and solid dividends.
But after their big rally, the biotech ETFs could be expensive, warns Matt Hougan, president of analytics of ETF.com. "The runup in stocks was awfully quick, and there are not a lot of earnings to support the multiples," he says. Hougan says that for much of the past decade biotech stock stagnated because earnings were scant. Then in recent years, leading companies such as Gilead Sciences (GILD) - Get Reportand Amgen (AMGN) - Get Report developed solid track records for delivering profits.
Hougan cautions that biotechnology is still in its early stages. Of the 56 companies in SPDR S&P Biotech (XBI) - Get Report, only 15 have earnings, he says. Hougan says that the biotechnology industry seems poised to experience a great earnings surge as more drugs win approval. But investors should be prepared for setbacks along the way.
Biotechnology investors who prefer to focus on the biggest profitable companies should try iShares Nasdaq Biotechnology. Because it weights holdings according to their market capitalizations, the ETF has a big stake in successful companies, including Biogen (BIIB) - Get Report and Celgene (CELG) - Get Report. SPDR S&P Biotech holds roughly equal stakes in each of its holdings. As a result, the SPDR portfolio includes sizable positions in shaky small companies that have yet to make their marks. Last year, many of the top-performing biotech stocks were profitable stars, and the iShares market-weighted fund outdid SPDR by 7 percentage points.
At the time of publication, the author held no positions in any of the stocks mentioned.
This article represents the opinion of a contributor and not necessarily that of TheStreet or its editorial staff.