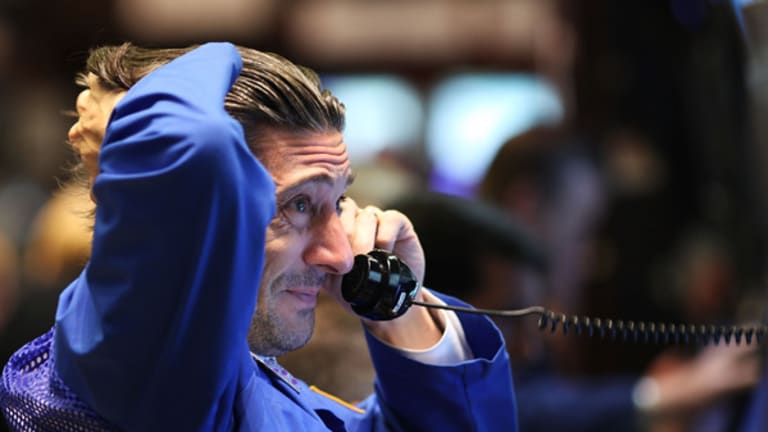 New Russell ETFs Offer Targeted Volatility
These funds allow broad investment at a level of risk level appropriate to each investor.
NEW YORK (TheStreet) -- For the last few months, most of my articles for TheStreet.com have mentioned the narrow industry ETFs like the Global X Fishing Industry (FISN) or the small-cap country funds like the Market Vectors Small Cap Russia (RSXJ) - Get VanEck Russia Small-Cap ETF Report or even small-cap specialized funds like the Global Agribusiness Small Cap (CROP) - Get IQ Global Agribusiness Small Cap ETF Report.
The latest flurry however has been with broad-based domestic-index funds offering slight variations on indices like the S&P 500 and the Russell 1000. A few weeks ago PowerShares debuted the
S&P 500 High Beta Portfolio
(SPHB) - Get Invesco S&P 500 High Beta ETF Report
, which owns the 100 most volatile stocks in the S&P 500, and the
S&P 500 Low Volatility Portfolio
(SPLV) - Get Invesco S&P 500 Low Volatility ETF Report
which own the 100 least volatile stocks in the S&P 500.
In the last few days index provider Russell Investments launched a suite of 10 ETFs similar to the two PowerShares funds but with more granularity for its own large-cap
Russell 1000 Index
and small-cap
Russell 2000 Index
:
Russell 1000 High Beta (HBTA) Russell 1000 Low Beta (LBTA) Russell 1000 High Volatility (HVOL) Russell 1000 Low Volatility (LVOL) Russell 1000 High Momentum (HMTM) Russell 2000 High Beta (SHBT) Russell 2000 Low Beta (SLBT) Russell 2000 High Volatility (SHVY) Russell 2000 Low Volatility (SLVY) Russell 2000 High Momentum (SHMO)
From a bigger picture standpoint, the funds allow investors who are most comfortable sticking with broad investments to make specific allocations beyond the growth-and-value versions of ETFs tracking these indices that have been available for years.
The names of some of the funds are very similar, seemingly interchangeable, so the differences need to be understood and these funds will need close monitoring by anyone using them. For example the two "High Beta" funds will own stocks with the highest forecast beta for the next three-to-six months and the "High Volatility" funds own stocks with the highest volatility over the previous 60 days.
HBTA is heaviest in what Russell calls producer durables (similar to industrial stocks), technology and consumer discretionary while HVOL is heaviest in financial services stocks, discretionary and materials. On the other side of the ledger the Russell 2000 Low Beta fund is heaviest by far in health-care stocks while the Russell 2000 Low Volatility fund is heaviest by a wide margin in utilities. To repeat, the methodology calls for relatively frequent reconstituting of the underlying indices so the weighting of the funds now could look different in a few weeks.
The bigger idea with these funds is that investors not comfortable with individual stocks or making sector and country decisions can still create a far more targeted equity allocation. Targeting suitable volatility is very important, as many investors learned in 2008 they found they had more exposure to volatility than they realized.
As a practical application an investor who realizes they don't quite have the tolerance for the typical volatility that goes with an allocation to a standard index like the S&P 500 or Russell 1000 could create a more suitable allocation using the Russell funds.
For example a less tactical investor with a low tolerance for volatility could build a combo of 80% Russell 1000 Low Volatility and 20% Russell 1000 High Volatility which will allow for a somewhat smoother ride but also give some upside participation. This type of strategy could create a way back into equities for people who were scared out in 2008.
As a more tactical approach an investor could switch between lower beta and volatility funds and higher beta and volatility funds based on some sort of technical indicator such as the underlying index breaching a significant moving average.
In a slightly longer term perspective, if these funds are successful for investors then it would make sense for Russell to create similar funds built around foreign indices. Like the domestic funds, these would allow for specialized portfolio construction that, for now, cannot be had with broad index funds.
Readers Also Like:
Top Stocks to Buy and Hold Through 2011
10 Cheapest Stocks With Best Growth Potential
At the time of publication, Nusbaum had no positions in any of the funds mentioned, although positions may change at any time.
Roger Nusbaum is a portfolio manager with Your Source Financial of Phoenix, and the author of Random Roger's Big Picture Blog. Under no circumstances does the information in this column represent a recommendation to buy or sell stocks. Nusbaum appreciates your feedback;
to send him an email.