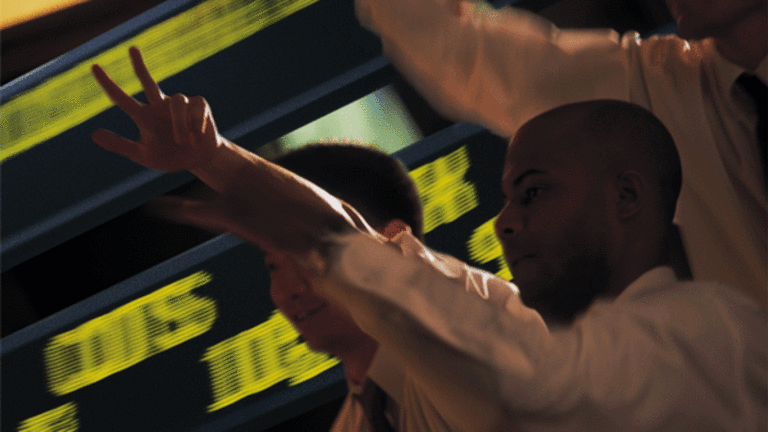 Publish date:
New Private-Equity ETF Has Limits
It does get you in some small- and mid-cap foreign financials, though.
It does get you in some small- and mid-cap foreign financials, though.
I don't know if private equity is a mania or a bubble. I don't know if it is inflating, deflating, popping or anything else. But I do know that PowerShares just listed its second private-equity exchange-traded fund, the
International Listed Private Equity Portfolio
(PFP)
, and I suspect it suffers from some of the same flaws as the first one.
The difference between PFP and the older
PowerShares Listed Private Equity Portfolio
(PSP) - Get Invesco Global Listed Private Equity ETF Report
is that PSP invests in the U.S. and PFP invests overseas, so it captures a slightly different slice of this universe.
I have written a couple of
skeptical articles about PSP since it listed. The drawback I see to investing in a variety of private equity firms that specialize in different types of deals is that the individual characteristics of the component companies get blended away. That's going to limit its effectiveness in diversifying your portfolio. And the real appeal of private equity is its low correlation to stocks.
PowerShares does not provide information on PFP's correlation with the
S&P 500
, but it may be possible to approximate it. The firm does provide back-tested results indicating the ETF has a 0.77 correlation to the MSCI AC World Financials Index, a cap-weighted index dominated by the mega-cap banks. And
HSBC
(HBC)
, which can be seen as a proxy for the MSCI World Financial Index, has a 0.75 correlation to the
iShares MSCI EAFE Index Fund
(EFA) - Get iShares MSCI EAFE ETF Report
, which in turn has a 0.88 correlation to the S&P 500.
These are all fairly high numbers and, while this kind of analysis is far from exact science, I think it suggests PFP is much more highly correlated to the U.S. stocks than people would expect from a true private equity investment.
This does not mean that PFP is without merit. I do believe the fund can add value to a diversified portfolio. That's because, beneath the surface of the private equity theme, it offers access to smaller cap, foreign financial companies.
The fund allocates 76% of assets to the financial sector. It also allocates 17% to industrials, which could be enough to have an impact on the fund, but I don't think the 3% it allocates to both utilities and consumer discretionary stocks will matter very often.
Outperformance, But Not Much Diversification
"PFP's Back-tested performance" and source "PowerShares
PFP's four largest holdings; Wendel of France, 3I Group of the U.K., Germany's Eurazeo and Japan's Jafco, comprise almost 37% of the fund. It stands to reason that the fate of these four stocks could impact the fund in a meaningful way.
Another composition quirk that potential investors need to be aware of is the 15.8% allocated to various publicly traded investment funds managed by Australia's
Macqaurie Bank
(MQBKY)
. This investment bank is in the news every so often because noted short seller Jim Chanos believes it is dramatically over leveraged. Whether he is right or wrong, his comments about the parent company tend to move the prices of the investment vehicles.
By country, PFP's largest allocations are to the U.K. at 22%, France at 17%, Australia 15% and 13% in Japan.
PFP favors growth over value slightly at 55% vs 45%. A key point of differentiation is the access it offers to small- and mid-cap foreign financial stocks. If you look at just about any ETF that has foreign financial stocks you will see the same mega caps like HSBC and
Banco Santander
(STD)
dominating the weightings.
The back test for PFP shows very strong results, averaging 31% annualized for five years compared to 18% for the MSCI EAFE Index. I should note that there probably would be no fund if the back test was lousy.
The bullish case for foreign private equity is that, as various countries with current account surpluses create sovereign investment funds, as China has done recently, they will seek out professional management around the globe. That stands to benefit many of PFP's components.
The bearish case is that these stocks have had a great run over the last three years, which begs the question of whether the run is over or, in the worst-case scenario, if the gains of the last few years might have borrowed from future gains.
Investors should also be mindful of the potential for more hiccups in the credit markets. The chart below shows what can happen when liquidity is threatened as it was this past summer. Obviously, private equity funds need access to short-term financing to get their deals done.
Liquidity Crisis
PFP's biggest holdings stumbled during this summer's global credit crunch
Source: PowerShares
The potential for some of the companies in PFP's benchmark index to be hired by sovereign investment funds is compelling and could provide a catalyst their shares over the next few years. But I would not expect the fund to offer the kind of diversification that I believe can only come from an unlisted pool of capital.
At the time of publication, Nusbaum had no positions in any of the securities discussud in this article, although positions may change at any time.
Roger Nusbaum is a portfolio manager with Your Source Financial of Phoenix, and the author of Random Roger's Big Picture Blog. Under no circumstances does the information in this column represent a recommendation to buy or sell stocks. Nusbaum appreciates your feedback;
to send him an email.