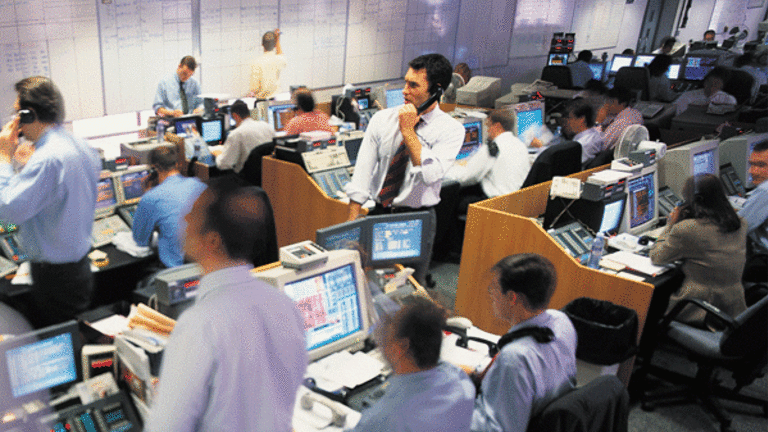 New Oil ETF Faces Hurdles
The launch of the United States Short Oil Fund comes at a difficult time for leveraged and commodity ETFs.
The launch of the United States Short Oil Fund comes at a difficult time for leveraged and commodity ETFs.
NEW YORK (
) -- The creators of
United States Oil
(USO) - Get Report
and
United States Natural Gas
(UNG) - Get Report
have launched a new fund, the
United States Short Oil Fund
(DNO)
.
The premiere of DNO comes at a difficult time for leveraged and commodity ETFs, as regulatory uncertainty puts pressure on many popular funds.
DNO, an inverse-exchange-traded product, is designed to track the changes in percentage terms of the spot price of light, sweet crude oil delivered to Cushing, Okla., as measured by the price changes of a designated benchmark futures contract on light, sweet crude oil traded on the New York Mercantile Exchange.
Both regulators and the financial community have threatened the status of derivative-based and leveraged funds in recent months. The Commodities Futures Trading Commission recently
to measure the effect that passive indexing strategies, like USO and DNO, have on the price of commodities they are designed to track.
In the past, regulators have used a light touch when limiting the trading of futures on the New York Mercantile Exchange. The 2008 oil bubble, global financial crisis and goals of the Obama administration could cause a change in the status quo, however, as "speculators" are targeted with increased position limits. The CFTC is expected to announce increased regulation this fall in a move that will dramatically affect funds like DNO.
While the new restrictions have yet to be imposed, they are already taking a toll on popular exchange-traded products. The release of DNO comes in the wake of the closing of
Deutsche Bank's
(DB) - Get Report
popular
PowerShares DB Crude Oil Double Long ETN
(DXO)
. In anticipation of the new restrictions, DXO's managers
, knowing that the fund's size would make it particularly vulnerable to position limits.
United States Commodity Funds LLC, the creator of DNO, is well versed in the difficulties that the new inverse oil fund could face. One of the issuer's most popular funds, United States Natural Gas, had to halt share creation in July when the fund reached critical mass. The gigantic fund began to trade at extreme premiums to its underlying value while fund managers waited for the approval to continue growing the fund.
DNO will face the same hurdles that tripped up DXO and UNG as the fund grows. While creation limitations may take a while to kick in, there is a good chance that this fund could be curtailed if it proves to be popular. Early indications, including DNO's first-day trading volume, seem to indicate that this fund could attract a large number of investors.
The warning on the bottom of DNO's website succinctly sums up the fund's risks: "Commodities and futures generally are volatile and are not suitable for all investors. The Fund is speculative and involves a high degree of risk. An investor may lose all or substantially all of an investment in the Fund. Funds that focus on a single sector generally experience greater volatility."
While these factors alone should give investors pause before buying DNO, the most threatening factors are outside of the issuer's control. New regulation could dramatically impact the way that funds like DNO operate. Investors should hold tight and gauge the regulatory affects before jumping in DNO.
-- Written by Don Dion in Williamstown, Mass.
At the time of publication, Dion does not have any positions in the ETFs mentioned.
Don Dion is president and founder of
, a fee-based investment advisory firm to affluent individuals, families and nonprofit organizations, where he is responsible for setting investment policy, creating custom portfolios and overseeing the performance of client accounts. Founded in 1996 and based in Williamstown, Mass., Dion Money Management manages assets for clients in 49 states and 11 countries. Dion is a licensed attorney in Massachusetts and Maine and has more than 25 years' experience working in the financial markets, having founded and run two publicly traded companies before establishing Dion Money Management.
Dion also is publisher of the Fidelity Independent Adviser family of newsletters, which provides to a broad range of investors his commentary on the financial markets, with a specific emphasis on mutual funds and exchange-traded funds. With more than 100,000 subscribers in the U.S. and 29 other countries, Fidelity Independent Adviser publishes six monthly newsletters and three weekly newsletters. Its flagship publication, Fidelity Independent Adviser, has been published monthly for 11 years and reaches 40,000 subscribers.