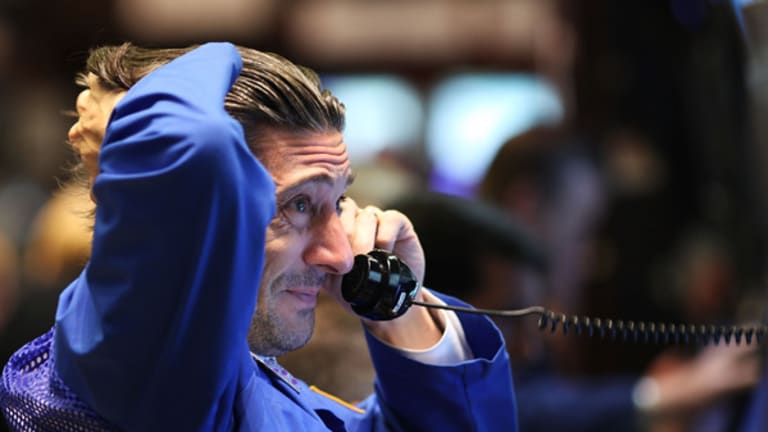 New Multi Asset Fund Goes Global In Search of Yield
But the fund may not offer a place to hide of rates go up.
NEW YORK (TheStreet) -- ETF investors want products with high yields and fund providers are working to meet that demand with what they hope are innovative and effective products.
First Trust has participated in this segment starting with its
Multi Asset Diversified Income Index Fund
(MDIV) - Get Report
which began trading just over a year ago.
MDIV allocates 25% to dividend paying common stocks, 20% each to real estate investment trusts, preferred stocks and MLPs and 15% into the
iShares iBoxx High Yield Corporate Bond ETF
(HYG) - Get Report
. In the first four categories MDIV uses individual issues and the one ETF for high yield bonds. MDIV has paid out $1.02 in dividends since its inception making for a 5.05% trailing yield but as is the case with all ETFs any future yield could differ from trailing yields.
MDIV has attracted $487 million in assets which makes it successful from First Trust's perspective as a fund provider. Building on that success the company recently launched the
International Multi Asset Diversified Income Index Fund
(YDIV)
.
The structures of the two funds are very similar. YDIV allocates 25% to dividend paying foreign stocks, 20% each to non-US REITs, non-U.S. preferred securities and non-U.S. infrastructure companies with the final 15% allocated to the
iShares JP Morgan USD Emerging Markets Bond ETF
(EMB) - Get Report
. Again the first four categories are primarily individual issues with the bond component being an ETF.
YDIV has a surprisingly large allocation to Canada at 36% of the fund. Singapore and the UK also feature somewhat prominently in the fund at 7% and 6% respectively.
The United States and Canada obviously do a lot of trade with each other and the economies are closely aligned. The huge exposure to Canada may make the fund less effective as a diversifier than it otherwise could be if the underlying methodology limited country exposure to 10%. There is plenty of yield to be had in other countries. Australia is typically a higher yielding country for example but only has a low single digit weight in YDIV.
Both MDIV and YDIV have relatively little exposure to the bond market which is a positive attribute if rates are headed higher as it appears is the case but the other asset classes in the funds can still be interest rate sensitive.
Dividend stocks, which make up a quarter of both funds tend to be interest rate sensitive because their high yields are less compelling when investors can switch to bonds for higher yields and lower volatility. The
iShares Select Dividend ETF
(DVY) - Get Report
lagged behind the S&P 500 for most of the Bernanke induced sell off that started in late May.
In that same period the
iShares US Preferred Stock ETF
(PFF) - Get Report
and the
iShares International Preferred Stock ETF
(IPFF) - Get Report
dropped 6.8% and 9% respectively as the S&P 500 went down 6%. However the S&P 500 made a short term bottom in late June and while it has recovered much of that decline neither PFF nor IPFF has recovered.
The MLP space has fared a little better. The
Alerian MLP ETF
(AMLP) - Get Report
is down 3.7% since the Bernanke press conference compared to a 2.1% for the SP 500.
Comparing these segments to a broad equity benchmark is not an apples to apples comparison but where higher yielding holdings are typically thought to be less volatile than the broad market prospective fund holders should know that will not always be true if interest rates go up meaningfully.
At the time of publication the author held no positions in any of the stocks mentioned.
This article is commentary by an independent contributor, separate from TheStreet's regular news coverage.
This contributor reads:
On Twitter, this contributor follows: