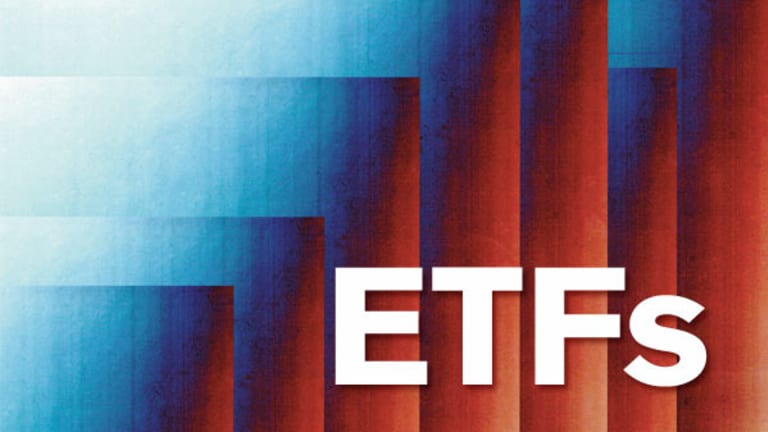 Publish date:
New iShares Fund Offer Core Building Blocks
Beware of duplication among funds creating a false sense of diversification.
Beware of duplication among funds creating a false sense of diversification.
NEW YORK (TheStreet) -- iShares recently created a buzz with a combined product launch and marketing push surrounding its suite of 10 so-called core ETFs. Some of the 10 are new, slightly different variations on existing funds and some are long standing and successful products.
The new funds in the core suite:
iShares Core MSCI Total International Stock ETF
(IXUS) - Get Report
iShares Core MSCI Emerging Markets ETF
(IEMG) - Get Report
iShares Core MSCI EAFE ETF
(IEFA) - Get Report
iShares Core Short-Term U.S. Bond ETF
(ISTB) - Get Report
Existing funds being implemented in the core strategy:
iShares Core S&P Total U.S. Stock Market ETF
(ITOT) - Get Report
--new symbol, the old symbol was ISI
iShares Core S&P 500 ETF
(IVV) - Get Report
iShares Core S&P Mid-Cap ETF
(IJH) - Get Report
iShares Core S&P Small-Cap ETF
(IJR) - Get Report
iShares Core Total U.S. Bond Market ETF
(AGG) - Get Report
iShares Core Long-Term U.S. Bond ETF
(ILTB) - Get Report
-- new symbol, the old symbol was GLJ
The new funds may create some confusion because iShares already has funds targeting those segments. Most investors will be familiar with the
iShares MSCI Emerging Market Index Fund
(EEM) - Get Report
which is going to be very similar to the new fund with symbol IEMG.
EEM will be more expensive for now with a 0.67% expense ratio compared to just 0.18% for the new IEMG. The other big difference between the two is that EEM has 832 holdings versus a far more comprehensive 1589 for IEMG.
The logical question is why not simply reduce the fee on EEM and increase the number of holdings. I posed this question to the company and was told that some institutional clients have mandates that may lead them to one fund or the other.
Candidly I don't know what to make of that but as other web sites have noted, there are likely many investors sitting on enormous capital gains in EEM and switching to the cheaper fund would not make tax sense for those investors so iShares has an almost captive audience in the more expensive EEM. Any new money looking for a broad based emerging market fund from iShares should logically go to the cheaper IEMG.
The other large push here is investor education on possible ways to use these funds to build a core portfolio while at the same time using some other funds outside the core suite to "customize" the exposures accessed by investors.
Many ETF providers offer investor education on how to use their products. While this is good promotionally for the funds, most of the education material is also useful as more people will be inclined to be their own portfolio managers.
The suggested process from iShares begins with "start broad" which means using ITOT for domestic equity exposure, IXUS for foreign equity exposure and AGG for fixed income exposure.
From there investors can "tilt" the portfolio to express opinions about slightly narrower market segments with the other seven core ETFs.
Finally investors can draw upon the many narrow-based funds available from iShares which includes various country, sector and industry funds to round out the portfolio.
The idea of a few core funds combined with other holdings that are more specialized of course makes sense but there are some specifics to what iShares suggests that don't make much sense.
As an example according to
the correlation between ITOT (and its predecessor symbol ISI) and IVV has been between 0.96 and a perfect 1.00 the vast majority of the time.
Since ITOT's inception, back when it traded as ISI, in 2004, it is up 29.78%. In that same time IVV is up 26.27% and the path these funds have taken to these results has been identical.
The reason is that both funds have the same top ten holdings. For IVV the top ten add up to 20.62% of the fund and for ITOT the top ten add up to 18.28%. There would seem to be very little utility in owning both IVV and ITOT and there are similar arguments to be made within the foreign equity and fixed income portions of the portfolio.
The domestic core would be accomplished with either ITOT or some combination of IVV, IJH and IJR. An investor not interested in making market cap decisions could simply use ITOT and save the time and expense of owning all four funds.
Conversely, an investor who does want to make market cap decisions would likely want to avoid ITOT because of the duplication that would come from owning all four domestic funds.
Within the foreign funds IXUS is a combination of emerging market stocks found in IEMG and developed market stocks that are found in IEFA plus Canada which is not included in IEFA. And with fixed income the segments targeted by ISTB and ILTB are generally duplicated in AGG.
Going with a core of broad based funds is a valid strategy but duplicating exposures is unproductive and may create a false sense of diversification.
At the time of publication the author held no positions in any of the stocks mentioned.
This article is commentary by an independent contributor, separate from TheStreet's regular news coverage.
This contributor reads:
On Twitter, this contributor follows: