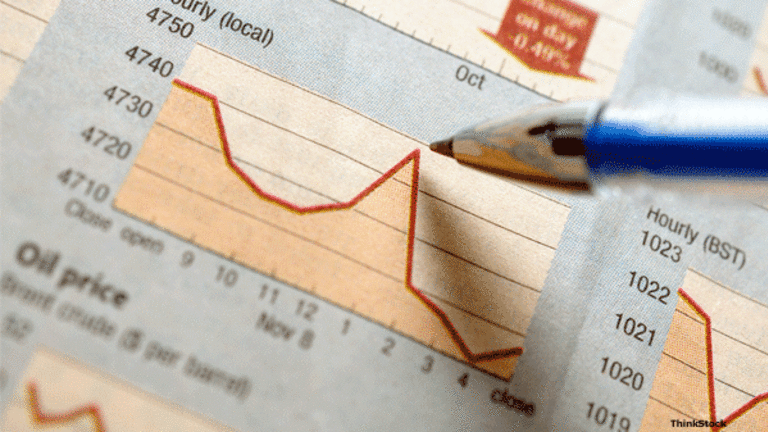 New Funds Provide Triple Whammy
Not content with double-leveraged funds, Direxion releases eight triple-long and -short ETFs.
If you typically order a triple shot at your favorite coffee house, you might be interested in learning about the new triple-levered ETFs from Direxion Funds, which coincidently is located about five minutes from the house where I grew up in Newton, Mass.
Direxion has listed eight funds, with more likely to come. The first eight cover large- and small-cap stocks, energy and financials.
Direxion Large Cap Bull 3X Shares
Direxion Small Cap Bull 3X Shares
Direxion Energy Bull 3X Shares
Direxion Financial Bull 3X Shares
Direxion Large Cap Bear 3X Shares
Direxion Small Cap Bear 3X Shares
Direxion Energy Bear 3X Shares
Direxion Financial Bear 3X Shares
I've been a big fan of the double-long and -short funds from ProShares and have used the
ProShares Ultra Short S&P 500 ETF
(SDS) - Get ProShares UltraShort S&P500 Report
as a hedge for most of the bear market, finding it to be effective in reducing the portfolio's correlation to the broad market. But the levered funds do have an issue that must be understood before using them as a hedge or trading vehicle.
The objective of each of the Direxion ETFs is to triple-long or triple-short the underlying index on a daily basis. Over any longer period, it may or may not work out, but the stated objective is daily. In 2007, the
ProShares Ultra S&P 500 ETF
(SSO) - Get ProShares Ultra S&P 500 Report
, so double-long S&P 500, lagged the S&P 500. This is just how the combination of up and down days worked out.
Consider the following example for a given week:
| | | |
| --- | --- | --- |
| | Russell 1000 | BGU |
| Mon | up 1% | up 3% |
| Tue | down 1% | down 3% |
| Wed | down 0.5% | down 1.5% |
| Thu | down 0.25% | down 0.75% |
| Fri | up 0.4% | up 1.2% |
| Week | down .36% | down 2.14% |
BGU and BGZ track the Russell 1000 Index, which has a 0.982 correlation to the S&P 500, according to Portfolioscience.com.
If the goal was triple the exposure for a week, BGU would only be down 1.08% in the above example. Over some other period, the result could be further from or closer to triple the result of the Russell 1000. (The ETF to track this index is the
iShares Russell 1000 Index Fund
(IWB) - Get iShares Russell 1000 ETF Report
.) It all depends on the combination of up and down days. If IWB were to go up 0.25% every day for a week, the result would be much closer to triple the result but, even then, it would not be exact (1.26% for IWB and 3.81% for BGU), though pretty close.
You may find articles that suggest putting a third of your portfolio in BGU and leaving the rest in cash, which would pay interest as a way to outperform the market. There can be no certainty that that could work. It might or might not, but relying on it would be a big mistake. As pointed out with SSO, it is possible for the levered fund to lag the single exposure.
As for the nuts and bolts of the fund, the expense ratio will be 0.95%. The effect of triple-long or triple-short is generally created using swaps, forward contracts, reverse repos or any other derivatives deemed appropriate at any given time. The exposure to derivatives means the funds take on counter-party risk. (Meaning, risk that whomever they trade with will go under or not be able to make good on a contract.) ProShares take the same risks and had exposure to Lehman Brothers, but was proactive in cutting ties with Lehman before that firm failed.
The prospectus does not specifically disclose how the funds will spread counter-party risk among different firms (neither does ProShares) but Direxion will not overly concentrate on any one counter party. This does not mean the firm will avoid a failed bank but most of these funds are in cash, so a realistic worst-case scenario is an extreme deviation from the target, not a failure of the fund itself.
I disclosed using SDS as a hedge earlier in the bear market. On big-down days it provides a lot of bang for the buck, even if it may not add much over a few months. In that context, BGZ could potentially be an even more efficient hedge. On a day that the broad market is down 5%, BGZ could be expected to be up 15%. A moderate weight in BGZ could offset a meaningful portion of the decline in the rest of the portfolio on such a day.
At the time of publication, Nusbaum had no positions in any of the securities mentioned, although positions may change at any time.
Roger Nusbaum is a portfolio manager with Your Source Financial of Phoenix, and the author of Random Roger's Big Picture Blog. Under no circumstances does the information in this column represent a recommendation to buy or sell stocks. Nusbaum appreciates your feedback;
to send him an email.