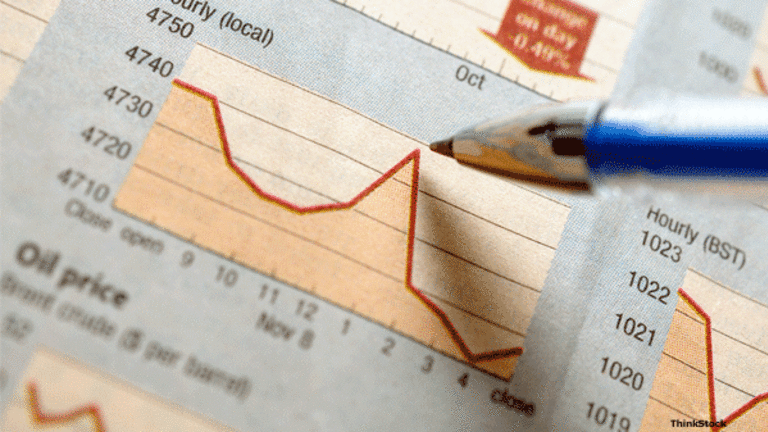 New ETFs Look to Protect Against Market Declines
Two new exchange-traded funds are designed to shield investors from sharp downturns, but they carry a cost of their own.
NEW YORK (TheStreet) -- Specialty ETF provider VelocityShares recently listed two exchange-traded funds that could help investors who were left nervous about the possibility of a large large market decline after the panic in late June over whether the Federal Reserve might start to "taper" its quantitative easing program.
These new ETFs are
VelocityShares Volatility Hedged Large Cap ETF
(SPXH)
and
VelocityShares Tail Risk Hedged Large Cap ETF
(TRSK)
The funds offers a blend of long equity exposure (85%) and VIX index derivatives (15%) that are intended to hedge market declines.
The equity exposure comes via equal-sized positions in
SPDR S&P 500
(SPY) - Get SPDR S&P 500 ETF Trust Report
,
iShares Core S&P 500 ETF
(IVV) - Get iShares Core S&P 500 ETF Report
and the
Vanguard S&P 500 ETF
(VOO) - Get Vanguard S&P 500 ETF Report
.
The difference between the two funds is how the hedges are constructed and what each fund is trying to protect investors from.
The starting point for the hedge in SPXH is to have a neutral position in volatility. Thirty-three percent of the VIX exposure will be two-times long, while 66% will be in an inverse derivative.
The starting point for the hedge in TRSK is to be 35% net long volatility within the VIX hedge portion of the fund. Both funds will rebalance the volatility exposure monthly.
The difference between the two funds, simply speaking, is that TRSK is more hedged than SPXH. When the U.S. equity market does go down a lot, TRSK should have less of a decline, or offer more protection, than SPXH. Conversely, when the US equity market is going higher, TRSK will lag further behind than SPXH will.
There is a cost to protecting a portfolio against a decline, and for these funds it should mean less participation during market rallies. VelocityShares provides data on this to enhance understanding of this point. As of April 30 of this year, the
S&P 500
had a year-to-date return of 12.74% vs. a gain of 9.97% for the index underlying SPXH and a gain of 7.66% for TRSK.
These are complicated funds to understand. They also rely on the relationship between the S&P 500 and volatility remaining the same in the future. The increasing value of the volatility derivatives during market declines is where the protection comes from. It is generally accepted that when stocks go down, volatility goes up, so any unforeseen change in that dynamic could make the funds ineffective.
There is also a huge behavioral threat to owning these funds. It is quite clear that both SPXH and TRSK will lag an up market. If it turns out that the current Fed-induced rally continues for a two more years, then it is possible that holders of these funds could grow inpatient and sell at exactly the wrong time.
Although it is true that investing is an endeavor that requires patience, that is especially true with this sort of hedged product. It would make no sense to hold onto one of these funds all the way up, get frustrated by the underperformance and then sell right before the next market decline.
At the time of publication, the author had no positions in securities mentioned.
This article is commentary by an independent contributor, separate from TheStreet's regular news coverage.
This contributor reads:
On Twitter, this contributor follows: