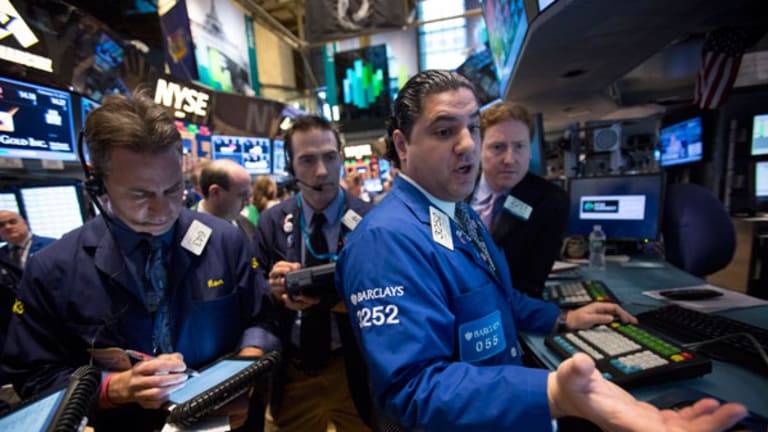 New ETF Targets Dividend Growth
But that dividend growth strategy may not lend itself to growing an ETF's dividends.
NEW YORK (TheStreet) -- Exchange-traded fund provider First Trust is betting that dividends still matter with the launch this week of its First Trust Nasdaq Dividend Achievers ETF (RDVY). Despite the fund's name it is not comprised solely of Nasdaq stocks. Nasdaq is simply the index provider.
The big idea is that RDVY is built with stocks with favorable dividend growth and favorable fundamental factors.
More specifically, the methodology screens the 1,000 largest domestic companies by market cap and volume for dividend increases, earnings increases, a cash to debt ratio greater than 50% and a dividend payout ratio not to exceed 65%. The 50 companies that score most favorably are included in the fund but RDVY excludes real estate investment trusts.
By including above-mentioned fundamental factors in addition to a track record of dividend growth, First Trust believes RDVY will more successfully capture companies more likely to be able to keep growing their dividends than funds that rely solely on looking backwards at dividend growth.
First Trust provides data from Ned Davis Research that shows dividend growers and initiators, the tag line for the types of companies that meet the fund's requirements, had an average annual return on 9.5% from 1972 to 2012, which is better than dividend payers that don't increase their dividend, non-dividend payers and companies that cut their dividends. The growers and initiators also had a lower standard deviation than the other groups.
While the fund clearly targets a dividend-oriented strategy that does not mean it will necessarily have a high yield but companies with long track records of dividend growth have tended to outperform the broad market on a price basis.
Although it is too soon for any reliable dividend yield information the sector makeup gives the impression that the yield will not be too high. Remember that the screening process considers growth of dividends not yields.

Technology is the largest sector in the fund at 22%, followed by health care and financials at 18%. Utilities and telecom tend to be the highest-yielding sectors but have no exposure in RDVY. Both sectors lagged meaningfully behind the S&P 500 in 2013 perhaps because of their sensitivity to rising interest rates. As the threat of higher interest rates continues to loom over the market RDVY could benefit by not being exposed to these sectors.
Consumer staples also tend to be a higher yielding sector but Coca Cola (KO) - Get Coca-Cola Company Report is the only stock from that sector and has a 2% weight in the fund.
RDVY's expense ratio is 0.50%, which could be an obstacle for the fund's ability to attract assets. Similar funds from other companies such as the ProShares S&P 500 Aristocrats ETF (NOBL) - Get ProShares S&P 500 Dividend Aristocrats ETF Report and the SPDR S&P Dividend ETF (SDY) - Get SPDR S&P Dividend ETF Report, only charge 0.35%.
From the top down, NOBL and SDY target dividend growth strategies, albeit different from RDVY and with different sector allocations. Compared to RDVY's 22% in tech, NOBL and SDY have 0% and 4%, respectively, which could serve to make RDVY more volatile than its competitors.
NOBL and SDY look for dividend growth over 25 and 20 years whereas RDVY only considers data over the last five years, which is when tech companies started to meaningfully increase their dividends.
One final caveat is that funds that track dividend growth strategies don't necessarily grow their dividends. SDY has been trading for eight years but hasn't actually grown its dividend. Since inception SDY's dividend has mostly trended between 40 cents and 50 cents.
A possible reason for the lack of growth in SDY's dividend could be that when a one stock no longer meets the 20-year requirement for dividend increases it can be replaced by a lower-yielding stock. In the case of SDY, it used to have close to 25% in financial stocks but now only has 16% after many constituents cut their dividends during the financial crisis.
Regardless of whether the dividend grows, the research supporting RDVY still offers a reasonable basis for better price appreciation.   
At the time of publication the author had no position in any of the stocks mentioned.
This article represents the opinion of a contributor and not necessarily that of TheStreet or its editorial staff.