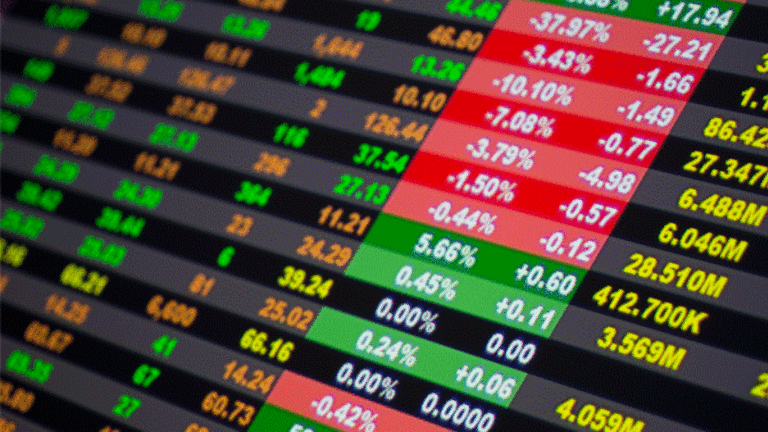 New Commodity ETF Skirts Limits
The Jefferies-TR/J CRB Global Commodity Equity Index Fund avoids the regulatory restrictions that have hampered other commodity ETFs.
NEW YORK (
) -- The new
Jefferies-TR/J CRB Global Commodity Equity Index Fund
(CRBQ)
is not a pure play on global commodities, but equities-based ETFs may be the best bet for now.
The new fund tracks a basket of 148 global companies that derive "50% of its annual revenues from the production and distribution of commodities and commodity-related productsand services." The fund's top five holdings in the fund are
Monsanto
(MON)
,
Exxon Mobil
(XOM) - Get Exxon Mobil Corporation Report
,
Potash
(POT)
,
Syngenta
(SYNN)
and
Archer-Daniels-Midland
(ADM) - Get Archer-Daniels-Midland Company Report
.
While futures contracts may be the purest way to play commodities, the ETF industry has run into some snags with commodity-related products. The Commodities Futures Trading Commission has indicated that greater restrictions will be placed on the number of futures contracts that a single ETF can hold, a move that has
some popular futures-tracking ETFs.
CRBQ avoids
on underlying commodities futures contracts through its construction. The new fund is to
PowerShares DB Commodity Index Tracking
(DBC) - Get Invesco DB Commodity Index Tracking Fund Report
what
First Trust ISE-Revere Natural Gas
(FCG) - Get First Trust Natural Gas ETF Report
is to
United States Natural Gas
(UNG) - Get United States Natural Gas Fund LP Report
. CRBQ and FCG track commodity equities while DBC and UNG track commodity futures.
The problem facing DBC, UNG and other similar ETFs is that futures limitations can stall creation. In order to grow and track their underlying indicies, ETFs engage in the creation and redemption of shares. If funds like DBC and UNG are not allowed to buy enough futures contracts to create new shares, two equally unfavorable things can result: a creation halt or fund shutdown.
UNG halted creation from early July through late September due to two regulatory hang-ups. As creation screetched to a halt, the fund's premium ballooned to more than 15%. This may have been a pleasant surprise for long-term holders who got in before July, but it was a nasty tax to
in late August.
More recently, regulatory restrictions contributed to
of the
PowerShares DB Crude Oil Double Long ETN
(DXO)
, a popular ETN that was in the right place at the wrong time. Regulatory limits have also caused
PowerShares DB Agriculture
(DBA) - Get Invesco DB Agriculture Fund Report
and
PowerShares DB Commodity
(DBC) - Get Invesco DB Commodity Index Tracking Fund Report
to
their portfolios.
As regulatory uncertainty threatens futures-based commodity ETF investors, CRBQ seems like a good idea. The only catch is that there is a startlingly similar fund already available at a lower price point.
Before allocating assets to CRBQ, investors should check out
Vanguard Materials ETF
(VAW) - Get Vanguard Materials ETF Report
. VAW tracks 120 commodities firms and has many of the same top components as CRBQ.
As for fees, VAW's is 0.25% compared to 0.65% for CRBQ. Most importantly, VAW has a track record and substantial trading volume. The fund is up nearly 34% year to date and the three-month average daily trading volume is 154,000 shares.
Commodities are a great way to diversify your portfolio, but regulatory changes are causing uncertainty in the ETF industry. Picking a fund like VAW or CRBQ helps to avoid these snags, but removes the investor one step from the pure price of the commodities. Trading volume will be the true test of VAW and CRBQ, so keep an eye to the numbers before making your selection.
Written by Don Dion in Williamstown, Mass.
At the time of publication, Dion does not have any positions in the equities mentioned.
Don Dion is president and founder of
, a fee-based investment advisory firm to affluent individuals, families and nonprofit organizations, where he is responsible for setting investment policy, creating custom portfolios and overseeing the performance of client accounts. Founded in 1996 and based in Williamstown, Mass., Dion Money Management manages assets for clients in 49 states and 11 countries. Dion is a licensed attorney in Massachusetts and Maine and has more than 25 years' experience working in the financial markets, having founded and run two publicly traded companies before establishing Dion Money Management.
Dion also is publisher of the Fidelity Independent Adviser family of newsletters, which provides to a broad range of investors his commentary on the financial markets, with a specific emphasis on mutual funds and exchange-traded funds. With more than 100,000 subscribers in the U.S. and 29 other countries, Fidelity Independent Adviser publishes six monthly newsletters and three weekly newsletters. Its flagship publication, Fidelity Independent Adviser, has been published monthly for 11 years and reaches 40,000 subscribers.