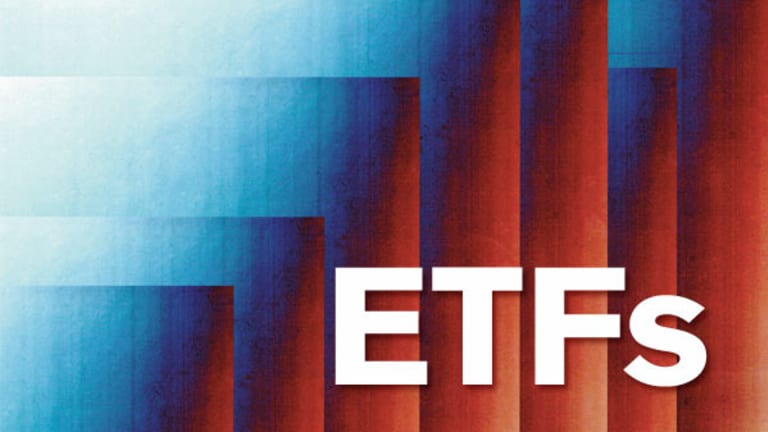 New Bond Fund for Investors Hungry for Yield
SPDR Blackstone/GSO Senior Loan Fund has exposure that is not plain vanilla.
SPDR Blackstone/GSO Senior Loan Fund has exposure that is not plain vanilla.
NEW YORK (TheStreet) -- As the investor quest, make that need, for yield goes on, ETF providers continue to offer new funds in increasingly specialized segments of the fixed-income market that provide the opportunity for better payouts. One of the most recent funds in this space is the SPDR Blackstone/GSO Senior Loan Fund (SRLN) - Get Report.
As the name implies, SRLN invests in senior loans, which according to the fund's literature are defined as "first lien senior secured floating rate bank loans." The rates on these senior loans reset every 90 days which makes the duration of the fund very short. The benefit is that if interest rates start to move meaningfully higher, the value of the underlying loans and of the fund should not decline as many bond funds will.
Also see: Renewable Energy Becomes a Utility Lifeline >>
When interest rates go up, bond prices go down. The further out the maturity of a bond or target maturity of a bond fund, the more the price would be expected to drop. As a rule of thumb, an increase of one percentage point for a bond maturing in 10 years will cause a price drop of 8% for that bond. Holders could wait until maturity to get their money back (the par value), but they would be getting below-market yields until that time.
With bond funds, there is no par value to return back to. A bond fund might never recover what is lost to rising rates. SRLN offers the chance to avoid that by owning paper whose yield typically resets every 90 days.
The 90-day reset is important to remember when looking at the fund's holdings because the way they are listed on the SPDR Web site they look like regular bonds that mature in five or seven years or whatever the case may be.
The fund invests in health care at 12%, telecom at 11%, business services at 10% and retail at 9% before getting smaller from there.
Senior loans are typically issued by companies with low credit ratings and so the credit quality of SRLN reflects that. BBB- and BB+ rated debt each comprise 7% of the fund, BB 14%, BB- 25%, B+ 26% and B-rated bonds 18%.
The fund is actively managed by GSO/Blackstone Debt Funds Management LLC. The fund managers can monitor the fund's holdings from the bottom up to catch meaningful credit deterioration of any company in the fund and can monitor the broad market from the top down for any macro changes. That may be an advantage over an index fund such as the
iShares iBoxx Investment Grade Corporate Bond ETF
(LQD) - Get Report
which invest heaviest in companies that issue the most debt.
Also see: Best Ways to Invest in Gold >>
While it is still too early to know what SRLN will yield, the passively managed
PowerShares Senior Loan Portfolio
(BKLN) - Get Report
reports a distribution yield of 4.56%. As is the case with all ETFs, the amount of future dividend payments is uncertain.
There is of course no guarantee that active management will be a difference maker in performance or yield, only the opportunity for a difference.
At the time of publication, the author had no position in any of the holdings mentioned.
This article is commentary by an independent contributor, separate from TheStreet's regular news coverage.
This contributor reads:
On Twitter, this contributor follows: