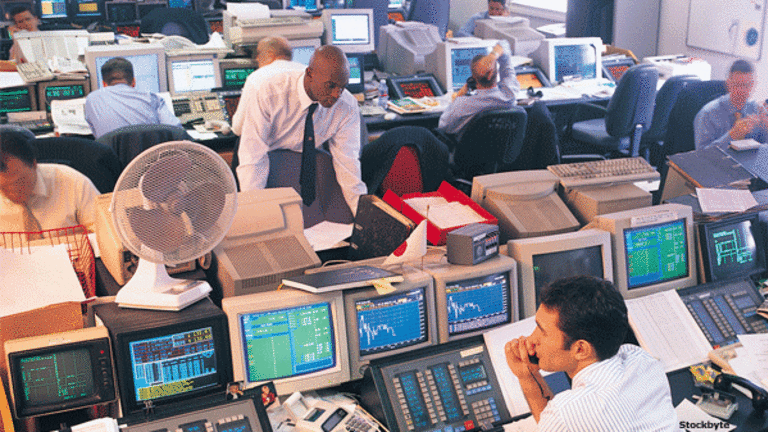 Natural Gas, Oil ETFs Feel CFTC Heat
New proposals set forth by the Commodities Futures Trading Commission could curb the the United States Natural Gas and United States Oil ETFs.
New proposals set forth by the Commodities Futures Trading Commission could curb the the United States Natural Gas and United States Oil ETFs.
New proposals set forth by the Commodities Futures Trading Commission (CFTC) could curb both the
United States Natural Gas ETF
(UNG) - Get Report
and the
United States Oil ETF
(USO) - Get Report
.
The long-awaited commodities proposals were released Thursday, and the ramifications of these rule changes could single out certain futures-based commodity ETFs while allowing others to operate normally.
In the "Proposed Position Limit Rule," CFTC officials cited both UNG and USO as examples to illustrate their ideas of position limits. Over the past year, the CFTC has been examining the ways in which futures-based commodity funds like UNG and USO impact the price of the commodities that they track.
UNG and USO are designed to offer investors exposure to the spot price of natural gas and oil, respectively. The funds accomplish this strategy by tracking a basket of near-month futures contracts traded on the New York Mercantile Exchange.
The new CFTC proposals cover four energy commodities: Henry Hub natural gas, light, sweet crude oil prices, New York Harbor No. 2 heating oil and New York Harbor gasoline blendstock. The regulations would impact the two exchanges on which these contracts are traded: the New York Mercantile Exchange and the
IntercontinentalExchange
(ICE) - Get Report
.
CFTC Chairman Gary Gensler asked for tighter rules on energy trading and stricter definitions of traders who are exempt. The proposal sets forth a formula to calculate the number of futures contracts that any single entity can hold.
The new regulations seem aimed at ETFs like UNG and USO, whose tremendous size and open interest may have impacted the price of futures contracts in 2009. These single-commodity, front-month ETFs would be curbed by the CFTC's position limits.
> > Bull or Bear? Vote in Our Poll
This is not the first time that UNG and USO are impacted by regulators looking to limit "speculation."
(To read more about how UNG was forced to transform in 2009, check out the following links:
UNG Getting Too Big for Its Britches
,
Dion: Investor Alert -- UNG Shares to Slide
,
)
ETF issuers have been anticipating changes in futures regulation and, in many cases, have restructured their portfolios accordingly. In order to avoid bumping up against position limits, managers of UNG and USO have begun selling off futures positions and instead creating shares through the use of less-regulated swaps. (
ETF Regulation Battle Bad for Investors
)
The practice of using swaps, rather than futures contracts, in constructing ETFs like UNG and USO also came under fire in Thursday's proposal. As part of the proposed rule changes, Gensler asked Congress for authority to regulate over-the-counter markets, where bilateral swaps are traded.
If UNG and USO managers had finally thought that they found a solution to position limits, they may now be questioning their approach. (
Natural Gas ETF Protects Self, Not Investors
)
While large single-commodity, front-month futures ETFs like UNG and USO stand to be impacted by the new regulations, other commodity funds will likely continue to trade normally.
The
United States 12-Month Natural Gas Fund
(UNL) - Get Report
is designed to track the average of the prices of 12 futures contracts on natural gas traded on the New York Mercantile Exchange consisting of the near-month contact to expire and the contracts for the following 11 months, for a total of 12 consecutive months contracts. Because this fund does not rely on near-month futures contracts for its strategy, it should not be dramatically impacted by the proposed rules.
At the time of publication, Dion had no positions in equities mentioned.
Don Dion is president and founder of
, a fee-based investment advisory firm to affluent individuals, families and nonprofit organizations, where he is responsible for setting investment policy, creating custom portfolios and overseeing the performance of client accounts. Founded in 1996 and based in Williamstown, Mass., Dion Money Management manages assets for clients in 49 states and 11 countries. Dion is a licensed attorney in Massachusetts and Maine and has more than 25 years' experience working in the financial markets, having founded and run two publicly traded companies before establishing Dion Money Management.
Dion also is publisher of the Fidelity Independent Adviser family of newsletters, which provides to a broad range of investors his commentary on the financial markets, with a specific emphasis on mutual funds and exchange-traded funds. With more than 100,000 subscribers in the U.S. and 29 other countries, Fidelity Independent Adviser publishes six monthly newsletters and three weekly newsletters. Its flagship publication, Fidelity Independent Adviser, has been published monthly for 11 years and reaches 40,000 subscribers.