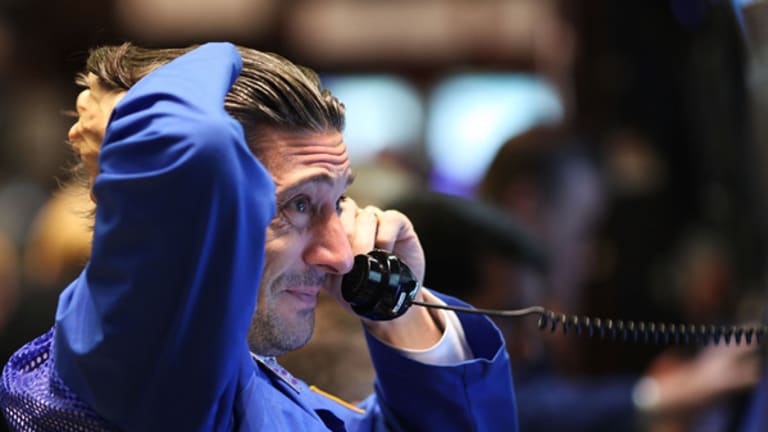 Publish date:
Natural Gas Heads for Super Contango
In a situation similar to oil last year, natural gas has become too cheap and storage facilities are already overloaded.
In a situation similar to oil last year, natural gas has become too cheap and storage facilities are already overloaded.
NEW YORK (TheStreet.com) --Late last year and into early 2009, West Texas Intermediate crude prices entered what was dubbed "super contango." The spot price for oil was far below the futures price, guaranteeing a huge profit for anyone who bought and stored barrels of oil and sold an offsetting futures contract.
The reason for the extremely low price was because storage was maxed out at the Cushing, Okla., delivery point. Previously high prices led to a demand reduction that was exacerbated by the global financial panic. Oil was "too cheap," but there was nowhere to store it and that caused prices to crater. Eventually, investors filled supertankers with oil, parked them offshore, demand picked up and prices recovered.
Natural gas may be headed into super contango as well. The spot and near-month futures contracts sell for less than $3 per million BTUs, but October 2010 futures can be sold for $6. Buy the gas today, store it and next year earn a 100% profit less storage fees. One problem --where are you going to store it?
Stealth Natural Gas Stock
Natural gas storage is 18% above five-year averages and, according to the Energy Information Administration, regional storage may max out. Unlike oil, natural gas is much more of a regional energy source because it still mostly moves from producer to consumer via pipelines. Liquefied natural gas may change that in the future. Local storage facilities may run out of space in another month or two, and then the gas has nowhere to go -- unlike the price, which will rapidly drop.
Many people think it's easy to switch between natural gas and oil, but in fact they serve different markets: 70% of crude oil goes towards transportation, whereas natural gas is split three ways between residential & commercial, industrial and electric generation demand. Switching from one to the other is a
and most of the switches have been made.
The international nature of crude oil means if people in Ulan Batur demand more oil, the price may change in New York. But a natural gas shortage in Mongolia will not raise American prices because there's no easy means to transport it. There were major discoveries of natural gas last year and New York Governor David Patterson is pushing to open up the Marcellus shale to drilling, with environmental concerns taking a backseat to the need for tax revenue.
On top of that, renewable energy currently is aimed at electricity generation, not transportation (though that may also change depending on the popularity of electric cars).
Natural gas has abundant natural reserves, excessive supply and reduced demand and is a competitive threat -- it was one of the hottest ETFs in the past three months, based on money flows.
As I warned almost two months ago, the fundamentals pointed to
. I was right and prices have fallen. I've also warned against investing in
U.S. Natural Gas
(UNG) - Get Report
countless times
.
UNG became a slow-moving target in the futures market that allowed savvy speculators to front-run its monthly contract roll. It already created an exacerbated the near-month contango and cost investors money each time it rolled. Now due to
concern over pending regulatory changes
, UNG ceased issuing new shares and trades at a whopping premium of 17%. The
iPath Natural Gas ETN
(GAZ) - Get Report
doesn't offer much advantage; it had an 8% premium at close yesterday.
Ironically, if we see a final super-contango cratering of UNG, it may create the conditions for the next bull market, but that could take months to years to play out, however, and depends on multiple factors. I've recommended
First Trust ISE-Revere Natural Gas
(FCG) - Get Report
, which holds the stocks of producers and has outperformed UNG since March, as a better way to play natural gas if that's your desire. But unless another Katrina rips through the Gulf region, the outlook for natural gas prices is grim.
-- written by Don Dion in Williamstown, Mass.
At the time of publication, Dion had no positions in the stocks mentioned.
Don Dion is president and founder of
, a fee-based investment advisory firm to affluent individuals, families and nonprofit organizations, where he is responsible for setting investment policy, creating custom portfolios and overseeing the performance of client accounts. Founded in 1996 and based in Williamstown, Mass., Dion Money Management manages assets for clients in 49 states and 11 countries. Dion is a licensed attorney in Massachusetts and Maine and has more than 25 years' experience working in the financial markets, having founded and run two publicly traded companies before establishing Dion Money Management.
Dion also is publisher of the Fidelity Independent Adviser family of newsletters, which provides to a broad range of investors his commentary on the financial markets, with a specific emphasis on mutual funds and exchange-traded funds. With more than 100,000 subscribers in the U.S. and 29 other countries, Fidelity Independent Adviser publishes six monthly newsletters and three weekly newsletters. Its flagship publication, Fidelity Independent Adviser, has been published monthly for 11 years and reaches 40,000 subscribers.