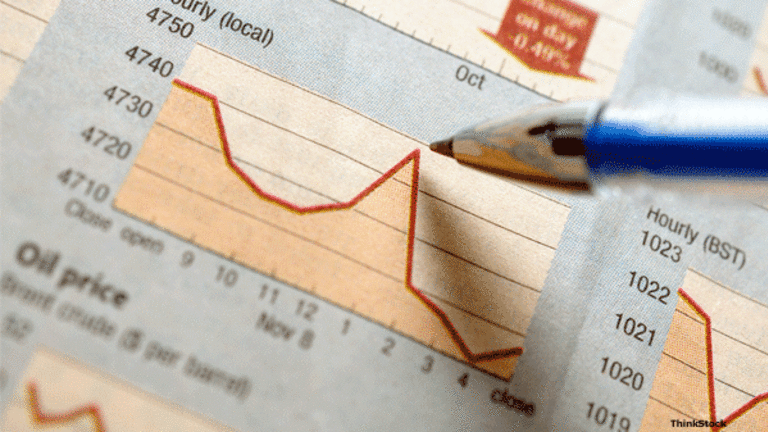 Publish date:
Natural Gas ETF 'Taxed' by Delay
Investors are paying a premium for for a natural gas ETF because of a regulatory hangup.
Investors are paying a premium for for a natural gas ETF because of a regulatory hangup.
In the latest chapter of the
United States Natural Gas ETF
(UNG) - Get Report
saga, the fund has begun to trade at a noticeable premium to its actual value, forcing investors to "pay up" to get a hold of shares.
UNG closed at a 2.56% premium to net asset value (NAV). This predictable move is a result of a regulatory hang-up in the fund's creation process that defines the very nature of ETFs.
Unlike mutual funds or closed end funds, ETFs have a transparent portfolio. Each day, investors can find out exactly what is in the basket of stocks that make up each fund. Baskets generally include securities or futures and a cash amount. The price of an ETF should be close to its NAV, since it is possible to determine what the fund is worth while the contents of its basket are trading.
In the normal course of events, several factors can cause an ETF to deviate from its NAV. That may occur if the contents of the ETF basket are not trading at the same time as the ETF -- eg., the fund contains Chinese equities that trade only on Chinese exchanges during Chinese exchange hours, not 9:30 a.m. ET to 4 p.m. ET-- or if some component of the basket is halted during normal trading. A fund with a low number of buyers and sellers, and consequently a low trading volume, can also deviate from NAV.
In the case of UNG, however, the entire pricing mechanism has been thrown off by a halt in the creation process. When an ETF first appears on the market, an approved market maker will create units of the fund to sell to customers. As demand for the fund increases, market makers will create additional units to sell to investors.
Picture a UNG approved market maker as a kid who wants to have a lemonade stand. On his first day, he will mix up a batch of lemonade after he anticipates how much lemonade he will sell. He will probably consider factors like the weather and how busy his street is. As awareness of the lemonade business grows and demand increases, he will have to make bigger and bigger batches each day to meet demand if he doesn't want to raise the price.
UNG has become like a lemonade stand on a super highway of demand. In anticipation of the volume that the fund would generate each day, designated market makers have had to make bigger and bigger batches of the fund. On July 7, the SEC cut off the supply of lemonade. In a regulatory filing issued last Tuesday, UNG had to suspend issuing new shares while it waits to see if it can create 1 billion new units. UNG had originally been approved to create 200 million units.
In the meantime, investors are still thirsty for shares of UNG, driving the price of the existing UNG shares above their NAV. While some investors may not care about the price increase and just want to get into the fund, it is important to understand that this method of pricing runs against the "spirit" of ETFs. The eventual approval of more units is very likely, and this move will drop the price of UNG until it is back in line with NAV.
As I have mentioned in
creation difficulties are not the only problem with UNG.
There are
to invest in natural gas ), and fortunately there is another ETF that offers investors exposure. The
First Trust ISE-Revere Natural Gas
(FCG) - Get Report
tracks a basket of natural gas companies. Investors interested in natural gas exposure can use FCG to gain access to the industry.
Just one month before UNG creation was halted on June 7, the U.S. Commodity Futures Trading Commission announced that it would hold hearings this summer to consider imposing position limits for "all commodities of finite supply." See
.
Any change in these regulations could further impact the pricing of UNG or even force UNG's issuer to redesign the fund to meet requirements. In the meantime, investors should stay clear of UNG until the dust settles.
At the time of publication, Dion was not long on any of the ETFs mentioned.
Don Dion is the publisher of the Fidelity Independent Adviser family of newsletters, which provides to a broad range of investors his commentary on the financial markets, with a specific emphasis on mutual funds and exchange-traded funds. With more than 100,000 subscribers in the U.S. and 29 other countries, Fidelity Independent Adviser publishes six monthly newsletters and three weekly newsletters. Its flagship publication, Fidelity Independent Adviser, has been published monthly for 11 years and reaches 40,000 subscribers.
Dion is also president and founder of Dion Money Management, a fee-based investment advisory firm to affluent individuals, families and nonprofit organizations, where he is responsible for setting investment policy, creating custom portfolios and overseeing the performance of client accounts. Founded in 1996 and based in Williamstown, Mass., Dion Money Management manages assets for clients in 49 states and 11 countries. Dion is a licensed attorney in Massachusetts and Maine and has more than 25 years' experience working in the financial markets, having founded and run two publicly traded companies before establishing Dion Money Management.