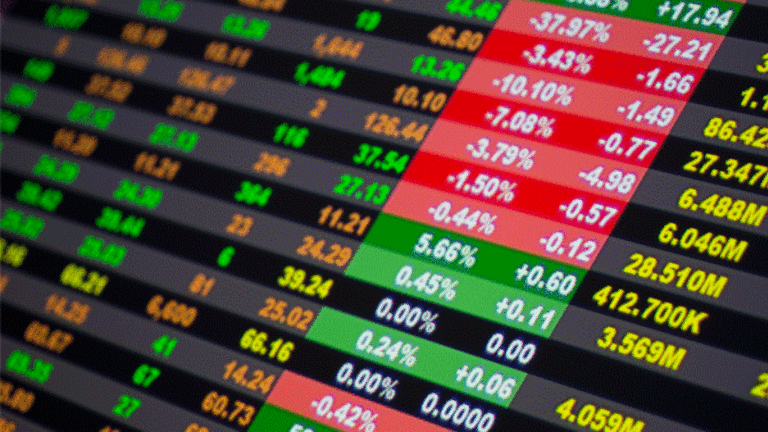 Publish date:
Momentum Grows Against Leveraged Funds
The internal debate among brokers and financial advisers has shifted from whether these should be allowed to whether they should be offered.
The internal debate among brokers and financial advisers has shifted from whether these should be allowed to whether they should be offered.
As a publisher of a momentum newsletter, I stay abreast of the momentum in ETFs and mutual funds. The strongest momentum, however, is in the broker's reversal on offering leveraged ETFs to their clients. Ameriprise (AMP) - Get Report told brokers not to solicit the products while clients of Edward Jones and UBS (UBS) - Get Report can no longer purchase them. Wells Fargo (WFC) - Get Report and Morgan Stanley (MS) - Get Report Smith Barney are reviewing the products. Charles Schwab (SCHW) - Get Report doesn't solicit them and has a strongly worded warning as part of an article titled "Leveraged and Inverse ETFs: Not Right for Everyone."
Yesterday I wrote about the
fiduciary responsibility of brokers to their clients
. Brokers advising clients are in a different position than online brokers that offer a trading platform, and companies that offer more advice, such as Schwab, have taken a bolder position on leveraged ETFs.
The swift movement and growing number of brokerages reviewing, restricting or removing these products from their line-up can create a legal imperative on its own. Just as car manufacturers race to add safety features such as airbags, brokers will begin asking whether they want to face a judge having been in the minority that didn't change their policy. That other brokers believe it is their responsibility to protect their clients from leveraged ETFs shifts the internal debate from whether these should be allowed to whether they should be offered.
Furthermore, as
The Wall Street Journal
reported in June, new financial legislation could require brokers to adhere to a higher standard and put their clients' interests ahead of their own, affecting everything from marketing to broker compensation.
Leveraged ETFs are a great example of what the difference would mean. Under the current standard, brokers could get in trouble for putting a widow into a 3 times ETF, but if the new standard held, the products may be deemed inappropriate for far more clients -- or even all of them, according to Edward Jones and UBS.
Though these products have proved popular, other providers aren't headed into the market. Paul Weisbruch of
Revenue Shares
said, "We have no planned leveraged ETFs, and our current ETFs are always fully invested in equities only, no replication strategies using futures or options, just owning a known index and owning the members in different weightings."
This move by brokers is a step in the right direction. Unsophisticated investors should not be using the products and "do-it-yourselfers" on web platforms should have easy access to clear explanations of the products, with emphasis on the inherent compounding error. Schwab's article is a good example, and many commentators, myself included, have written articles explaining the risk of holding these ETFs over periods longer than one day.
Examples abound:
Direxion Financials Daily 3x Long
(FAS) - Get Report
and
Short
(FAZ) - Get Report
have both lost money.
ProShares UltraShort 20+ Year Treasury
(TBT) - Get Report
lost more than 20% in the past year, even though
iShares Barclays 20+ Year Treasury
(TLT) - Get Report
was flat.
In the past year, both the
ProShares UltraShort Real Estate
(SRS) - Get Report
and
Ultra Real Estate
(URE) - Get Report
are down more than 80%. Buy-and-hold investors in these ETFs would have seen their positions devastated.
A higher threshold for investor participation is the best solution. These funds use 2 and 3 times leverage, and only investors who are qualified to make use of leverage should be allowed to trade these products. Leveraged ETFs have a place in the market, but not a place in every portfolio.
At the time of publication, Dion had no positions in the funds or stocks mentioned.
Don Dion is the publisher of the Fidelity Independent Adviser family of newsletters, which provides to a broad range of investors his commentary on the financial markets, with a specific emphasis on mutual funds and exchange-traded funds. With more than 100,000 subscribers in the U.S. and 29 other countries, Fidelity Independent Adviser publishes six monthly newsletters and three weekly newsletters. Its flagship publication, Fidelity Independent Adviser, has been published monthly for 11 years and reaches 40,000 subscribers.
Dion is also president and founder of Dion Money Management, a fee-based investment advisory firm to affluent individuals, families and nonprofit organizations, where he is responsible for setting investment policy, creating custom portfolios and overseeing the performance of client accounts. Founded in 1996 and based in Williamstown, Mass., Dion Money Management manages assets for clients in 49 states and 11 countries. Dion is a licensed attorney in Massachusetts and Maine and has more than 25 years' experience working in the financial markets, having founded and run two publicly traded companies before establishing Dion Money Management.