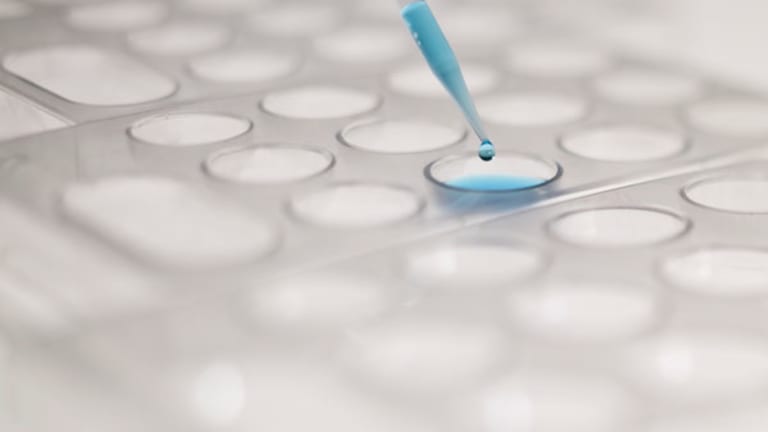 Publish date:
Medical-Device ETF in the Spotlight
Thanks to the Affordable Care Act, iShares Medical Devices) remains in an uptrend.
Thanks to the Affordable Care Act, iShares Medical Devices) remains in an uptrend.
NEW YORK (ETF Expert) -- Price-to-earnings (P/E) ratios have been rising over the course of the four-and-a-half year bull market. It follows that there are fewer and fewer bargains. Indeed, a quick screen at Morningstar reveals a dwindling universe of stocks with torward P/Es that are lower than their respective five year averages.
Similarly, Morningstar is relatively stingy when it comes to handing out four or more stars on the ratings of individual securities. Thousands of stocks may be up for consideration. Right now, though, fewer than 200 make the cut.
When you combine the two criteria, one sub-sector has a large percentage of its total universe in the mix. Even more striking, this sub-segment that appears to stand apart has been widely covered in the media throughout the government shutdown. The industry? Medical devices and equipment.
Equipment makers/suppliers such as
Medtronic
(MED) - Get Report
,
Covidien
(COV)
,
Baxter
(BAX) - Get Report
as well as
Abbott Laboratories
(ABT) - Get Report
all showed up in the screening. Their respective prices are quite far from recent highs, in part because of the uproar over the probable implementation of the Affordable Health Care Act's 2.3% tax on medical devices corporations.
Nearly all Republicans oppose the unpopular tax, while a large chunk of Democrats want to see the tax removed from the law as well. Democrats, however, want to replace the potential $30 billion in tax revenue before signing off on repealing the medical devices tax.
At the moment, few Democrats have indicated they would cross the current party line; that is, until the GOP in the House passes an unencumbered bill to fund government operations, and until the same Republicans agree to raise the debt ceiling without preconditions, there will be no negotiations. Indeed, medical device providers may have to pick up part of the tab for universal health care after all.
Regardless,
iShares Medical Devices
(ITI) - Get Report
remains in a
bona fide
uptrend. The exchange-traded asset has received support near a shorter-term, 50-day moving average throughout the year. Moreover, the current price is above both a 50-day as well as a 200-day trendline, sitting not far from an all-time peak.
Courtesy of StockCharts.com
Whereas shares of some of the component corporations have taken a beating, this diversified vehicle still remains popular. Perhaps a deal to vanquish the medical device tax would make the asset even more attractive to would-be buyers.
Then again, there is no telling how long it will take for partisan politics to run its course. IHI would not be immune to panicky selling should stock investors start stampeding for the exit door.
This article was written by an independent contributor, separate from TheStreet's regular news coverage.
Disclosure Statement: ETF Expert is a website that makes the world of ETFs easier to understand. Gary Gordon, Pacific Park Financial and/or its clients may hold positions in ETFs, mutual funds and investment assets mentioned. The commentary does not constitute individualized investment advice. The opinions offered are not personalized recommendations to buy, sell or hold securities. At times, issuers of exchange-traded products compensate Pacific Park Financial or its subsidiaries for advertising at the ETF Expert website. ETF Expert content is created independently of any advertising relationships. You may review additional ETF Expert at the site.
Gary Gordon reads:
On Twitter, Gary Gordon follows: