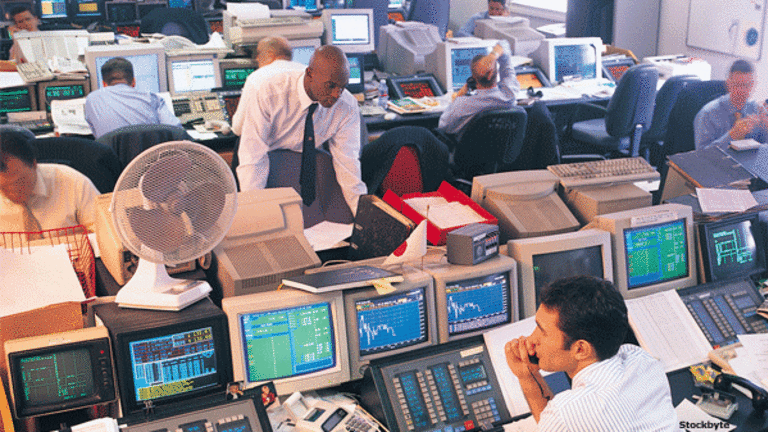 Like Icahn, SEC Sees 'Danger Ahead' in These Risky ETFs
The SEC agreed on a proposed rule to regulate the use of derivatives by exchange-traded funds -- including so-called leveraged ETFs -- as assets in the funds reach $2.15 trillion.
This article, originally published at 10:49 a.m. on Friday, Dec. 11, 2015, has been updated with actions at the SEC's meeting.
Exchange-traded funds offering some of the juiciest returns -- such as one that promises triple the returns on emerging-market stocks -- are getting fresh scrutiny from U.S. regulators who are increasingly concerned over the risks to individual investors.
The Securities and Exchange Commission agreed today to issue a proposed rule governing ETFs' use of derivatives -- a type of unregulated trading contract that's used to bet on an underlying asset such as a stock index or commodity. Such products include so-called leveraged ETFs, which use derivatives to multiply returns. One example is the Direxion Daily Emerging Markets Bull 3x Shares, an ETF that employs derivative contracts with such Wall Street firms as Citigroup (C) - Get Free Report, Deutsche Bank, and Bank of America Merrill Lynch (BAC) - Get Free Report .
The rule would require the ETFs to "limit the amount of leverage the fund may obtain through derivatives," according to an SEC statement. They also would have to set aside cash or other assets to guarantee their trades and set up risk-management programs. The rule will be published on the agency's website and in the Federal Register, and the SEC will take feedback for 90 days afterward.
The proposal threatens to slow a fast-growing corner of the booming industry for ETFs, which have proliferated as a vehicle for investors to bet on everything from share prices to bonds -- including high-yield securities that rarely trade. Assets in U.S. ETFs have more than doubled in the past five years to $2.15 trillion, according to ETF.com.
That's despite warnings from the Financial Industry Regulatory Authority and International Monetary Fund that they pose risks not just to investors but to global financial stability.
"Today's proposal is designed to modernize the regulation of funds' use of derivatives and safeguard both investors and our financial system," said SEC Chair Mary Jo White.
Leveraged ETFs have grown by about 30% this year through November, triple the rate for the broader industry. The instruments are rebalanced daily, meaning they're designed to be traded one day at a time; because of that structure, they've led to unexpected losses for some investors who failed to understand they weren't suitable for longer-term bets.
In 2012, regulators sanctionedCitigroup, Morgan Stanley, UBS and Wells Fargo a combined $9.1 million for flawed practices involving the sale of leveraged funds for long periods during the volatile markets from January 2008 to June 2009.
"Many investors became disappointed and surprised that they didn't get the performance they expected," said Deborah Fuhr, a former executive of the money manager BlackRock who's now managing partner of ETFGI, a research and consultancy firm in London. "The SEC gets concerned anytime they feel retail investors don't understand the products."
BlackRock, the biggest sponsor of ETFs, doesn't offer leveraged ETFs because of the risks. Nor does the firm offer inverse ETFs, which use derivatives to provide gains when an underlying asset falls.
In May 2014, BlackRock CEO Larry Fink said leveraged ETFs contain "structural problems that could blow up the whole industry." The firm does use derivatives in some unleveraged ETFs, according to a spokesman.
Sylvia Jablonski, a managing director at Boston-based Direxion, declined to comment.
ProShare Advisors LLC, another sponsor of leveraged and inverse ETFs, said in a statement that it looks forward "to seeing the SEC proposal and participating in the rule-making process that follows."
The scrutiny of derivative-embedded ETFs is among broader warnings on the industry this year from regulators and big investors.
The Financial Industry Regulatory Authority, which began issuing warnings on ETFs as early as 2009, said in a report yesterday that prices for the instruments traded well below the value of their underlying assets on Aug. 24, a day of unusually high volatility.
In April, the International Monetary Fund warned of the risk that investors might rush to sell their ETFs at prices well below the value of the underlying assets.
In May, the U.S. Financial Stability Oversight Council said in a report that ETFs contain "distinct liquidity and redemption risks."
As recently as July, billionaire activist Carl Icahn -- who gave ominous warnings about the U.S. economy in a video this fall entitled Danger Ahead -- raised concerns that ETFs linked to junk-grade bonds and loans might create the false impression that the assets are just as liquid as a freely traded stock.
Under the SEC's proposed rule, ETFs would have to limit their "exposure" -- a figure that includes the added investing power provided through derivatives -- to no more than 1.5 times the amount of their assets, according to a fact sheet from the agency. The exposure could go up to triple the amount if the funds can demonstrate a low market risk.
SEC Commissioner Luis Aguilar said at the meeting that some funds using derivatives have asset exposures almost 10 times in excess of the funds' net assets.
The firms also would have to set aside as much cash or other assets as might be needed to exit a trade, in addition to the estimated potential amount that might be required later during times of market stress.
Many of the funds are placing trades with a "very small amount of cash collateral upfront," Commissioner Kara Stein said. "Registered investment companies were never intended to be highly leveraged vehicles."
While sophisticated investors are free to pursue a highly leveraged strategy through a hedge fund, Stein added, the new rule recognizes that such a strategy runs counter to regulated investment vehicles "and the retail investors that own such funds."