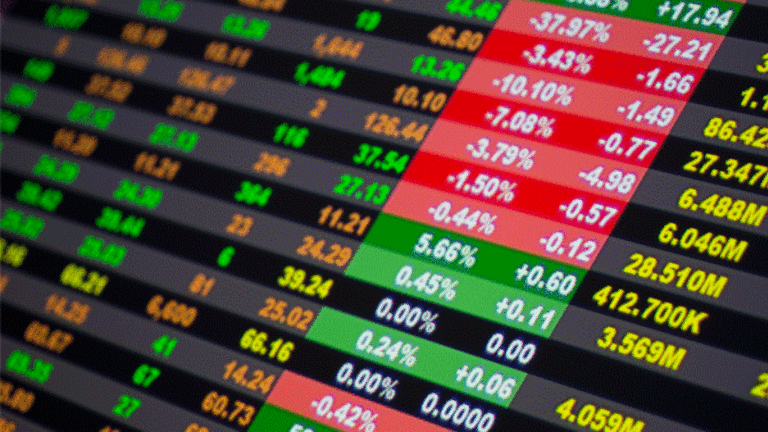 Leveraged ETFs: More Regulation
Canada's central bank has placed new restrictions on leveraged ETFs, and the move could provide a glimpse of what's to come in the U.S.
The Royal Bank of Canada has put additional restrictions on double- and triple-leveraged ETF products.
In addition to providing a possible glimpse of what's to come in the U.S., the move underscores the risk and complexity of these ETFs, something investors should be aware of regardless of whatever regulations are in place.
The new Canadian regulations limit the purchase of these leveraged ETFs to investors who are already approved for options trading.
Leveraged ETFs, which utilize complex derivative instruments like futures or swaps to achieve their investment objectives, seek to amplify the returns of their underlying indices. Some are bearish, which means they multiply the inverse of an index's moves. An example of a bullish leveraged ETF is the
Direxion Daily Financial Bull 3X ETF
(FAS) - Get Direxion Daily Financial Bull 3x Shares Report
, which is designed to give investors 300% exposure to the Russell 1000 Financial Services Index on a daily basis. The
Direxion Daily Financial Bear 3X ETF
(FAZ) - Get Direxion Daily Financial Bear 3X Shares Report
, on the other hand, is designed to provide inverse 300% exposure to the same index.
As leveraged ETFs have become popular, regulators in both the U.S. and Canada have expressed concern about the complexity of these securities and have examined different ways of restricting their sale.
Since these funds offer leveraged exposure to their underlying indices on a daily basis, a compounding effect occurs when the funds are held long term. While most investors use triple-leveraged funds like FAS and FAZ to hedge daily exposure, investors who hold the funds for more than one day may not get
the returns they are expecting
.
In the U.S., both regulators and financial firms have been encouraging
the proper use of leveraged ETFs
. In June, the Financial Industry Regulatory Authority issued a notice "reminding" firms of proper sales practices for leveraged and inverse ETFs.
In the notice, FINRA described leveraged ETFs as "highly complex financial instruments" that are "useful in some sophisticated trading strategies." It warned firms that, "inverse and leveraged ETFs that are reset daily typically are unsuitable for retail investors who plan to hold them for longer than one trading session, particularly in volatile markets."
Following the warning, firms like
and
UBS (UBS) - Get UBS Group AG Report
banned or restricted access to leveraged ETFs for their brokerage clients. Several other firms, like
Ameriprise
(AMP) - Get Ameriprise Financial, Inc. Report
and
Morgan Stanley
(MS) - Get Morgan Stanley (MS) Report
, followed suit.
FINRA released an additional notice in August, alerting investors to changes in margin requirements for leveraged fund investors. The
, effective Dec. 1, will make it necessary for owners of leveraged ETFs or uncovered options on leveraged ETFs to have margin in their accounts that is commensurate to the degree of leverage in their investments.
Citing the derivative instruments, such as options, futures or swaps, that underlie many leveraged ETF funds, FINRA noted that "leveraged ETFs are inherently more volatile than their underlying benchmark or index." FINRA added that, "in view of the increased volatility of leveraged ETFs compared to their nonleveraged counterparts, FINRA believes higher margin levels are necessary."
Canada's answer to leveraged ETF concerns is perhaps the most comprehensive to date. By restricting the purchase of leveraged ETFs to investors who are already approved for options trading, regulators are, in effect, screening investors for suitability.
In both the U.S. and Canada, investors who wish to trade options must complete additional paperwork and meet certain requirements when opening a brokerage account. These steps are designed to ensure that options traders understand the risks of these products as well as make sure that traders meet certain financial requirements.
While an understanding of options trading does not guarantee that an investor will be knowledgeable about leveraged ETFs, the application-for-options process helps to narrow the field to more savvy investors. Both leveraged ETFs and options are complex financial instruments, and increased requirements are designed to protect and inform investors about how these products function.
The Dec. 1 margin increases for U.S. leveraged ETF investors, and new requirements for Canadian leveraged ETF investors, should help to achieve the universal goal of investor education.
It is also possible that FINRA will take additional steps, like those taken by RBC, to protect leveraged ETF investors. In the meantime, investors should continue to remain cautious in their use of leveraged ETF products.
At the time of publication, Dion had no holdings in securities mentioned.
Don Dion is president and founder of
, a fee-based investment advisory firm to affluent individuals, families and nonprofit organizations, where he is responsible for setting investment policy, creating custom portfolios and overseeing the performance of client accounts. Founded in 1996 and based in Williamstown, Mass., Dion Money Management manages assets for clients in 49 states and 11 countries. Dion is a licensed attorney in Massachusetts and Maine and has more than 25 years' experience working in the financial markets, having founded and run two publicly traded companies before establishing Dion Money Management.
Dion also is publisher of the Fidelity Independent Adviser family of newsletters, which provides to a broad range of investors his commentary on the financial markets, with a specific emphasis on mutual funds and exchange-traded funds. With more than 100,000 subscribers in the U.S. and 29 other countries, Fidelity Independent Adviser publishes six monthly newsletters and three weekly newsletters. Its flagship publication, Fidelity Independent Adviser, has been published monthly for 11 years and reaches 40,000 subscribers.